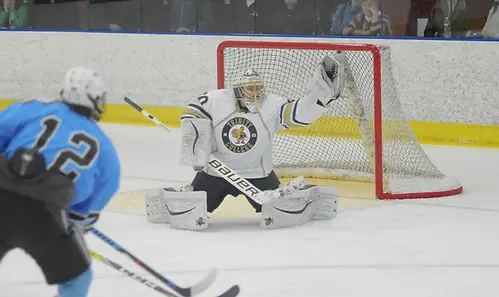 Last season saw the Bantams from Trinity emerge from the regular season and conference tournament to advance all the way to the national championship title game, which ultimately was won by Norwich. Trinity certainly faced many challenges along the way, including a stubborn Hamilton team in the NESCAC tournament final that was decided in overtime. Hamilton received an at-large bid to the NCAA tournament and downed Oswego before succumbing to Norwich in the quarterfinals. So, what is in store this year?
"This year, like virtually all in the past, is going to be a week-by-week battle in conference play," said Trinity's coach Matt Greason. "We lost some key guys like Ryan [Cole] and Sean [Orlando], but I really like our group and wouldn't want to go into battle with any other roster in the league than this one. I think a lot of teams are going to be better, and Hamilton is certainly tops among that list with the talent they have back and especially their goaltender. It is always a battle to play them, especially in their rink and their supportive fans. It is going to be interesting."
The favorites
While the Continentals have lost some key skill players in Jon Carkeek and Robbie Murden, they return a core of young players that were keys to the offense. Leading scorer Neil Conway is back to support a deep cast across four lines for coach Rob Haberbusch, and the team will rely on last year's NESCAC Player of the Year Evan Buitenhuis in goal. Transfer Stephen Cochrane comes over from Maine and looks to be a key contributor on the blue line and power play with his big shot from the point. Last year's conference championship loss in overtime may be the final motivational piece for this group to grab the title this season.
Trinity isn't about to give up a shot at repeating, even though they lost some key leadership pieces to graduation in the spring. Their coach is very optimistic based on a talented first line and solid back-end, including goalie Alex Morin.
"I am pretty sure the first line will get their goals," stated Greason. "We will have to see how lines 2-4 come together from a secondary scoring perspective, but we should be good defensively and moving the puck out of our zone, and Alex is as competitive a goaltender as anyone else in our conference or the country."
The dark horses
Williams reached its first ever NCAA tournament just a couple of seasons ago and has been a tough out in any conference regular season or tournament game. The talent is there for the Ephs, but a change behind the bench may be the X factor in the success for this year's team in Williamstown. Coach Bill Kangas has taken a sabbatical this season, so assistant Mike Monti will step into the interim head coach position for the season. There is good continuity as Monti has been a strong part of Kangas' staff, but as is the case with any coaching change, the proof will be in the results and how Monti manages the returning roster with the incoming freshmen.
Pat Norton has quietly revived the hockey program at Tufts and made them a very competitive squad. They have knocked off the likes of Trinity on the road in recent years and have made themselves quite the competitive team come conference tournament time in the spring. Another solid recruiting year could have the Jumbos hunting for a home-ice playoff berth or more.
Players to watch
Amherst: Connor Girard, goalie; Patrick Daly, forward
Bowdoin: Thomas Dunleavy, forward; Cody Todesco, forward
Colby: Phil Klitirinos, forward; Sean Lawrence, goalie
Connecticut College: Avery Gobbo, goalie; Jeff Thompson, forward
Hamilton: Evan Buitenhuis, goalie; Neil Conway, forward
Middlebury: Trevor Turnbull, forward; Stephen Klein, goalie
Trinity: Alex Morin, goalie; Anthony Sabitsky, forward
Tufts: Brian Brown, forward; Nik Nugnes, goalie
Wesleyan: Chad Malinowski, defense; Walker Harris, forward
Williams: Mike Monti, coach; David Italiano, forward
USCHO Predicted finish
1. Hamilton
2. Trinity
3. Amherst
4. Tufts
5. Williams
6. Wesleyan
7. Colby
8. Bowdoin
9. Connecticut College
10. Middlebury
It has been almost three weeks since the NESCAC teams officially took the ice for tryouts/practice on November 1, and every team must be excited and anxious to play against somebody wearing a different colored uniform after that long in scrimmages and practicing. The league starts right away, so no throwaway games as teams find out early what they have got and how the new pieces fit together in real competition.