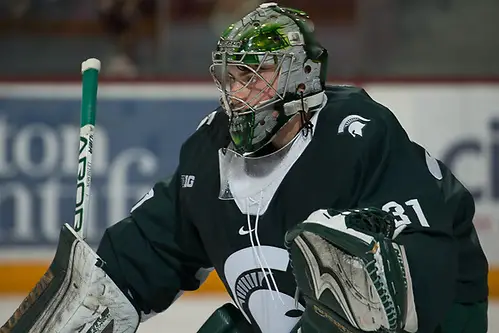 Last weekend in Big Ten hockey, it was either feast or famine — and neither necessarily equated with success.
Minnesota scored 10 goals in two games against Michigan and came away with two league points. Notre Dame put one goal past Penn State Saturday night, and that was enough to secure a two-game sweep and the six points that come with it.
While we're getting to see conference play earlier this season than we have in the past, it's still very early to get a picture of how the entire season will unfold, both within conference play and any post-season hopes B1G teams may have. We know a little bit in the early going, like that the league is on solid ground in nonconference play against every league except for the NCHC, which seems to own D-I men's hockey at this point on the space-time continuum.
In the national picture, four of the league's seven teams are among the top 15 nationally for scoring offense: Michigan (fourth, 3.90 goals per game), Notre Dame (tied for ninth, 3.50), Penn State (12th, 3.42), Wisconsin (tied for 14th, 3.23). Three B1G teams are among the top 14 defensively: Ohio State (tied for fifth, 2.00 goals allowed per game), Minnesota (12th, 2.42), Wisconsin (14th, 2.54).
Only Notre Dame's Cale Morris is among the top 10 goalies nationally in save percentage (.925) and only Ohio State's Sean Romeo is among the top 10 nationally in GAA (1.73). No one in the Big Ten is among the top 10 for power play, and two teams – Ohio State and Michigan – are among the top 10 penalty-killing teams nationally.
Does last weekend's feast-or-famine narrative tell us what many of the numbers don't, that this league is once again so inconsistent that it will be nearly impossible to predict – and perhaps unsuccessful in post-season?
I don't know, but I do know that Notre Dame is 4-0-0 in conference play and the Fighting Irish found two different ways to beat visiting Penn State last weekend. In Friday's 5-3 win, the Irish turned up the heat in the third period and scored two goals to break a 3-3 tie and win the game. In Saturday's 1-0 win, Notre Dame completely shut down the Nittany Lions.
"It's going to be like this every weekend," said Notre Dame coach Jeff Jackson after Saturday's win. "You're not going to have big victories in the Big Ten. You're going to have to fight out one-goal games a lot. I think you are seeing that throughout the whole league. It's going to be a challenging environment."
It's not a matter of how many goals come before that single goal that decides the game, either.
You can ask Minnesota's Don Lucia about that.
The Gophers led the Wolverines 3-0 in the middle of the second period of Friday's game before Michigan came back to make it 3-2 after two. Then the Wolverines tied it in the third. Then the Gophers went ahead. Then the Wolverines tied it again and won in overtime, 5-4.
Lucia was clearly frustrated after the game.
"We turned the puck over three times in the neutral zone and three times it went in our net," said Lucia, who also pointed out that the Gophers took penalties at the end of regulation and in overtime.
"Tough calls," he said, but he added, "We scored four, which is plenty to win."
Minnesota led 3-0 at the end of the first period the next night, the Gophers and Wolverines exchanged five goals within a five-minute span in the second period, and Michigan scored the last three goals in regulation, sending a 6-6 tie to overtime. Eventually, Minnesota got the extra point from the shootout.
That's a one-goal difference in a weekend that resulted in a 4-2 conference points differential.
Michigan coach Mel Pearson told WTKA radio that he it was good to know that the Wolverines can compete with the Gophers, but he wasn't happy with how his team did it.
"I guess you're happy with the results just based on how the games transpired, but you're not satisfied," Pearson said. "We left some points on the table. Sometimes a tie feels like a win, sometimes it feels like a loss. We got four points out of a pretty good hockey team."
The only game approaching a decisive victory of the weekend was Wisconsin's 6-3 over Michigan State Friday night. The Badgers led that game 3-0 after one but 4-2 after two, as the Spartans scored the first two goals of the second. The Badgers led 6-2 by the middle of the third, but the Spartans scored the last goal of the game, momentum they obviously capitalized on Saturday.
The goalie show
Which brings us to the goalie show.
The stats may not necessarily bear out that B1G goaltending is significantly improved from recent seasons past, but there was some goaltending prowess on display in each series.
The Spartans earned a split with the visiting Badgers Saturday with a 2-0 win during which sophomore goaltender John Lethemon was spectacular. Wisconsin came out flying in the first period, outshooting Michigan State 11-3 in the first 20 minutes, but the Spartans led 1-0 after one because they scored on only their second shot of the game, a full 18 minutes into the period, on the power play, seven seconds after a faceoff, and on a goal that brought Wisconsin netminder Kyle Hayton no shame.
It was Lethemon's performance that held Michigan State together as the Badgers outshot the Spartans 38-17 in the game. In his second shutout of the season, the third of his career, Lethemon made it look effortless.
"Sometimes when goalies are having good games, they make it look kind of easy," said Michigan State coach Danton Cole. "He was square to pucks, things were hitting him, he wasn't kicking a lot of rebounds, he was real calm. Coaches like that. They like a calm goalie that's making a lot of saves."
Indeed.
In Notre Dame's 1-0 game over Penn State, both goaltenders put on a show. Penn State's Peyton Jones allowed one goal on 27 shots, while Morris stopped all 33 shots he faced.
PSU coach Guy Gadowsky said that Jones' play was excellent.
"We're playing a great team that managed to put one by us," said Gadowsky. "We're struggling in a number of areas defensively."
For Morris, a sophomore who has emerged as Notre Dame's starter, the shutout was the first of the season and his career.
"The thing that I admire the most in what he has done here in the last four games is shown the ability to close the game down," said Jeff Jackson, "and that is a real important quality in a goaltender."
Indeed.
Morris has won his last four games, all Big Ten contests, and during that stretch has allowed an average of 1.50 goals per game with a .957 save percentage.
Almost perfect
So close.
Ohio State, you were so close.
It's okay, though. The Big Ten will take a 7-0-1 team against Hockey East so far, given that the through the first four years of B1G conference play, the league had a .471 win percentage against HEA.
After a 5-4 win in Connecticut Friday night, the Buckeyes and Huskies tied 1-1 Saturday. Speaking of goaltending again, Buckeye freshman Tommy Nappier made 35 saves in his first collegiate win Friday, while Romeo had 29 in Saturday's 1-1 tie.
Ohio State coach Steve Rohlik said that the Buckeyes "did a lot of good things" in the tie and played a "tighter game," but that their scoring was off.
"We had some chances," said Rohlik. "It's not for lack of effort or opportunities."
The Buckeyes are tied for 43rd nationally in scoring right now, scoring 2.50 goals per game, last in overall play among B1G teams. In conference play, Ohio State averages 2.0 goals per game, sixth in the league. The Buckeyes finished third in the nation in scoring offense last season, averaging 3.92 goals per game.
A note about timeouts
I learn something new every time I visit a rink, even after over two decades of covering college hockey.
This season, I'm learning a lot at Munn Ice Arena from the young Spartans and their new head coach. For instance, this week, the press corps and I learned Cole's philosophy about timeouts.
Toward the end of the third period in Saturday's 2-0 win over Wisconsin, there was a point in the third period when someone from Michigan State iced the puck. I thought the Spartans looked a little gassed – I thought the Badgers did, too, as it was a really physical game – but Cole wasn't worried. This was late in the period, when Michigan State was already up by two but Wisconsin was pressing. The Badgers had already used their timeout.
When asked by the press about why the Spartans didn't use theirs, Cole gave a great explanation.
"I like telling the guys we don't need a timeout," Cole said. "We're not tired. We're fine. We know what we're doing. We're prepared. I like going on the pace. I'll use them, but I think when our guys know what they're doing, confidence-wise and energy-wise, usually I'll just look at the center on an icing and say, 'You guys alright?' If they say they're alright, then they can go.
"It's not a superstition or anything like that. I'd rather have our guys…be able to handle it. If they're okay, let's go."
Three stars of the week
The only thing that surprises me here is that Tony Calderone has never earned a star before.
First star – Notre Dame sophomore goaltender Cale Morris
Morris (Larkspur, Colo.) had a .961 save percentage in Notre Dame's sweep of Penn State. His 40 saves Friday were a career high and Saturday's shutout was the first of his career. This is Cale's second weekly Big Ten award this season, the second of his career.
Second star – Michigan senior forward Tony Calderone
Calderone (Trenton, Mich.) had three goals and an assist in Michigan's overtime win and tie against Minnesota, including the game-tying goal in Saturday's 6-6 contest with just 1:12 left in regulation. Calderone leads the Wolverines with seven goals in 10 games this season; last year, Calderone had 15 goals in 31 contests. This is the first weekly Big Ten award of his career.
Third star – Michigan State freshman forward Mitch Lewandowski
Lewandowski (Clarkston, Mich.) tied for the lead in goals in the Big Ten with three as the Spartans split with the Badgers. He had two goals and an assist in Friday's 6-3 loss and the second goal of Saturday's 2-0 win. This is Lewandowski's second weekly Big Ten award this season, the second of his career.
My ballot
For what it's worth, Jim Connelly and I mulled over the nature of the USCHO.com Division I men's poll in the TMQ column this week. I doubt it's the last time we'll visit that subject this season.
1. Denver
2. North Dakota
3. St. Cloud State
4. Notre Dame
5. Minnesota
6. Cornell
7. Clarkson
8. Minnesota State
9. New Hampshire
10. Wisconsin
11. Providence
12. Boston University
13. Michigan
14. Ohio State
15. Colgate
16. Colorado College
17. Western Michigan
18. Bowling Green
19. Northern Michigan
20. Army West Point