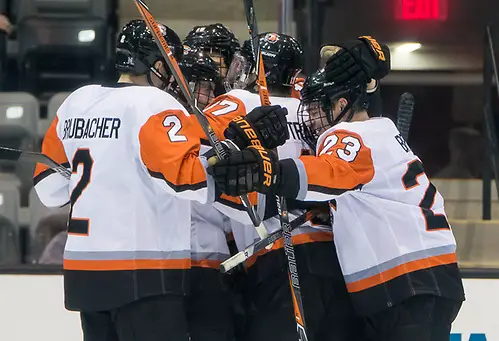 Back on Oct. 20-21, the Rochester Institute of Technology played its first real home games of the season, hosting Union and Rensselaer at the Polisseni Center.
The Tigers had tied Northeastern 3-3 the weekend before at downtown Rochester's Blue Cross Arena, but these were the first contests of the season at RIT's on-campus rink, now in its fourth year of operation.
But the familiar confines were less than friendly to the Tigers, who lost 6-1 to Union and 8-3 to Rensselaer.
Adding injury to insult was a season-ending and probable career-ending knee injury to senior captain Brady Norrish, who missed the second half of last season thanks to damage to the same knee.
But as it turns out, starting league play was just what the doctor ordered for RIT, which is 5-1 since that disastrous weekend, including 3-1 at home after a sweep of Robert Morris.
The Tigers are currently in fourth place in the Atlantic Hockey standings, two points out of first and with games in hand on the teams ahead of them. If you order the standings based on winning percentage, RIT is in first place, just ahead of a surprising Niagara squad.
"We were just poor," said RIT coach Wayne Wilson about the RPI game. "It was a sloppy effort. We needed the guys we depend on to be better."
Winning three of their next four on home ice was big for Wilson and Tigers, who have struggled at the Polisseni Center despite winning playoff titles and advancing to the NCAA tournament two of the first three seasons in their new home.
The old Ritter Arena was a house of horrors for visiting teams, especially from 2009-2012 when RIT went 48-8-9 in conference play there.
"I think the league overall has gotten so much better and competitive from top to bottom," said Wilson, when asked about the Tigers record at the Polisseni. "And visiting teams really get up for playing here — it's a great atmosphere.
"Other than that, I can't explain (the struggles at home). If I knew, we'd have fixed it by now."
Wilson says there's a sign the players see right before they take the ice: "Protect Our House."
"It's a permanent one this season," he said. "We're emphasizing it even more — how important it is to do the little things that lead to success at home."
Last season, the Tigers lost Brady Norrish and twin brother Chase to identical knee injuries within a two week span, and RIT never recovered, going 4-10 and making an early exit in the Atlantic Hockey tournament.
Spending the offseason rehabbing his knee, Brady Norrish re-injured it in the first game of this season, his senior campaign.
"I'm so sorry for him," said Wilson. "That was my first reaction. Not what it would do to the team, but how heartbreaking it was to have your last two years, which are supposed be your best two years, spoiled like that.
"He was All-League as a freshman. Was a captain as a sophomore. He was All-League last season despite missing half of it. That showed how much the other coaches thought of him."
The silver lining is that the rest of RIT's defensive corps had to step up and fill the gap.
"Looking back, guys benefitted filling those minutes," said Wilson. "This season we're very deep. We've got nine good defensemen."
Wilson likes his blueliners so much that in several games so far, he's dressed seven defensemen and 11 forwards. RIT's D-corps have chipped in seven goals so far, including four by senior Matt Abt. New addition Dan Willett leads all Tiger defensemen with seven points. That's good enough for third among rookie defenseman nationally.
"(Willett) is one of the leading scorers among freshmen," said Wilson. "Not just (among) defensemen."
Up front, the all-junior line of Abbott Girduckis (12 points), Gabe Valenzuela (11) and Erik Brown (a team-leading six goals) has done the most damage.
"We've been matching them us against other team's top lines and they're still producing," said Wilson.
Freshman goaltender Logan Drackett has appeared in eight of nine games, and, like the rest of the team, has bounced back from that rough weekend in October, when he allowed seven goals against Rensselaer. Since then, he's won five of six including a 34 save performance against Robert Morris last Saturday, including stopping all 15 shots in the third period.
On the season, Drackett has a 3.27 GAA and an .893 save percentage. He's been named Atlantic Hockey's Rookie of the Week twice so far this season.
"He's had the one bad game, which skewed his numbers," said Wilson. "Other than that, he's been solid."
Next up for RIT is a trip to Air Force, which is off to an uncharacteristically slow start at 1-4-1 in conference play.
Wilson says no matter what the records are, he expects the usual close, hard fought game. In other words, bring plenty of ice packs.
"We're not expecting to start the third period down by any more than a goal or up by any more than a goal," said Wilson.
"Somebody's going to get a late power play; somebody's going to be on the penalty kill. It comes down to how you're going to play in those situations."
Surprise, surprise surprise
We're at about the one-third mark of the season, which has been full of surprises, both good and bad.
Here's what's surprised me most about each team so far:
Air Force: Hit hard by injury, the Falcons are scoring almost a goal a game less than last season (2.25 vs. 3.17), ranking 53rd in offense. The Falcons had the best penalty kill in the nation last season (89.7%), but are currently well behind that so far (81.2%).
A bright spot has been the play of junior Matt Serratore, the nephew of Falcons coach Frank Serratore and son of Bemidji State coach Tom Serratore. Despite missing the first two games of the season due to a concussion, Serratore has five goals in eight games, tops on the team. Last year he tallied four goals in 34 contests.
American International: AIC is coming off a sweep of Sacred Heart, the first time the Yellow Jackets have won a season series against the Pioneers since 1999. Freshman goaltender Stefano Durante is 3-0, the best start in program history for a rookie netminder.
AIC's offense is currently ranked 22nd in the country (3.00 GPG), up from 51st last season (2.28 GPG).
Army West Point: Sophomore Michael Wilson is off to a torrid start with eight goals (seventh nationally) and four assists through 10 games. That's already eclipsed the four goals Wilson scored in 33 games as a rookie.
Bentley: The surprise here is how the Falcons are struggling on offense, averaging 2.22 goals per game, 54th in Division I. That's down almost a goal per game from last season (3.08 GPG).
Despite recording just a single win so far, Bentley goaltender Jayson Argue's numbers are ahead of last season: He has a .917 save percentage (vs. .908 last season) and a GAA of 2.80 (vs. 3.00 last year).
Canisius: Junior forward Dylan McLaughlin is scoring at almost twice the rate he did last season, averaging 1.56 points per game so far, eighth nationally. Teammate Ryan Schmelzer's production is also up, averaging 1.33 PPG vs. 0.81 PPG last season.
Holy Cross: Senior Scott Pooley is averaging a goal a game so far. His 10 goals in 10 games has already eclipsed his total from last season (nine in 32 games).
Also of note is senior netminder Paul Berrafato, whose .926 save percentage to date is well ahead of the .896 he posted last season.
Mercyhurst Scoring is way, way up in Erie. The Lakers offense is ranked ninth nationally (3.50 GPG), compared to the 2.72 GPG Mercyhurst averaged last season. Mercyhurst has three players already in double digits: Derek Barach (12 points), Taylor Best (10 points) and Lester Lancaster (10 points).
Niagara: Without a doubt, the Purple Eagles are the biggest surprise of the 2017-18 season so far. Niagara's six wins so far (6-3-1) has already surpassed last season's total (5-31-3). The Purple Eagles had the worst goal differential in the nation last season (-2.26 GPG). So far this season, it's -0.10.
Defenseman Noah Delmas, one of the few players that managed to stay healthy last season, had 15 points in 35 games. So far this year, he's got a team-leading 13 points.
It's the same story for forward Tanner Lomsnes, who averaged 0.39 points per game in an injury-shortened 2016-17 season. He's scoring at a pace of 1.10 PPG so far this year.
RIT: It's been mostly good news so far for the Tigers, especially the play of junior forward Abbott Girduckis, who has 12 points through nine games. That's more than double his average from last season (21 points in 37 contests).
The Tigers are averaging 3.56 goals per game, eighth nationally. Last season, they averaged 2.92 PPG, 28th in Division I.
Robert Morris: After not being swept in 150 straight games dating back to 2013, RMU has already come away with zero points twice so far this season, at the hands of Ohio State and RIT.
Team defense has slipped from 17th last season (2.50 GPG) to 54th (3.55 GPG).
A bright spot has been the play of sophomore Luke Lynch. His nine goals lead the team and has already matched his total from 2016-17.
Sacred Heart: The biggest surprise so far for the Pioneers has been the play of sophomore Vito Bavaro, who leads the team in goals with six. He scored seven in 36 games last season.
Freshman Mark Johnstone leads the team in points (11). The top six scorers so far this season for SHU are all freshman and sophomores.
Weekly Awards
Here's what the league came up with this week.
Player of the Week — Dylan McLaughlin, Canisius: The junior forward had a five point weekend, recording four goals and an assist to help the Golden Griffins earn a split with Mercyhurst.
Goalie of the Week — Paul Berrafato, Holy Cross: The senior led the Crusaders to a three-point weekend against visiting Air Force. He posted his second shutout of the season in a 3-0 win on Friday, and stopped 26 of 29 shots in a 3-3 tie on Saturday.
Defensive Player of the Week — Matt Abt, RIT: Abt wins the award for the second time this season. He had a goal and an assist and was plus-4 in a home sweep of Robert Morris.
Rookie of the Week — Jake Levin, Air Force: Levin, a defenseman, made quite the debut on Saturday, scoring a pair of goals in his first collegiate game. His second goal was the equalizer to help the Falcons salvage a point against Holy Cross.