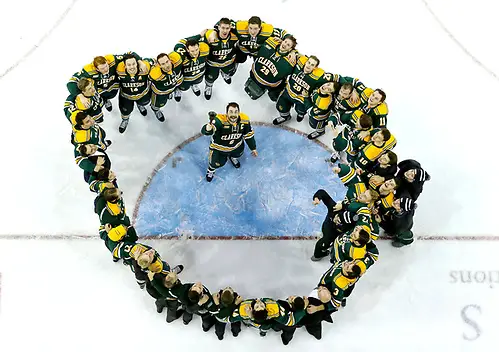 Each week during the season, we look at the big events and big games around Division I men's college hockey in Tuesday Morning Quarterback.
Paula: Jimmy, after a week of very light conference play, a whole bunch of nonconference games and some top teams with byes, I find the poll this week to be very interesting.
Confession time: I'm the sole voter who put Notre Dame at the top, based on their nine-game win streak and their decisive victory over Minnesota Saturday night — and because they are undefeated in a conference that I see as much improved this season. Minnesota didn't drop too far in the polls after being swept by Notre Dame, which says something about the perceived strength of both teams.
Given that Denver didn't play, perhaps I shouldn't have penalized the Pioneers. Also, I waffled about putting St. Cloud on top because the Huskies have just two losses, but they also sat out this past weekend. It's a tricky thing for me and you and I have talked about the nature of the poll a lot, about what it really measures. This past weekend, I thought that Notre Dame was the best team in the country. That may not be fair and it may change next week, of course.
I'm really interested in what you think about gauging the top teams in weeks like this. I'm also interested in hearing about the Friendship Four.
Jim: I have always been of the ilk that if a team is off for a week, it's not fair to said team unless another team does something rather amazing.
For me, I did feel that Notre Dame's sweep of Minnesota was pretty impressive and I actually placed them in the second spot on my ballot. I didn't feel it was fair, though, to push them past Denver as the Pioneers already took three out of four points from the Irish in South Bend earlier this season.
Is that fair rationale? Maybe, maybe not. But that's why you and I aren't the sole voters in this poll. We need many other rationales to get a solid sample size of perception.
The other topic you mentioned was the Friendship Four, which continues to impress me in terms of the success of the event. Once again, the four games (all separate admission tickets) drew more than 5,000 fans per game, something that just blows my mind. We're taking a sport – college hockey – and placing it in an area that has one professional hockey team in the entire combined countries of Northern Ireland and Ireland.
And yet, the demand is there for the fans.
On top of that, the experience for the teams sounds like it was once again very positive. Teams are certainly talking with other teams that have traveled to Belfast in the past and are refining the overall experience to make it top-notch for the student athlete.
Obviously, this is an event that Hockey East and the ECAC own, but I wouldn't be surprised if other conferences tried to find a similar international destination to replicate such an event.
Paula: I am glad to hear that the event is so well received and so well attended – and that this is such a good experience for student-athletes who get to participate.
I would love to see more NCAA D-I events played internationally. The fact that this does so well in the British Isles is incredible; I can only imagine how well a D-I tournament would be received in countries where more professional hockey is played. Based on how the IIHF World Junior Championship is attended in Europe and Russia, I think a small tournament like the Friendship Four would do well in such places – although I am sure that travel itself would be an issue for some programs.
All of this talk reminds me that this coming week is the fullest schedule remaining in the first half of the season. There is a lot of hockey on tap for the following week, but not much the weekend of Dec. 15 and nothing, of course, the week after that because of the Christmas holiday. Then we have midseason tournaments.
Who is surprising you the most as the first half comes to a close, Jimmy? Who's emerging that you find interesting? And are you at the point yet where you're looking forward to any of the midseason tournaments?
Close to home, I'm most surprised by Michigan State. It's not just that the Spartans are getting a boost out of new coach Danton Cole, but Michigan State is playing smarter hockey week by week, and goaltender John Lethemon gets stronger as the season progresses. Michigan State has seven wins so far, which equals the total number the Spartans had for all of last season.
I'm surprised, too, by Western Michigan. The Broncos went 6-2-0 in November and swept Denver in the process. I don't know why I'm surprised by WMU, except that I saw them earlier in the season and thought they didn't look prepared. They also had a slow start.
It's hard not to be excited about the emergence of Boston College after the Eagles' slow start. A 7-0-1 November is impressive.
Jim: There are a number of teams that impress me for various reasons.
You mentioned Boston College for getting hot after a slow start. Throw Union in that category as well. After beginning 0-5, the Dutchmen are 8-1-1 including taking a win and a tie on the road at North Dakota this past weekend.
Obviously, Clarkson stands out for their performance. Probably a bit expected, but a perfect 8-0 in November was impressive.
There's also Massachusetts, a five-win team a season ago, which improved to 7-6-0 this weekend with a sweep of Quinnipiac.
Then there are teams like Maine, which I had almost no expectations for, yet still have put together quality wins against teams like Boston University and UMass Lowell. And Mercyhurst, which is a .500 team, but has posted non-league wins against teams like Wisconsin, Penn State and Ferris State.
As for holiday tournaments, I always look forward to these events, but am somewhat disappointed by how few there are this year. Vermont, Dartmouth and Robert Morris will all host their annual events (I'm been to all three in recent years – all very well-run events). The newcomer this year is Arizona State's tournament, which will be played in Las Vegas at the home of the NHL's Golden Knights. I'm personally excited for that one as I'll be in attendance.
But that's the whole schedule of tournaments. I miss tournaments like those in the past in Minnesota and Wisconsin. And even though the attendance was never impressive, teams seemed to love going to Estero, Fla., each season for the Everblades Classic. All of those are missing from this year's docket.
A Tip of the Cap…
Paula: … to Wisconsin-Stevens Point equipment manager Todd Bialas, who filled in for Mercyhurst equipment manager Mike Folga when the Lakers traveled to play Wisconsin in Madison. Recovering from surgery, Folga wasn't able to make the trip and Mercyhurst found itself in need of someone skilled, and at practically the last minute too. Judging by Mercyhurst's split on the weekend and James Anderson's third-period goal for the Lakers in Sunday's game, it's clear that Bialas did an outstanding job.
Jim: Certainly a noble move. Mike Folga is one of the ultimate good guys in college hockey. He's also probably one of the few college equipment managers to have a Stanley Cup ring having served on the staff of the New York Rangers back in 1994. I'm not sure how serious Folga's surgery was, but we certainly wish him a speedy recovery and a quick return behind the Mercyhurst bench.