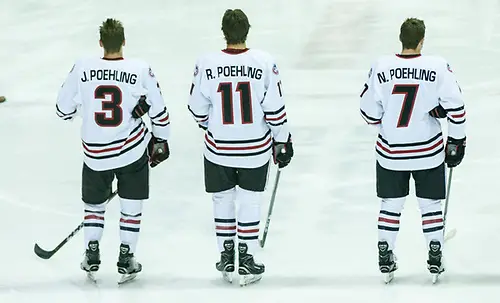 Each week during the season, we look at the big events and big games around Division I men's college hockey in Tuesday Morning Quarterback.
Jim: I feel like every week, we are talking about teams at the top of the poll that are falling.
Well, this week, that's simply not the case.
The top six teams in last week's USCHO.com poll were a combined 10-1-0, the only blemish being Cornell's loss to Miami, part of a weekend split with the RedHawks.
That said, I remember enough about science in high school telling me that every action has an equal and opposite reaction. And that "reaction" was felt in every team that was active between seven and 20 in the poll. Not a single team in that mix swept with most splitting two-game series. Two teams were swept – Western Michigan by No. 6 North Dakota and Minnesota Duluth by No. 1 Denver.
I guess at the end of all of that, I'm left trying to figure out if there is any meaning. The obvious is that we should be giving high marks to Denver and North Dakota for their sweeps of nationally-ranked teams. It's not fair to ignore Clarkson, Notre Dame and St. Cloud State, all of which took care of business.
But I'll take this to another level and ask. Paula, do you think that it's possible that the top maybe, just maybe, separating themselves from the remainder of the teams in the poll? Or am I reading far too much in to one weekend's results?
Paula: It's very interesting that you're posing that question, Jimmy, because it is the very thing I was thinking about Sunday when I saw Saturday's results.
Not only do I think that we're seeing the top teams pull away from the rest of the pack, but I think the reason is the overall strength of the NCHC.
Since its inception, the NCHC has dominated so much of D-I hockey, especially in the poll and the PairWise Rankings. The league has two Frozen Four champions to its credit, and last year the final game was all NCHC. The league has remained consistently strong in nonconference play in every season, so that even when lower-tier NCHC teams upset top teams in the league, those top teams seldom take permanent hits.
Four NCHC teams finished the season among the top 10 in the USCHO poll last year and four the year before that, and while there was some overlap, there has been some variety among those top NCHC teams. Three of the top five teams this week are NCHC teams and I see them all vying for a national championship.
Then there's Notre Dame, another argument for winning spawning more winning. We both know what a Frozen Four appearance can do for a given team, and the Fighting Irish seem to have benefited from elevating their whole game.
So, yes, I think that we're seeing some separation. Of course, there's a second half to be played.
Jim: Ah, yes. As they say, "there's a lot of hockey left to be played."
That said, you bring up a very interesting point about Notre Dame. Not only do the Irish remain No. 4 in the USCHO poll this week, but two more wins over Michigan State this weekend raises the record for Notre Dame to a still-perfect 8-0-0 mark in the Big Ten. My question is what that tells us about that team.
I don't think there is any secret that Notre Dame never felt at home in Hockey East — coach Jeff Jackson used almost those exact words last year. But I have to wonder if Hockey East was a bit tougher competition for the Irish.
Certainly, travel has been easier, and one of the major factors for Notre Dame moving to the Big Ten. But a league with six opponents is a different task for preparation than a team with 11 opponents, many of which presented different challenges.
When you look at the Big Ten, the average team still recruits a blue-chip player who enters college around the age of 18 or 19. In Hockey East, you certainly had those teams like Boston College and Boston University that gets the younger player, but the average team in Hockey East tends to target and older player. You won't see the Irish playing against a lot of 24-year-old seniors, while that wasn't all that rare in Hockey East.
I may be making a bigger thing about age than it is worth, but lest we forget that we're just a few years removed from the Big Ten leading a charge to unify the maximum age of players to avoid having 24-year-old seniors.
Paula: Your psychic powers are strong this week, my friend.
Those are salient points about Notre Dame, about Hockey East, about the Big Ten – all things I was tempted to bring up myself.
I do think that Notre Dame is benefitting in many ways from playing the Big Ten, not the least of which is familiarity. Three of its new opponents were foes Notre Dame faced in the CCHA, and geographically speaking, the league is a much better fit. I'd like to point out, too, that the Fighting Irish really were the last holdouts for the CCHA, quite willing to remain in the league even with the departure of the B1G schools, should it have come to that.
And while the Big Ten is improved this season, the ease with which Notre Dame is handling its new conference foes may say a lot more about B1G hockey than the Irish.
As for the age issue, that really rankled with me when it was brought up, and I don't believe that the support for it was uniform behind closed Big Ten doors. For a conference with such extensive resources in comparison to other conferences, the move felt a bit elitist. Of course, B1G Hockey hasn't exactly been burning it up since its inception, so there's a counterargument right there.
When I covered the CCHA, I covered a lot of rookies in their 20s. I have no problem covering older rookies. In fact, I may prefer that to covering teenagers who leave after a single season or two of college hockey.
I'll just leave that right there.
A Tip of the Cap…
Jim: … this week goes to the red-hot Clarkson power play. It's especially great when power-play goals come at opportune times. On Saturday, on the road at Canisius, the Golden Knights' three-goal lead was cut to two before the end of the second period. And with a hungry Canisius team looking for the upset, Clarkson's power play did what it can do: score. Two third-period power-play goals iced the game. It was the ninth straight game Clarkson has struck on the power play, improving the efficiency for the unit to a nation-best 30.6 percent on the season.
Paula: Clarkson's penalty kill is now seventh in the nation (87.3), giving the Golden Knights the nation's top combined special teams as well. All of this contributes to Clarkson's second-best scoring margin, too. While every coach will tell you that he wants his team's five-on-five game to be clicking, when special teams are playing as well as Clarkson's specialty units, the advantage is immeasurable.