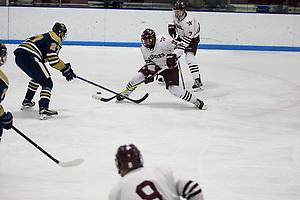 It's not often you find two teams soaring down similar paths and striving for new heights.
At Augsburg, it's become a common occurrence for the men's and women's hockey teams to play at a high level. As the first week of December arrives, the two teams have combined for 14 wins and have lost a total of four games between them.
It's impressive to say the least because it's rare for both hockey programs at a school to have similar levels of success.
But it's hardly a surprise, at least not when you are talking about Augsburg hockey. Only Endicott is better at the moment, with the two teams combining for an 18-1-1 mark. Augsburg is 14-4-1.
"There is great camaraderie between the teams and a lot of positive energy from both teams doing well," men's coach Chris Brown said. "Everyone feeds off it. A lot of excitement is created, and it's definitely a good thing when you have the two teams feeding off each other in a positive way."
Senior forward Megan Robertson loves the fact that both teams have thrived as of late. The women's team has enjoyed two consecutive winning seasons and back-to-back appearances in the MIAC tournament, including an appearance in the conference title game a year ago. The men's team has made three consecutive MIAC playoff appearances and has won the last two conference tournament championships.
"It's awesome," Robertson said. "The success of the men's team motivates us. We are all friends and support each other. To see both teams do well is very exciting."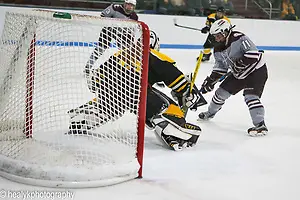 It's not just the hockey programs that feed off each other, however. The other sports inspire the hockey teams to succeed as well.
"We've had teams like the women's soccer team, the volleyball team, and the men's soccer team have success, and our athletes share the weight room and training facilities with them," Augsburg women's coach Michelle McAteer said. "When you are surrounded by athletes reaching those heights, who are in championship situations, you benefit from it."
McAteer understands what it takes to win. She was a part of three national championship teams as a player at Minnesota Duluth and won another title at the school as an assistant coach.
Her team at Augsburg finished below .500 in her first five seasons, winning a total of 32 games. Over the last three seasons, including nine games this year, the Auggies have won 38 games. The rise of the Auggies in women's hockey is hardly a surprise.
"It's been a combination of trying to recruit talented and committed players and creating a culture that is committed and close-knit. Those have all translated into great chemistry and a lot of great things on the ice."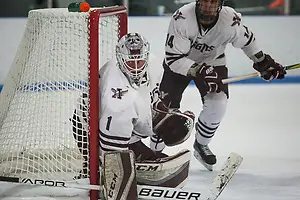 For the men's team, Brown said his team's success over the last few years has built up the confidence of the players, putting them in a position to believe that they can achieve anything. Since the start of the 2015-16 campaign, his team has won 42 games and has lost only 16. Not only have they won two conference championships, they have been to the NCAA tournament the last two seasons as well.
"All of those accomplishments build confidence, and when you are a confident individual and a confident team, you are more willing to work through the ups and downs of a season," Brown said. "We've earned what we've gotten. Nothing has come easy. There have been challenges, but our guys have responded well to them."
The women's team is still pushing for its first MIAC championship. It came so close to getting one a year ago before a 3-2 loss to rival St. Thomas in the title game.
"We were right there," Robertson said. "Just to compete with a great program like that, it was a good experience for us. We learned that we have what it takes to be champions, and we are using that experience to help us this season."
Robertson has seen the progress of the women's program up close. During her freshman season, Augsburg finished sixth in the conference. It won only nine games.
"It's been awesome to see our program improve every year," Robertson said. "I love seeing how far we have come since I was a freshman."
The experience of Robertson and the other returning players on the squad has been instrumental in the growth of the program and knowing what it takes to be a contender. Robertson said she has used what she learned from the players before her to her advantage.
"I saw the way they did things and have learned a lot from the coaches, too," Robertson said. "I try to play up to the high expectations and be there for my team the way the older players were there for me."
McAteer said she loves that her players embrace the expectations.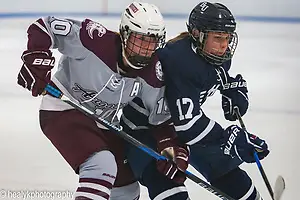 "They are hungry and determined," McAteer said. "We didn't get the result we wanted last year, but I think it's motivated them and fueled them. They have the mentality that they want to win, and they pass that drive and determination on to the younger players."
The value of experience cannot be understated. Just ask Brown. It's why his team is off and running again this year and well on its way to contending for another MIAC tournament crown and NCAA berth.
"The experience we have has been a big part of our success," Brown said. "Our guys come to the rink with the emphasis of getting better and still have fun. By having a veteran team, you can hit the ground running. That's part of the reason we've been able to get off to a good start."
On her player profile, Robertson said her athletic goal at Augsburg is to make the playoffs and win the MIAC. One goal has already been checked off. The other is one she hopes to accomplish this year.
"We are all on the same page and all working toward a championship," Robertson said. "We can't take any games off. We have to be ready to play every game. Sometimes you get caught looking ahead, but we know it's important to stay focused and take each game as it comes."