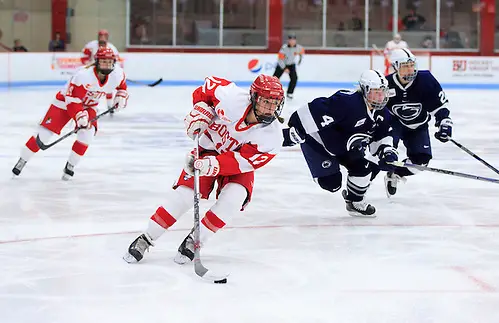 Senior forward Victoria Bach of the Boston University women's team has been selected as the women's Hockey Commissioners Association National College Player of the Month for November, while Boston College freshman forward Daryl Watts has repeated as AHCA National Rookie of the Month.
Bach, who was named Hockey East Player of the Month on Tuesday, is the first player in program history to receive this national honor. She was the most prolific scorer in the country during November, leading the nation with 21 points, thanks to an NCAA-best 13 goals in addition to eight assists. Bach was also first among NCAA skaters in goals per game (1.62), points per game (2.62), shots on goal (61), shots on goal per game (7.62) and plus-minus (+17).
It was a four-game stretch in the middle of November that separated Bach from her peers. She recorded five goals in back-to-back weekends, beginning at Vermont the weekend of Nov. 17-18.
Bach notched a career-high four goals as part of a five-point effort on Nov. 17 and followed that with another marker the next day. She then tallied another hat trick against Minnesota State on Nov. 24 before scoring twice more against No. 1 Wisconsin on Nov. 25. Bach then capped the month with a career-best five points against Brown on Nov. 28. She tallied two goals, including the game-winning marker in the third period, in addition to three assists.
An NCAA-high 11 of Bach's 13 goals came at even strength, and Bach also led the nation with 10 goals away from home. No other player in the country recorded more multi-goal games (4) than Bach, and she was also the only player in the nation to record two hat tricks in November.
A native of Milton, Ont., Bach was held without a point just once in November and finished the month on a six-game point streak. She has since extended that point streak to eight games, and will look to continue her great play when the Terriers trek to Yale on Thursday night.
For the second straight month, Watts led all freshmen nationally in scoring.
In November, the 18-year-old Toronto product also ranked third nationally in scoring among all players. She recorded 19 points in eight games, including seven goals and a nation-high 12 assists. Her 1.50 assists per game led the nation, while she was tied for third in points per game (2.38) among all players.
Last month, Watts posted seven multiple-point games as No. 2 Boston College went 6-1-1. She had a pair of four-point games, both coming against ranked opponents: a one-goal, three-assist effort against No. 9 Providence on Nov. 3, and a four-assist game at No. 8 St. Lawrence on Nov. 11. She also had a three-point day – two goals and one assist – against Northeastern to close the month on Nov. 28.
Additionally, her totals included two multiple-goal games and three multiple-assist outings.
Watts comes into the last weekend of play in first semester as the national leader in nine categories: points (44), goals (20), assists (24), points per game (2.59), goals per game (1.18), assists per game (1.41), power-play goals (7), power-play points (14) and plus/minus (+25)
So far this season, Watts has won three nationally monthly honors, three conference monthly awards and four league weekly recognitions.