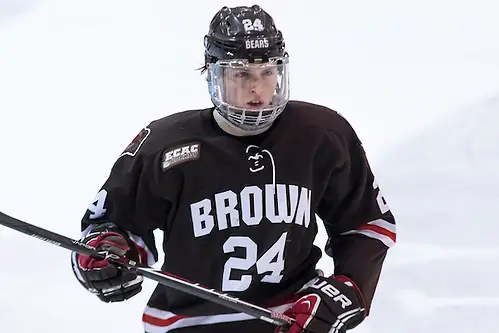 Down 4-1 with half a period of hockey remaining, Brown remained calm as the Bears hoped to mount a comeback against Rensselaer last Saturday night.
Three goals in the final eight-plus minutes led to a 5-4 overtime victory for the Bears over the Engineers as they earned a split of the weekend after falling to Union on Friday evening.
"It's a great team to coach this year, the guys are very confident, they believe it's a good hockey team," Brown coach Brendan Whittet said. "There was no panic even though we were down 4-1. Obviously, as time ticks down, you got to try to get one, that's what we were all trying to do was focusing on getting one to get back within two. The momentum kind of shifted, the pendulum shifted quickly."
Whittet's message during the second intermission was to believe that his squad could come back.
Tommy Marchin was the key cog to the comeback as he had a hat trick in the game, with two of those tallies coming in the third period. Marchin is another player who has stepped up this season as the Bears have seemingly relied on just a couple players to put the puck in the net in past years.
It has been a total team effort this season from players who were expected to produce like seniors Sam Lafferty or Charlie Corcoran to a junior like Marchin, a sophomore like Brent Beaudoin or a freshman like Alec Mehr.
"It's a true definition of a team, it really is," Whittet said. "The good thing is we really have gotten contributions throughout the early going from a lot of different people who have come into the lineup and been impactful. You would think you would lean on heavily on that senior group with (Max) Willman, (Tyler) Bird, Corcoran, Lafftery and Tim Lappin. We do lean on those guys, they are important players, they are important people, important pieces to our program that we are trying to do. The good thing is to see guys like Tommy Marchin who is playing the way he should play, a power forward role. Taking things to the net hard and he has a great shot, a quick release. He's really been able to find that over the past four games here."
Beaudoin leads the team in scoring with two goals and six assists, while Marchin has six goals and an assist. Lafferty and Corcoran each have three goals and three assists for a third-place tie in scoring.
With a 4-6-0 record through the first 10 games, the Bears have matched last year's win total as they went 4-25-4 on the season. Whittet and company haven't looked back in the rearview mirror, choosing instead looking through the windshield.
"Honestly, we don't talk a lot about last year," Whittet said. "We focused as a staff and as a program and as a players on what we needed to do to grow and improve to make sure we were confident since Day 1."
Whittet said there's not one necessary thing the team needs to work on as the season goes on, but to take one day at a time.
Harvard finally working out the kinks
The start to the 2017-18 season for the Crimson hasn't been what most people have expected for last year's Frozen Four finalist.
The team started the year as the No. 2 team in the country and since has fallen out of the USCHO poll as the Crimson continues to fill the holes Alexander Kerfoot, Luke Esposito, Sean Malone, Tyler Moy and others have left.
This past weekend, Harvard ended the first half of their season on a positive note with a weekend sweep of Quinnipiac and Princeton with a 6-2 win over the Bobcats and a 5-2 win over the Tigers.
It's something Donato said his club has been struggling with in prior weeks.
"We did a better job getting off to a better start to the games," Harvard coach Ted Donato said. "We were leading after the first period in both games. I thought we did a good job staying out of the box for the most part. I thought we made the other team work harder for their goals. That was something earlier in the year. That's a team effort from the fords to the defense and to the goaltenders. We were giving up goals too easily. That's something we improved upon last weekend."
Harvard has averaged nearly five minors per game this this season. This past weekend they had four minors against Princeton while against the Bobcats, only had one trip to the sin bin.
Donato said that due to the the holes that were created because of graduation, it has taken a third of the season for those guys that were secondary options in the lineup to be the go-to targets this season.
Donato also went to the bullpen, so to speak, as he gave starter Merrick Madsen the weekend off and there was a new goalie in Harvard's net for the first time in two seasons.
Junior Michael Lackey took the crease for the first time in two years as he missed all of last year due to an injury. Despite not seeing any game action in two years, Donato had no hesitation putting him into a key series.
"This year, he has worked hard and looks like he came in great shape," Donato said. "We thought he deserved an opportunity. He went in there and played well. I think when it's all said and done, up and down our lineup, every position, guys are playing on a merit basis.
"Michael Lackey deserved the opportunity and he played well."
Harvard will look to continue its two-game win streak after Christmas when they travel up to Burlington for the Catamount Cup to face UMass Lowell and host Vermont.
For Donato, he wishes his team had one more weekend of games before the Christmas break.
"We would have liked to keep playing," Donato said. "When you win a couple of games, you want to get on a roll, but we knew the schedule going in and we will just deal with it. I think it's important to hit the ground running on the other side of the holiday."
ECAC players named to World Junior evaluation camps
When Harvard returns to the ice, they could potentially be without three players as Adam Fox, Reilly Walsh and Jack Badini have all been invited to Team USA's World Junior training camp from Dec. 15-19 in Columbus, Ohio.
The tournament takes place Dec. 26 to Jan. 5 in Buffalo.
Fox appears to be a lock as a returner from last season's gold medal-winning team. In 10 games, the Calgary Flames draft pick has nine assists. In last year's tournament, he had four assists in seven games.
Badini will try to make his first WJC team after being invited to USa Hockey's summer evaluation camp. The freshman, who was picked by Anaheim in the 2017 draft, has three goals and three assists for the Crimson.
Walsh, a third-round pick of New Jersey in June, has three goals and five assists as a freshman. He wasn't involved in the camp that took place in Plymouth, Mich., this summer.
Phil Kemp of Yale will also take part in the camp in Columbus. The freshman, who was picked by Edmonton in June, has a goal and two assists with Yale so far. He attended the summer camp.
Colton Point will try to make Team Canada as the Colgate goaltender will be one of four goalies trying to make the Canadian squad. The 19-year-old has a 8-3-4 record with a 1.76 GAA and a .943 save percentage.
Point was a fifth-round pick of the Dallas Stars in 2016.
Canada's camp takes place from Dec. 12-15 in St. Catherines, Ont.
St. Lawrence investigating its men's hockey program
News broke Tuesday night that St. Lawrence president Bill Fox has hired the law firm of Bond, Schoeneck and King, PLLC to independently investigate the hockey program as allegations have surfaced on social media and message boards the past few weeks whether NCAA or school rules were broken.
Ryan P. Deuel, director of media relations and strategic communications for St. Lawrence, declined to comment further to the Watertown Daily Times on what's being investigated. He did say the team will continue to play their schedule and head coach Mark Morris will continue to be behind the bench for the Saints.
Quinnpiac's Mick suspended
Quinnipiac sophomore forward Logan Mick has been assessed a one-game suspension for his inferefence penalty on Saturday against Dartmouth.
He will miss the first game against Maine as the Black Bears come to Hamden for two games this weekend.
Mick has two goals and an assist in seven games this season.
Players of the Week
Marchin has been named the ECAC Player of the Week with his four goals and assist on the weekend.
Kevin O'Neil of Yale was named the Rookie of the Week with two goals on the weekend.
Lackey was awarded Goaltender of the Week honors as he swept Quinnipiac and Princeton.
Clarkson sweeps Player of the Month honors
The Golden Knights, who went 8-0 in November, took home some individual awards for the month. Freshman Josh Dickinson took home the Player of the Month as he had nine goals and two assists.
Dickinson's linemate Jack Jacome was named Rookie of the Month as he had a goal and 11 assists for November.
Jake Kielly, with his 8-0 record, was named Goaltender of the Month as he sported a 1.25 GAA and a .948 save percentage while recording three shutouts.