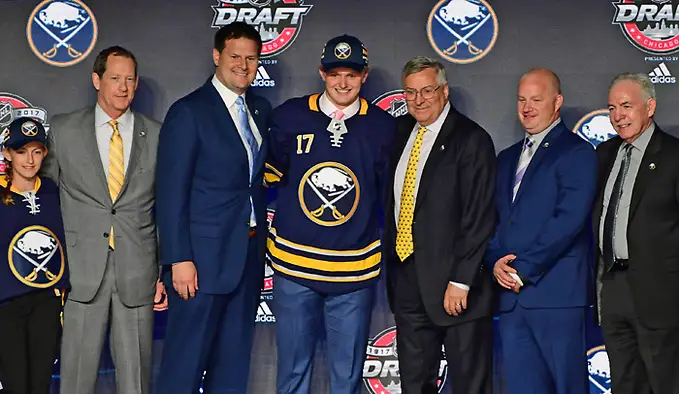 BUFFALO, N.Y. — Buffalo fans who attended the World Junior Championship were rooting for a gold medal for Team USA.
However, they also had another interest.
They wanted to get an early glimpse at the player their hometown Sabres selected eighth overall, and the first American, in the 2017 NHL Draft.
That player is Casey Mittelstadt.
While Team USA disappointed the home fans with a 4-2 loss to Sweden in the semifinals, Mittelstadt did not disappoint the locals.
Mittelstadt was arguably the most talented forward in the tournament. His tying goal against Slovakia still has people buzzing. He's one of those players who pulls the crowd out of their seats when he picks up the puck and heads down ice.
In the three-on-three overtime against Canada, he was literally skating circles around the northern neighbors.
"His skill level is insane," his linemate Joey Anderson said. "Anyone that plays with him becomes better."
"We all see the talent," Team USA coach Bob Motzko said. "It's at a high, high level."
Mittelstadt is a Minnesota boy through and through. He grew up in Eden Prairie. And even though he started his high school senior year playing for the Green Bay Gamblers of the USHL, as soon as the high school season started, he returned to Eden Prairie.
In 24 games for Green Bay, he accumulated 13 goals and 17 assists, and left as one of the leagues's leading scorers with 30 points.
In high school, he averaged about a goal a game and over two points a game. He led his school to the Class AA State runnerup position in 2016. He was named Minnesota's Mr. Hockey in 2017.
Like any Minnesota bred superstar, he committed to the University of Minnesota. There, so far he has five goals and 12 assists in his freshman year.
Despite all that success and the high regard NHL scouts hold him, the World Junior Championship was perhaps his true coming out party for the rest of the country.
Heading into the semifinal round, he led all scorers with 10 points on four goals and six assists with a plus-6 rating.
But talent alone isn't what makes a great player great. It's the intangibles. It's the attitude.
Motzko explains: "What I really appreciate the most on Casey — and I'm also from the same state and watched him grow up and play on the big stage of Minnesota — he wants the puck. He wants to be out in critical moments. He's not going to shy away from them. He's a big-time player.
"I go back to the shootout against Canada. When it came to him, he knew it was his job. He just had that aura about him."
That shootout attempt was the only time Mittelstadt himself was left perplexed, instead of his opponents. He did everything right leaving the goalie out to dry, except put the puck in the net, as it took an odd bounce.
"I had an empty net; I was starting to celebrate," Mittelstadt laughed. "I don't know what happened."
Of course, it wasn't just Buffalo fans who were checking out a potential future star. Mittelstadt was also checking out his potential future home.
"I love it," he said of Buffalo. "The fans have been great. They treated all of us really well. It's been a blast. One of the most fun times I've had."
No doubt, Sabres' fans are salivating at the thought of having Mittelstadt and Jack Eichel skating together.
"Buffalo is going to have a good one there," Motzko said.