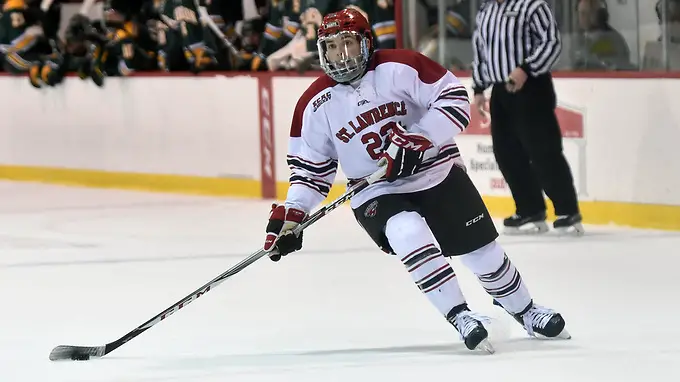 St. Lawrence sophomore defenseman Ben Finkelstein has withdrawn from school for "personal reasons," according to a school-issued press release, and will not play the remainder of the 2017-18 season.
"I'd like to thank my teammates and coaches for their support the last year and a half," Finkelstein said in a statement. "The memories and friendships I have made will last a lifetime. With that being said, at this point in my life, I need to pursue other options. I wish nothing but the best for the program and will forever be grateful for the opportunities I was given during my time at St. Lawrence."
"Ben is a skilled defenseman that played big minutes for us and we're disappointed he has decided to leave the program," added Saints coach Mark Morris. "We hope to continue to build on the momentum we've gained since the break with the guys that are here as we move forward into the second half of league play."
Finkelstein had three goals and nine assists for 12 points through 20 games played this season. As a freshman, he posted five goals and 23 points in 37 games.
He was selected by the Florida Panthers in the seventh round (195th overall) in the 2016 NHL draft.