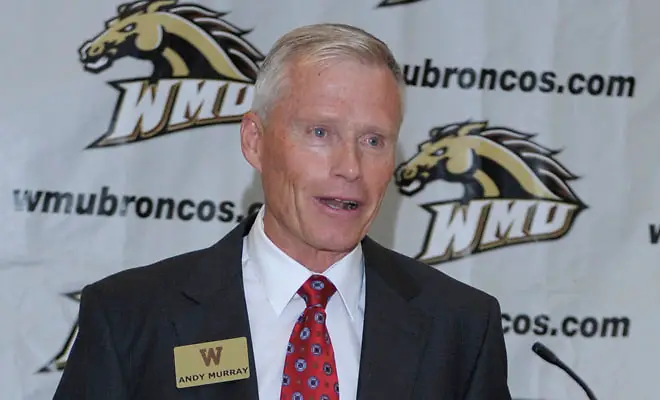 By the time 12th-ranked Western Michigan arrives at St. Cloud State's National Hockey Center later this week, WMU will have had 15 days to prepare for the top-ranked Huskies.
Coach Andy Murray's Broncos will remember where the nets are after putting five goals past Bowling Green in a road win on Dec. 28, but a hockey team can't bank on thriving through offense alone. The defense has to be up to snuff, too, especially against a team like St. Cloud which is averaging 3.8 goals a night.
On average, Western hasn't conceded a lot fewer than that (3.5).
"We need to be a little better defensively, and we're aware of that, and obviously, we're going to be tested on that this weekend," Murray said during his weekly press conference. "We're going against the No. 1 offense in college hockey and the No. 1-ranked team, so if there's an opportune time to step up and be good defensively, this would be the weekend.
"Good defense is having the puck, so we need to possess the puck. When we've got it, we've got to make them work hard to get it back from us and when they get it, we're going to steal it back right away. It's going to be an in-your-face, smart, disciplined style of game."
Murray went on to point out that teams can ill afford to take penalties against SCSU, which has buried on 22 of its 89 man-advantage opportunities so far this season.
Western is 30th-best in the country in that category (20-of-107), but three of the Broncos' goals last time out against Bowling Green came on power plays.
WMU is up against a much stronger opponent here, though, and SCSU is yet to lose at home (10-0-1) this season. It's clear for Western and everyone watching what the Broncos are up against, but their coach feels they're up to the challenge.
"We've had a couple of weeks now to prepare for the St. Cloud series," Murray said. "All of last week was very tough and we pushed our guys and worked on some tactical things and worked on their skill development, and they're excited to play the No. 1 team in the country, and they're No. 1 because they're good in every position.
"They've got a high save percentage on the part of their goalies, their defense can move the puck and they're getting point production, and they've got four forward lines – It's tough for us to look at matchup scenarios because it looks like they have four No. 1 lines."
Jordan enjoying big uptick
Much has changed for Omaha's Zach Jordan in his sophomore season.
He's on pace to surpass his number of games played in 2016-17 by the end of this month, and he has nine times as many goals as he did as a freshman.
Not that it took much doing.
His line for the season wasn't impressive: one goal and an assist in 18 games.
Now, the one-time Omaha Lancers player from his time in junior hockey ranks second on UNO's roster in goals scored and has 14 points to his name.
So when did his huge production spike start taking shape? The answer: well before this season began.
"I took a big summer and really worked on a lot of stuff. like getting my feet moving a lot more and using my size and my shot more to my advantage," the 6-foot-3 forward said. "It's just coming out and playing every day and using it consistently, and it's paying off.
"It's taken a lot of work, but it's what I want to do and it's working out for me."
That it is: his three goals on Dec. 8 against Minnesota Duluth marked the first time a Maverick had recorded a hat trick at Baxter Arena, and he had a goal and an assist last Friday in UNO's 4-1 win at then-No. 6 North Dakota.
First-year coach Mike Gabinet, a former UNO player himself and an assistant with the Mavericks last season, knew Jordan was capable of the kind of uptick he's had.
"He's one of those guys that's just continued to work on his game," Gabinet said. "He's obviously got a nice shot and can contribute offensively and he's starting to get more responsibility defensively.
"He's a big, strong guy, so any time you can get that production from a guy that is increasing his offensive production, it serves us really well. It's nice to see him continue to work on his game, and he's a guy that, when he's around the net, there's a good chance that puck's going in the net."
Jordan, who has scored twice from the flank this season on one of UNO's power play units, has lived up to his updated job description.
"I think my role has developed more in terms of being a leader a little bit and leading by example," he said. "I've been able to develop a role as a power forward that needs to show up every night and contribute in some way, either getting shots on net or popping in a goal or making a good pass for an assist. Just anything to influence the game."
Omaha struggled through the first half of the season and remains tied for last in the NCHC standings. With the Mavericks having won three of their last four games, though, Jordan hopes to stay as one of UNO's key players.
"I see my situation as really good right now," he said. "'Gabs' has a lot of faith in me, and it's all on me right now to prove that I can stay where I am in the lineup and keep playing every night."
"I used to think about goals in terms of numbers when I was younger, just like, 'I want to get a certain amount of goals, a certain amount of points,' but for me now and the player I've developed into, it's more just being a guy that my team can rely on every game and doing my role."
Players of the week
Offensive player of the week: Dylan Gambrell, Denver. The junior forward had a five-point weekend during DU's road split with Miami. His three goals came on 15 shots, and he also recorded two assists.
Defensive player of the week: Blake Hillman, Denver. A junior defenseman, Hillman served on both of DU's special teams units and finished the series in Oxford, Ohio, with two goals and an assist.
Rookie of the week: Casey Gilling, Miami. The freshman forward had a career weekend against Denver, potting two goals and as many assists. He now has five goals and seven assists over 19 games this season.
Goaltender of the week: Evan Weninger, Omaha. Weninger only played in one of UNO's two games last weekend at North Dakota but made a season-high 34 saves in the Mavericks' 4-1 win on Friday.