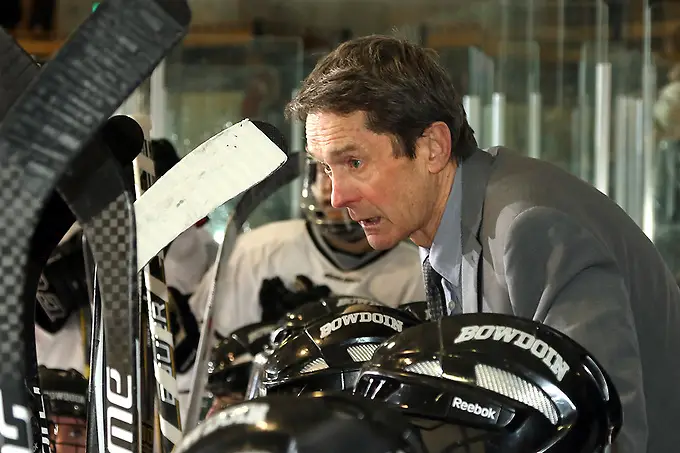 The American Hockey Coaches Association announced Thursday its major awards for 2018.
Eight individuals who have made unique contributions to amateur hockey in the United States will be recognized either at a luncheon during the Frozen Four in St. Paul or during the 2018 AHCA Convention in Naples, Fla.
JOHN MACINNES AWARD
Established by AHCA in 1982 to honor former Michigan Tech coach John MacInnes, this award recognizes those people who have shown a great concern for amateur hockey and youth programs. The recipients have had high winning percentages, as well as outstanding graduating percentages among their former players. The winners of this award have helped young men grow not only as hockey players, but more importantly, as men.
2018 Recipient: Terry Meagher, Bowdoin
Meagher won 542 games in a 33-year career as head coach at Bowdoin and retired in 2016 having compiled a record of 542-253-58, ranking sixth in Division III history in total victories.
"Terry Meagher set a powerful example for members of our community with his unwavering support of the academic interests of our students and ability to prepare our teams to compete at the highest level within Division III athletics," said Bowdoin director of athletics Tim Ryan, at the time of Meagher's retirement, in a statement. "Terry's coaching record speaks for itself, but he is known primarily for his positive impact on the development of Bowdoin students in several athletic programs, especially our men's ice hockey program, and the relationships he nurtures across our campus community."
JOHN MARIUCCI AWARD
John Mariucci, the former coach at Minnesota, was not only an outstanding college coach, but also a driving force behind the growth of hockey in the United States. In 1987, the AHCA created this award to honor a secondary school coach who best exemplifies the spirit, dedication and enthusiasm of the "Godfather of U.S. Hockey."
2018 Recipient: Jim Pohl, Red Wing (Minn.) High School
Jim Pohl coached high school hockey in Minnesota for 21 seasons, compiling an overall record as a head coach of 235-179-15, starting two different programs (Rochester Lourdes, Red Wing) in that time.
JIM FULLERTON AWARD
Named in honor of the former Brown coach and ACHA spiritual leader, this award recognizes an individual who loves the purity of our sport. Whether a coach, administrator, trainer, official, journalist or simply a fan, the recipient exemplifies Jim Fullerton, who gave as much as he received and never stopped caring about the direction in which our game was heading.
2018 Recipient: Neil Koepke, MSUSpartans.com
A fixture at the NCAA Frozen Four for decades, Koepke becomes only the seventh member of the media to be honored by the AHCA.
Said Michigan State coach Danton Cole in nominating Koepke: "Neil Koepke, one of the longest-tenured and most-respected college hockey journalists in the country, joined the staff of MSUSpartans.com as a hockey writer in 2011. Koepke provides exclusive written content to the site weekly throughout the college hockey season, extending his coverage of Spartan hockey into its 33rd year. Koepke's deep college hockey connections and unparalleled knowledge of the sport make him a frequent guest on many national radio shows and several local media outlets. Few journalists are as highly admired."
Koepke has covered college hockey for 45 seasons, which included 25 years as the beat writer for the Spartan hockey program with the Lansing State Journal. Prior to joining the LSJ staff, he had spent 13 seasons as the Michigan beat reporter for the Ann Arbor News and one year as an analyst with Ken Kal, now the voice of the Detroit Red Wings, on Wolverines radio broadcasts on WAAM.
JOHN "SNOOKS" KELLEY FOUNDERS AWARD
Named after the famed Boston College coach, this award honors those people in the coaching profession who have contributed to the overall growth and development of the sport of ice hockey in the United States.
2018 Recipient: Jim Logue, Merrimack, Salem State and Boston College
One of the most popular and influential volunteer coaches in recent college hockey history, Logue brought unique qualities honed as an Olympic goalie to coaching stints at three NCAA campuses. A three-year letter-winner for Kelley at Boston College, his coaching career spanned two tenures at Merrimack (1969-78, 1983-88), sandwiched around six seasons as head coach of North Andover (Mass.) High School (1980-86.) He moved on to Salem State in 1991, serving two seasons before a serious illness nearly ended his life.
Diagnosed in September 1993 with hairy cell leukemia, Logue entered St. Luke's Hospital in Houston. There, he underwent 90 days of treatment using an innovative new drug to attack the illness. With the illness cured, Logue joined the Boston College coaching staff for two decades of success in which the Eagles won four NCAA titles.
TERRY FLANAGAN AWARD
Named in honor of the former New Hampshire player and Bowling Green assistant, this award honors an assistant coach's career body of work.
2018 Recipient: Ben Syer, Quinnipiac and Cornell
Syer has brought a standard of excellence to two Division I programs in the East in Quinnipiac and Cornell.
Said Big Red coach Mike Schafer upon nominating Syer: "This is the first time I have nominated someone for a major award. 'Benny,' as he is known by many assistants, has a lot of the characteristics of Terry Flanagan. He can hold court with a group of assistant coaches on the road with the best of them. He knows the elder statesmen, but he also knows the young guys like Terry did. He would make sure to say hello to everyone in the rink and lend a helping hand to young assistants. I admired Terry for this. He and his family are of the highest character, upfront and honest.
"Benny reminds also me of Terry because he has the same character, truthfulness and honesty and integrity that represents Ben but also our program and the program before him at Quinnipiac. He helped establish the program there and is as loyal a coach to Rand Pecknold as he is to me."
JOE BURKE AWARD
Named after one of the game's earliest super fans, this award is presented annually to the person who has given outstanding contribution, support, and dedication to women's hockey.
2018 Recipient: Zoë M. Harris, ACHA Women's Hockey, Washington men's hockey, Western Washington Female Hockey Association
For the last 30 years, Harris has been working to grow female hockey across the country as a player, coach, and administrator. A native of Barrington, R.I., Harris graduated from Maine (1992) with a degree in Mass Communications, where she played for the women's non-varsity hockey team for four years and served as a team captain and club president.
Harris moved to Seattle 25 years ago and in 1995, began coaching girls hockey with Cindy Dayley. They formed the first girls elite travel AAA rep team in Seattle with the mission of skill development, building strength of character, and exposure to collegiate coaches. By the second year, the team went undefeated 19-0 and won the Canadian Lower Mainland Female Hockey League championship — the first U.S. team to ever win the title.
THE WOMEN'S ICE HOCKEY FOUNDERS AWARD
This award honors a member of the hockey community or college coaching profession who has contributed to the overall growth and development of the sport of women's hockey in the United States through their enthusiasm, passion and selflessness.
2018 Recipient: Paul Kennedy, East Coast Wizards
Kennedy has coached and worked with many female hockey players of all ages over the past 15 years. In the process, he has had a huge impact on the growth of women's hockey, especially in the Massachusetts area.
In 2004, he started the East Coast Wizards program and created a place for post-college players to play on. Players such as Courtney Kennedy, Andrea Kilbourne, Katie King, Tricia Dunn and Angela Ruggiero (all decorated Olympians) played for the Wizards in its first year. They competed against local men's junior teams. The team ended up kick-starting a whole organization and Kennedy started the East Coast Wizards organization in 2005.
ASSISTANT WOMEN'S COACH AWARD
This award honors a women's hockey assistant coach's career body of work.
2018 Recipient: Ted Wisner, St. Lawrence
Wisner has been one of the top assistant coaches and recruiters in women's hockey over the last 15 years.
Upon nominating Wisner, current St. Lawrence coach Chris Wells said: "I am in disbelief that he has not received this award to this date. I am sure this is due to him telling those he has worked for not to nominate him, which is typical of his humble ways. Ted is the quintessential assistant coach, happy to be in the background, always on the road. Ted knows every rink and player in North America. Nobody works harder than 'Boomer.' Always avoiding the spotlight, Ted is a great mentor and friendly face to all coaches young and old alike."
Wisner is his 10th season on the Saints' coaching staff and his sixth as the associate head coach.