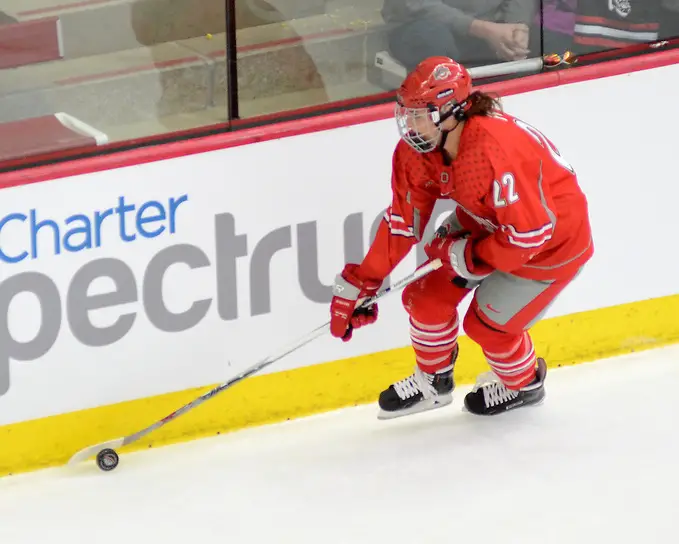 No. 1 Wisconsin vs. Bemidji State
On Friday, the Badgers jumped out to a 3-0 lead thanks to two goals from Claudia Kepler, but the Beavers responded. Abby Halluska closed the gap before the end of the second, and then Emily Bergland and Paige Beebe scored within 1:41 of each other with less than five minutes left in the game to force overtime. Mikaela Gardner scored for the Badgers with an unassisted goal 1:58 into the extra frame to earn the 4-3 victory for Wisconsin. On Saturday, the teams traded goals through the first two periods before Beebe gave Bemidji its first lead of the weekend when her goal made it 3-2 in favor of Bemidji. Sam Cogan scored for Wisconsin to tie the game about midway through the third, and 65:00 could not decide a winner. Maddie Rowe and Brette Pettet scored for Wisconsin in the shootout to earn the Badgers an extra WCHA point.
No. 2 Boston College vs. Vermont
Kenzie Kent had the Eagles up after the first period of Friday before Alyssa Gorecki tied it up for the Catamounts less than two minutes into the second. Caitrin Lonergan put BC up again to give the Eagles a 2-1 lead heading into the third. Ali O'Leary's power-play goal tied up the game early in the third, and these two went to overtime. Serena Sommerfield was the unlikely hero, with her third goal of the season winning it in overtime. Olivia Kilberg had Vermont up 1-0 heading into the third period, but Toni Ann Miano scored twice in exactly six minutes to earn the weekend sweep for Boston College.
No. 2 Clarkson at Harvard
Elizabeth Giguère, Loren Gabel, and Michaela Pejzlová scored for Clarkson in its 3-1 win over the Crimson. Kaitlin Tse was the lone goal scorer for Harvard in the loss.
No. 2 Clarkson at Dartmouth
Loren Gabel led the Golden Knights with three goals and an assist en route to a 8-1 win for Clarkson. Giguère added a goal and four assists.
Union at No. 4 Colgate
Shae Labbe scored twice and had an assist while Annika Zalewski added a goal and two assists in Colgate's 6-1 win. Katelyn Russ scored for Union.
Rensselaer at No. 4 Colgate
Olivia Zafuto scored twice for the Raiders and was joined by Megan Sullivan, Shelby Perry, and Lauren Wildfang in a 5-0 win.
No. 5 Minnesota at No. 7 Ohio State
The Gophers carried a 2-1 lead into the third period thanks to goals from Alex Woken and Grace Zumwinkle, but Charly Dahlquist and Liz Schepers scored in the final frame to earn a 3-2 win for Ohio State. On Saturday, it was all Buckeyes. Maddy Field scored twice and added an assist in Ohio State's 5-1 win that earned them a weekend and season win over Minnesota. It was the first series win over the Gophers in Ohio State program history.
Rensselaer at No. 6 Cornell
Kristin O'Neill scored the only goal of the game midway through the third period to give Cornell the 1-0 win.
Union at No. 6 Cornell
Union had a 2-1 lead heading into the third period thanks to goals from Katelynn Russ and Megan Ryan. Kristin O'Neill and Kendra Nealey put Cornell up with just less than five minutes to play, but Russ scored her second of the game with 1:28 to go to earn the tie for Union.
No. 8 Providence at New Hampshire
In game one, Providence took a 2-0 win into the third thanks to goals from Brooke Boquist and Nene Van Pelt. New Hampshire earned the 2-2 tie with goals in the final frame from Carlee Turner and Kate Haslett. On Saturday, Carlee Toews was the lone goal scorer as she led New Hampshire to a 1-0 win.
Merrimack at No. 9 Maine
Lydia Murray scored for Maine and Katelyn Rae scored for Merrimack to have this game tied 1-1 heading into the third. Brooke Stacey scored once and Michelle Weis scored twice in the third to earn Maine a 4-1 win. On Saturday, it was the Katelyn Rae show as she scored all four of Merrimack's goals en route to a 4-2 win. Lydia Murray and Cailey Hutchison scored for Maine in the loss.
No. 10 St. Lawrence at Dartmouth
Kennedy Marchment scored twice and Hannah Miller and Justine Reyes each had two assists in St. Lawrence's 4-0 win over Dartmouth.
No. 10 St. Lawrence at Harvard
Kennedy Marchment scored twice to give herself a four-goal weekend as the Saints won 3-0.