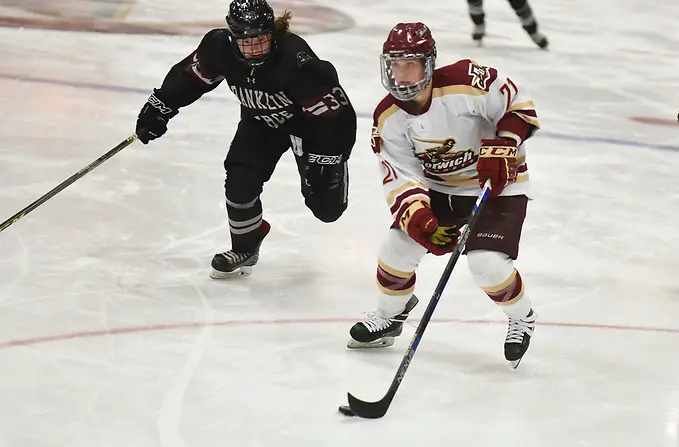 No. 3 Norwich vs. No. 2 Elmira
The teams were tied after one thanks to goals from Alyssa Hulst for Norwich and Katie Granato for Elmira. The second period was all Elmira, as Granato and Jess Adams put the Soaring Eagles up 3-1, but Norwich came roaring back in the third with goals from Sarah Schwenzfeier and Adrieana Rossini to earn a 3-3 tie.
Lake Forest vs. No. 4 Adrian
Goals from Amy Budde and Megan Lyke had Lake Forest up 2-1 heading into the final frame on Friday, but Adrian pulled away with goals from Olivia Fox, Kortney Diaz, and Rose Krasofsky to earn a 4-2 win. On Saturday, Brooke Schembri and Brianna Buchanan put Adrian up 2-0, but Lake Forest responded with goals from Maddie Davis and Kayla Griffin. Then Adrian began to pull away. Buchanan, Jacqueline White, and Olivia Fox all scored to give Adrian the 5-2 win.
No. 5 Gustavus Adolphus vs. Augsburg
The Gusties outshot Augsburg, 37-25, but this one ended in a 1-1 tie on Friday thanks to goals from Jeannette Bealke for Augsburg and Kristen Cash for Gustavus Adolphus. On Saturday, Amelia Vosen scored twice and Diana Draayer scored once to lead the Gusties to a 3-1 win. Bridget Wagner was the goal scorer for Augsburg.
No. 8 St. Thomas vs. Bethel
Rachel Werdin and Allison Pernell scored within 2:26 of each other in the second period to earn St. Thomas the 2-0 win on Friday. Wendy Roberts had Bethel up 1-0 until nearly the end of the second when Kaylee Druk tied it up for the Tommies. Briita Nelson gave Bethel the lead with just less than six to go, but Maddy Fiedler tied it up for St. Thomas with 1:20 to go and the game ended in a 2-2 tie.
No. 9 Connecticut College vs. Williams
Brynn Puppe had Williams up 1-0 after the first, and Abby Brustad's unassisted goal just 18 seconds into the second doubled the lead, but Connecticut College would not back down. Erin Dillon, Katlyn Paiva, and Elena Gualtieri scored unanswered goals to earn Connecticut College the 3-2 win on Friday. Mairi Anthony scored for Connecticut College, and Meghan Halloran scored late in the third for Williams to force overtime and earn a 1-1 tie.