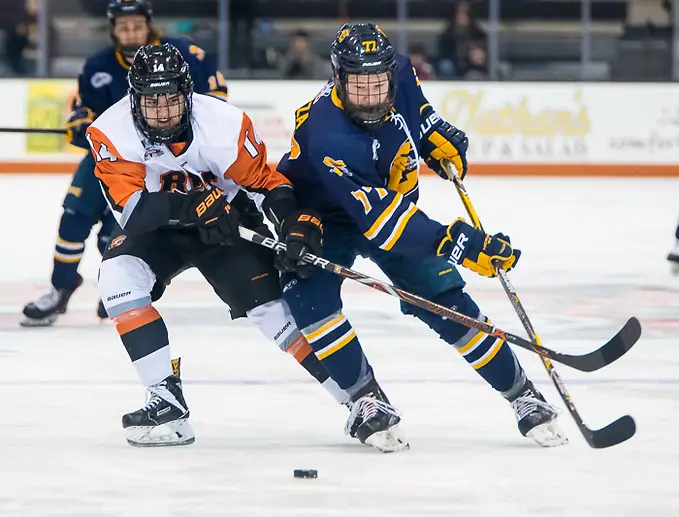 When Trevor Large accepted the head coaching position at Canisius, he inherited a program considered one of Atlantic Hockey's blue bloods.
The Golden Griffins won the league's regular season crown last year, losing only four games along the way. Canisius was one of four teams with 20-plus wins, all of whom advanced to the league semifinals round. A program dating back to Atlantic Hockey's earliest days, Canisius is one of those teams that always seems to find the right way to win in a league it helped start.
As the first season now draws nearer to a close, it's safe to say he seamlessly adjusted to his new role. The Griffins are once again in first place in the league and in control of their postseason fates as they head into a weekend series with a tied-for-first Holy Cross team.
"It's been a great year (so far)," Large said. "The expectations were high, and I would say that comes from the staff and the players coming into the year. Those expectations have continued to grow, so for me, as a first year head coach, sitting in first place is a great feeling. We know it's going to be a tougher (stretch) to end the year because every team is playing better and better and better. The challenge is then to stay there since teams are on our heels."
Large is only 26 games into his head coaching career, but he's never been a stranger to Atlantic Hockey.
An assistant coach at both American International and Army West Point, Large spent the last three seasons in Buffalo as an assistant to former Canisius head coach Dave Smith. When Smith departed, Large took over a roster he helped construct.
The early part of the season brought with it growing pains. Canisius stumbled out to a 3-4 start but rattled off seven straight wins over league opponents to assume first place. The last two came against archrival Niagara at a time when the Purple Eagles ascended back into the national rankings. A two-game sweep by a combined 12-2 score saw Canisius take over the No. 20 spot in the poll heading into the holidays.
The Griffs eventually lost that national ranking, victimized by games against stiff ECAC regional competition like Cornell and Clarkson. But they've largely treaded water at the top of a packed AHC conference. They split with a surging AIC team, then split with RIT. Last weekend, a split with Bentley earned them two points to close out a second half stretch that opened with eight of 10 games on the road.
"There's a ton of belief and leadership (on our team)," Large said. "Those are the two things I think about when we play our most meaningful games – though I know that's not the most perfect word to describe them. Niagara was in first place and we were right there with them going into the break. There's a rivalry there, and it brought out the best in our players. It gave our guys a real boost. That belief and leadership showed them that when we are going and pushing and the aggressor, we're really difficult to beat."
It's a lesson the team continues to learn even in defeat. Canisius scored 14 goals in its three victories over the past three weekends, scoring no less than three goals in each game. Each time, the team scored the first goal, driving its record to a perfect 8-0 when scoring first, with a seven-goal aggregate in the opening frame.
"That same message resonated the last few weekends," Large said. "We've had splits and good games (contrast) against games where the other team was the aggressor. So the ability to grow and learn in wins and losses has been vital for us."
That mentality sets up Canisius for a potential run at another league regular season championship. The Griffs play five of their last eight games at home. One of those road games is at Niagara as part of a season-ending home-and-home, meaning all roads effectively lead to Buffalo.
It begins this weekend when Holy Cross comes to town. The Crusaders are tied for first place because they simply don't lose games; their .591 AHC winning percentage is helped by six ties.
"I expect a lot from our guys," Large said. "It's 'that' time of year. The pressure is there. The adversity is there. The excitement is there. All those things are very real. We feel like we've positioned ourselves where we need to be, and it's in our control. We have control of our destiny, and we need to be great because the challenges are very real every game.
"Holy Cross is extremely structured," he continued. "It's going to be a close game. I don't expect a lot of goals either way, though it can happen. I'm expecting a tight, hard hockey game against a really good team."
Canisius hosts Holy Cross at 7:35 p.m. on Friday before turning around for a 4:35 p.m. start at HARBORcenter on Saturday.
Sacred Heart runs on Dunkin'?
I made one of my most astute observations a couple of weeks ago.
We have a joke in Massachusetts that something is horribly wrong if you go longer than a couple of miles without seeing a Dunkin' Donuts. I can actually point to multiple towns who have the coffee shop on both sides of the street just so drivers don't have to turn around in order to get a hot cup of caffeine and a Boston Creme Donut.
The observation came because there's a good chunk of these Dunkin' Donuts shops within shouting distance of municipal hockey rinks. I guess that makes sense; every hockey parent needs something to get them going when they have to be at the rink before the sun comes up. I tell you that now because Sacred Heart supporters might want to prove this to be true in the near future.
The Pioneers host Robert Morris this weekend for a 10:35 a.m. start on Friday, then turn around and host again on Saturday at 2:05 p.m. That comes in advance of a reschedule of the postponed Air Force game (more on that in a bit), which is set for 12:05 p.m. at Quinnipiac on February 13.
I'm pretty excited to settle in with a pot of coffee and watch some hockey. It harkens back to the old days of getting up early and throwing equipment in Dad's truck.
Pretty special
A team's ability to both capitalize on and stay out of penalty predicaments is usually a driving force in success. A good power play can seal a victory, while a good penalty kill can provide the difference in the razor thin margin of error.
Dominating both is, well, what Canisius does.
It's not shocking that Canisius leads the league in special teams. The No. 11 power play unit and No. 14 penalty kill unit in the nation rank third in combined special teams. The power play is the best in the league, with the penalty kill ranking second behind only Army West Point.
"We feel that penalty kill is the most important part of our game," Trevor Large said. "If we're going to win consistently, which we've had moments of this year, the penalty kill is most important. The power play can either give us a boost in the beginning of a game with the early goal, and it can separate us in the third period. Getting that late goal can separate a 2-1 game into a 3-1 game."
About that Air Force game…
So here's the latest on that Air Force situation. The recent government shutdown forced the postponement of the game at home against Sacred Heart from January 20. Air Force is coming east to play Bentley on February 9 and 10, which allows the flexibility for the Falcons to play against the Pioneers at the TD Bank Sports Center at Quinnipiac.
Tom Brady + Holy Cross = Unbeatable Combo
It's Super Bowl week, so you all knew you weren't getting through this week without a Tom Brady reference.
I'm not making a prediction, but if anyone needs me this weekend, I'll be breathing through a paper bag on Sunday afternoon.
I don't know how many Holy Cross hockey supporters are Patriots fans, but I'm hoping this helps – the Crusaders are nearly unbeatable on recent weekends when New England is in the Super Bowl.
Last year, the Crusaders swept AIC by a combined 11-3 while the Patriots rallied from down 28-3 with two minutes to go in the third quarter (that just feels right to say, doesn't it?). Back in 2015, they swept Niagara prior to Malcom Butler's interception in the end zone against the Seahawks. And in 2012, they swept AIC in the days before the Giants beat the Patriots in Super Bowl XLVI.
This weekend, the Crusaders head to Canisius, where it should be noted that Coach Large is neither a Patriots fan nor an Eagles fan. But he did give me a shoutout to the Toronto Argonauts, who beat the Calgary Stampeders back in November to win the 105th Grey Cup.
Players of the Week
Player of the Week – Mercyhurst's Jack Riley: Riley scored a hat trick en route to four goals in the Lakers' three-point weekend in West Point. I'm sure it was sweeter that it came in his hometown playing in front of his family and, specifically, his father, Brian.
Defensive Player of the Week – Air Force's Phil Boje: Boje blocked seven shots in Air Force's sweep win at Niagara. That's grit and toughness personified at its finest.
Goalie of the Week – Mercyhurst's Brandon Wilding: Wilding played approximately 125 minutes in goal with 67 saves, allowing only three goals in the three-point weekend at West Point.
Rookie of the Week – Bentley's Luke Santerno: Santerno had two goals for the Falcons in a weekend split against Canisius.
Miracles can happen
The Winter Olympics open next week in Pyeongchang, South Korea, bringing with it some of the finest in athletics competition.
I've always loved the Olympics, and I'm intrigued by this year's event for a number of crazy storylines already running.
The top storyline for me is, of course, the NHL's decision to withhold its players from the hockey competition. Instead of sending its "top flight," Team USA will instead be represented by international pros, minor leaguers, former players and college upstarts. Mercyhurst University will be represented in goal by this when Ryan Zapolski laces the skates up and straps on the red, white and blue.
I'll admit I was skeptical of this, but I'll remind everyone of one thing. This week marks the second anniversary of the death of former Army hockey coach Jack Riley. Coach Riley led Team USA to a perfect 7-0 record and its first-ever gold medal. It's "The Forgotten Miracle," and if anyone is doubting what can happen on Olympic ice, I'll point to what happened in Squaw Valley.
So best wishes to Ryan Zapolski and all of the Olympians who will represent their country in the upcoming weeks.