Northeastern junior forward Adam Gaudette, who currently leads the NCAA in scoring with 39 points and 22 power-play points, has been named the Hockey Commissioners' Association National Division I Player of the Month for January.
In addition, after garnering both the ECAC Hockey Rookie of the Month and Goaltender of the Month honors, Cornell freshman goaltender Matthew Galajda has been selected the HCA National Division I Rookie of the Month for January.
Gaudette finished the month tied as the Division I leader with 14 points in January in just eight games played. Gaudette had seven goals and seven assists while helping the Huskies to a 4-2-2 record and a top ranking in the Hockey East standings. Gaudette tallied four multi-point efforts and three multi-goal outings.
The Vancouver Canucks draftee began the month on a eight-game point streak dating back to Dec. 2, compiling 17 points on nine goals and eight assists in that span. He scored five goals in his first three games in January, and chipped in on two game-winning assists as Northeastern began on a 3-0-1 clip. He posted five power-play points and four assists with the man advantage while also netting one tally while short-handed.
Gaudette, a Braintree, Mass., native, posted multiple points in four of his eight outings in January and has registered a point in 19 of the 26 games in which he has appeared. His Northeastern squad is 12-3-4 when he appears on the score sheet and just 3-4-0 when he is held without a point.
Gaudette led all of Hockey East with seven goals, 14 points, 1.75 points per game, five power-play points, and 5.25 shots on goal per game in the month.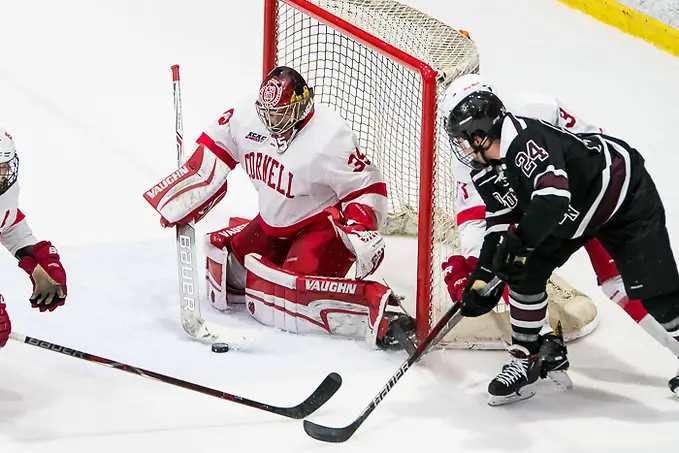 Meanwhile, Galajda led the nation in January in each major goaltending statistical category, including GAA (0.71), save percentage (.973) and shutouts (4). He only allowed five goals during the month, while turning away 181 shots in 424:54 total minutes of action.
He also tied for the national lead with six victories, backstopping the Big Red through an undefeated month (7-0-1).
An Aurora, Ont., native, Galajda posted three consecutive shutouts, riding a shutout streak that topped out at 227:11. It was the second-longest such streak in Big Red program history and 13th all-time on the NCAA Division I list. He also broke the Cornell single-season record for shutouts by a freshman goalie, with his six clean sheets now tied for the national lead.