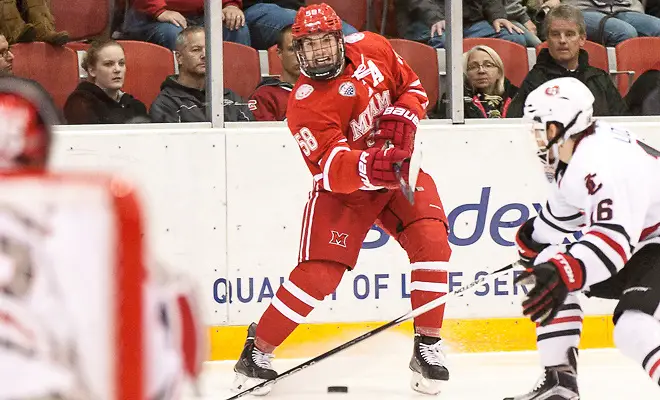 The University of Illinois released Thursday a comprehensive study completed by Collegiate Consulting into the feasibility of starting a Division I men's hockey program.
The study was initiated in June 2017, and commissioned by the NHL, the NHLPA and College Hockey, Inc.
"At this time, the DIA (Illinois division of intercollegiate athletics) is not prepared to make the ultimate decision about adding hockey as a varsity sport," reads the report. "This will happen only if the DIA can successfully fund the program and receive needed support from various campus and community stakeholders."
"The strong consensus of everyone involved in college hockey is that NCAA men's hockey will flourish at the University of Illinois," said College Hockey, Inc., executive director Mike Snee in a statement. "From the number of native Illinois players currently playing college hockey to the continued growth of youth hockey players in the state, there are many reasons to be confident that the Fighting Illini could quickly become a top national program and sustain it every year. We are very appreciative of the university administration's willingness to consider bringing NCAA hockey to Champaign."
The state of Illinois has the sixth-highest youth hockey participation in the nation (22,373 in 2017), which has grown exponentially with an increase of nearly 300 percent since 1993. The state also produces the fourth-most Division I hockey players in the country, with 85 players from Illinois currently competing for Division I teams.
Despite such broad participation and such quality players, the sport is not sponsored by any Division I school in the state.
The study recommends development of a new facility on the location proposed in downtown Champaign. The DIA concurs with this recommendation and will begin focusing its planning efforts on the downtown location. The facility, which would have seating capacity of 5,000 – 6,000, could provide new competition space for hockey, volleyball, gymnastics and wrestling. The downtown location allows the university to partner with the city of Champaign, with its easy accessibility to the many amenities and business establishments that downtown has to offer, should serve as a boon to the local economy.