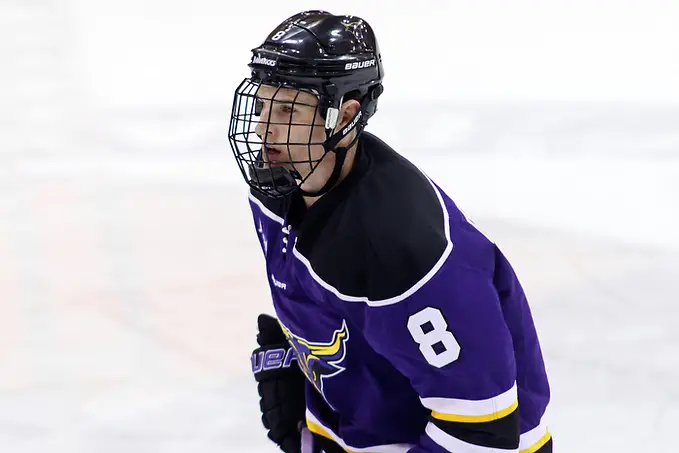 The WCHA announced Thursday its 2017-18 All-WCHA Teams, in addition to its All-Rookie Team.
"This has been a tremendous season, with our student-athletes once again showcasing the passion, intensity and competitiveness that have long been WCHA hallmarks," said WCHA commissioner Bill Robertson in a statement. "With nine schools represented on All-WCHA teams, along with all 10 having robust numbers of All-Academic honorees, today again showcases the commitment each of our institutions has to all-around excellence. We are proud of each All-WCHA honoree for their athletic and academic successes and we applaud them for a wonderful year."
The four teams competing in this weekend's semifinal round of the 2018 WCHA playoffs are well-represented, with 21 players on All-WCHA Teams from Minnesota State (nine), Northern Michigan (six), Bowling Green (five) and Michigan Tech (1).
The three All-WCHA First Team forwards are now finalists for the 2017-18 WCHA Offensive Player of the Year, the two All-WCHA First Team defensemen are candidates for the Defensive Player of the Year and the eight players (with ties) on the WCHA All-Rookie Team are eligible for the Rookie of the Year. Those awards will be announced next Tuesday (March 13).
2017-18 ALL-WCHA TEAMS
FIRST TEAM
C.J. Suess, Sr., Forward, Minnesota State
Marc Michaelis, So., Forward, Minnesota State
Troy Loggins, Jr., Forward, Northern Michigan
Zach Frye, Sr., Defenseman, Alaska
Alec Rauhauser, So., Defenseman, Bowling Green
Atte Tolvanen, Jr., Goaltender, Northern Michigan
SECOND TEAM
Mitch McLain, Sr., Forward, Bowling Green
Adam Rockwood, Jr., Forward, Northern Michigan
Josh Kestner, Sr., Forward, Alabama Huntsville
Daniel Brickley, Jr., Defenseman, Minnesota State
Philip Beaulieu, So., Defenseman, Northern Michigan
Michael Bitzer, Sr., Goaltender, Bemidji State
THIRD TEAM
Zeb Knutson, Sr., Forward, Minnesota State
Darien Craighead, So., Forward, Northern Michigan
Robbie Payne, Sr., Forward, Northern Michigan
Ian Scheid, So., Defenseman, Minnesota State
Ryker Killins, Jr., Defenseman, Ferris State
Mitch Reinke, So., Defenseman, Michigan Tech
Connor LaCouvee, Sr., Goaltender, Minnesota State
ALL-ROOKIE TEAM
Jake Jaremko, Forward, Minnesota State
Brandon Kruse, Forward, Bowling Green State
Steven Jandric, Forward, Alaska
Max Johnson, Forward, Bowling Green
Reggie Lutz, Forward, Minnesota State
Connor Mackey, Defenseman, Minnesota State
Eric Sinclair, Defenseman, Alaska Anchorage
Eric Dop, Goaltender, Bowling Green