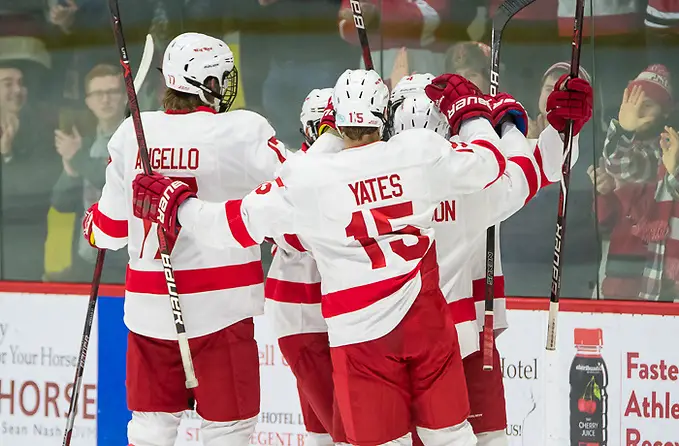 Championship weekend is coming up in Division I hockey and you should all be plugging away at the PairWise Predictor at the moment.
Let's take a quick look at the chances for all the teams left:
Atlantic Hockey – It's pretty simple in Atlantic Hockey, one team will get in and that team is the winner of the autobid.
Big Ten – Notre Dame, Ohio State, Michigan and Penn State all seem to be in. The Big Ten Champion will definitely be a No. 1 seed, while the runner-up may fall into a No. 2 seed. Minnesota is still sitting and waiting, but currently at 13 there has to be lot of movement below it for the Gophers to get a negative outcome.
ECAC – Cornell and Clarkson are in. A Cornell win would seem to wrap up a No. 1 seed while Clarkson needs one win to secure a spot. Princeton and Harvard need to win to get in.
Hockey East – Northeastern and Providence are in. Can Northeastern get to a No. 1 seed? Boston University needs to win to get in. Boston College has a chance if it goes 1-1 this weekend, but, and it's a big but, that also depends on what happens on the bubble.
NCHC – St. Cloud State and Denver are fighting for No. 1 seeds and are in. Minnesota-Duluth seems to be a lock as well, but going 0-2 puts it squarely on the bubble. North Dakota is the only other team that has a chance to get in at the moment. Going 0-2 this weekend would almost kill North Dakota's chances. Going 1-1 could possibly take it off the bubble; 2-0 would be ideal. What will North Dakota do?
WCHA – Minnesota State is guaranteed a bid, but lost any chance at a No. 1 seed by losing in the WCHA semifinal. Northern Michigan will most likely wind up above 16 if it wins, but a loss will not get it in. Michigan Tech needs to win to get in and might be the 16 seed depending upon what happens with Atlantic Hockey.
Here is what is important to look at currently – the cut line being at 14 could be a good possibility. Atlantic Hockey will definitely take one spot away as the champion will be outside the top 16, while the WCHA has that possibility, definitely if Michigan Tech wins. Thus, it's important to be above 14 at a minimum this year.
The cut line could go as high as 12, as the ECAC and Hockey East could also have autobids that come from outside the Top 16.
What to watch for on the bubble this coming weekend:
– Non-Top 16 teams, excluding Atlantic Hockey, and if they can pull off upsets to get an autobid (Princeton, Harvard, Boston University, Michigan Tech)
– Top 16 teams that are still playing and how will this weekend's results affect them
o Minnesota-Duluth – one win and it would be in, but going 0-2 with some upsets could be troublesome
o Clarkson – one win and it seems to be in
o Boston College – can going 1-1 get it an at-large bid?
o North Dakota – How many wins will it get this weekend because that will determine the bubble and regional placement
o Northern Michigan – How far up does a championship move it up?
– Top 16 teams that are not playing and how will this weekend's results affect them
o Penn State – Seeding only, unless there are major upsets in the conference championships or it finds itself passed by North Dakota and/or Boston College
o Minnesota – This is a job for the PairWise Predictor
o Bowling Green – Another job for the PairWise Predictor, but it's hard to see how it might get in with an at-large bid