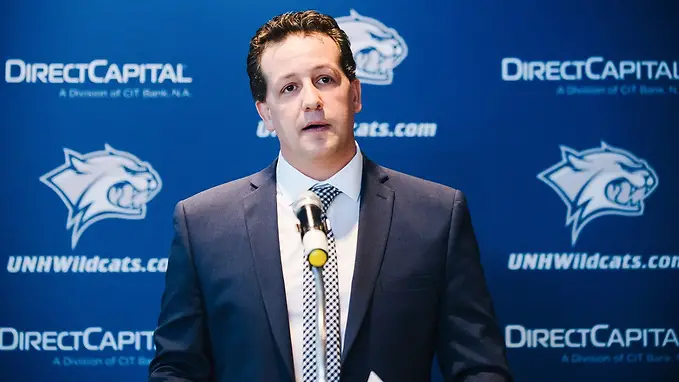 New Hampshire formally introduced Mike Souza as the 13th head coach in Wildcats history on Wednesday.
Souza, a 2000 UNH graduate, ascends to the head coaching position following three seasons as an associate head coach under Dick Umile, who is retiring after 28 years as the Wildcats head coach.
"Mike Souza possesses a unique blend of old and new school and embodies all that we value at UNH," said UNH director of athletics Marty Scarano in a statement. "Mike came to UNH as a local high school athlete with a blue-collar work ethic who went on to have a stellar career as a student-athlete and demonstrated his leadership skills on and off the ice. His long career as a professional hockey player afforded him many contacts, which will serve the university well in our recruiting efforts. Having worked as the associate head coach for the last three years, Mike has a clear vision and strategy for the program and understands the work that needs to be done to help the team become more competitive in Hockey East and nationally."
"I am honored to receive the opportunity to serve as the head coach of the University of New Hampshire," added Souza. "Playing and coaching at UNH has been one of the great privileges of my life. The lessons I learned as both a student-athlete and coach here strongly influenced my career path and fortunately led me to where I am today. I am profoundly thankful to Coach Umile, Marty Scarano, president Mark Huddleston and the extended Wildcat family for entrusting me with this position, and together we will work toward our goal of upholding this program's standard of excellence on and off the ice."
In his role as associate head coach over the last three years, Souza worked directly with the defensemen and the power play.
"Mike is a master recruiter and evaluates talent very well," said Umile. "He is a hard worker and is well respected. As a graduate of UNH and a former student-athlete, he understands the school and the program. He brings respect, enthusiasm and hard work to the rink. Mike is a natural and will lead the program to tremendous success. I am very excited for him and his family."
Prior to returning to Durham as an associate head coach in 2015, the native of Wakefield, Mass., spent two seasons (2013-15) coaching under Mike Cavanaugh at Connecticut. Souza assisted with all aspects of the program, focusing primarily on power plays and recruiting efforts and was promoted to associate head coach in April 2015.
"No one can ever replace Dick Umile, but the University of New Hampshire made an excellent hire in Mike Souza," noted Cavanaugh. "Mike's affection for the university and the hockey program is commensurate with Coach Umile's. I'm very confident Mike will lead the program with competence and professionalism that will make the University and its alumni proud."
Souza began his coaching career with a two-year stint (2011-13) at Brown as an assistant coach under Brendan Whittet. He was responsible for recruiting, game and practice preparation, and video breakdown for the Bears.
Souza graduated from UNH following a decorated four-year career with the Wildcats from 1996 to 2000. During that time, the squad reached two Frozen Fours, including the national championship game against Maine in 1999. In that game Souza, who led all Frozen Four participants with six points, scored a critical third-period goal that forced overtime, and he was subsequently named to the NCAA All-Regional Team and NCAA All-Tournament Team.
In 1999-2000, Souza won the Jim Urquhart Award as Student-Athlete of the Year, which is the highest honor bestowed upon a graduating student-athlete at UNH. He was also named to the New England All-Star Team, All-Hockey East Second Team and was feted with the Wildcat program's Charles E. Holt Coaches Award for contributions both on and off the ice. In 156 career games, Souza totaled 156 points on 66 goals and 90 assists.
Souza was the 67th overall selection by the Chicago Blackhawks in the 1997 NHL Draft. He played professionally in the American Hockey League from 2000 to 2005, and he played six additional seasons (2005-11) in Europe. From 2008 to 2011, he was a member of the Italian National Team, participating in the IIHF World Championship all three years and winning the Division I gold medal in 2009 and 2011.