Here we are, the final column of the year.
(Next week, we switch to coverage of the NCAA tournament.)
The four teams left standing — Boston College, Northeastern, Providence and Boston University — are the top four teams from the regular season. In many ways, there's little separating them from each other, which should make for an awesome weekend of hockey at the TD Garden.
"In the 24 years I have coached in Hockey East," BC coach Jerry York says, "this has been the most competitive top to bottom that I have seen. I'm not saying we have the high, high-end team that some of us have had in the past, that have been No. 1 in the country, or that are expected to win a national championship, [but] the competition in the league has been terrific."
So let's get to it.
No. 1 Boston College vs. No. 4 Boston University (Fri., 5 p.m.)
The two archrivals go at it yet again, as they did last year in the semifinals with the Eagles prevailing, 3-2.
Boston College enters with only a single senior on the roster, defenseman Kevin Lohan, a transfer from Michigan. So it's an unusually young team, and that's not just based on relying on freshmen in key roles.
"It's been really unique in that aspect," York says. "Usually you draw from four classes and you talk about senior leadership and the veteran players in big, big games. We will have that hopefully next year and the year after.
"This year it's been unique, but a lot of fun, too, to see the growth of the players."
Although the Eagles took the regular season title, they didn't dominate the same way some BC teams have in recent years. The roster isn't dotted with superstars garnering national attention. As such, York figures the difference-makers for his team this weekend could be almost anyone.
"It could be what happened against Merrimack this weekend," he says. "On Saturday night, we had a goal by Chris Grando, who had not scored since early November. It comes from unexpected people in our lineup. Mike Booth scored his first goal of the year in that game, a real critical game for us.
"We talk about goals by committee because we don't have that 24- or 25-goal scorer, but we have been able to find goals from different sources. Those two unlikely players came through in the clutch for us. That's happened in the past for all of our teams. All of sudden, the fourth line left wing scores a huge goal.
"We are going to need something like that during the game on Friday night [against BU], whether it's a defenseman or a third or fourth line player to chip in for a big goal.
"Goals are hard to get. The goaltenders seem to get better and better every year. These four goaltenders have had terrific years. They are pivotal players in the chase for the trophy."
For either BC or BU, a loss on Friday night ends their season; an NCAA berth won't be coming. BC might make it with a loss in the championship game, depending on what happens elsewhere. For Boston University, the only path to the national tournament is through winning Hockey East. As such, this qualifies as a "down" year for the program.
"That's what makes these jobs so much fun," BU coach Dave Quinn says. "You want to be involved in high-stakes games; you want to be able to compete for championships. The pressure is on, no doubt about it. That's why you get involved in sports. These are the games you love to play.
"Would we have loved to have won a few more games earlier in the year [so] we'd know we were in the national tournament? Absolutely! I'm sure Jerry [York] feels the same way.
"We are both in similar situations and there is such a fine line. A goal here and a goal there, you go from 17 to 11 in the PairWise.
"I have always said your program is measured by how bad is your bad year. Both BC and BU still have a chance to win a trophy and make the national tournament. You win the Hockey East Championship and you're playing in the national tournament, that's a pretty good year.
"Around [BU] and up the street [at BC], some people may think that's a bad year or down year. That's the great part of coaching at these institutions."
If the Terriers are to rescue their "bad" year, Quinn feels the most likely difference-maker stands between the pipes.
"This time of the year, it's always your goalie, you start there," he says. "Show me a team that's done well in the playoffs with a bad goalie and that would be the first time.
"Jake [Oettinger] has had a really good second half. He's the reason why we were able to dig ourselves out of the big hole we had early in the year. Certainly we look to him to lead the way."
But there are other leading candidates.
"[Senior defenseman] Brandon Hickey has had a great second half," Quinn says. "He and [Dante] Fabbro have done a great job on the blue line. The [Jordan] Greenway – [Brady] Tkachuk – [Drew] Melanson line has been very good and the [Shane] Bowers – [Logan] Cockerill – [Bobo] Carpenter line has been good. That's where we're going to win or lose in those areas.
"Our D corps have played well, but first and foremost [it] is the goaltending."
No. 2 Northeastern vs. No. 3 Providence
Unlike BU and BC, both of these teams have already printed their tickets to the NCAA tournament. The only question will be seeding, with Northeastern having some shot at earning top seed in one of the four regionals. Predictably, Northeastern coach Jim Madigan is paying zero attention to that.
"Our focus is on winning Hockey East," he says. "We are not looking beyond this weekend. This is a great opportunity for our young men, and they take it seriously because this league is tough top to bottom. Winning Hockey East is a tremendous accomplishment.
"That's our goal, regardless of what we have secured or haven't secured. We want to win Hockey East and get in to the NCAA tournament through the Hockey East Championship."
Arguably, Northeastern holds the one weapon that distinguishes it from the other three teams. All four semifinalists have strong goaltending, offenses, defenses, and no glaring errors. But only Northeastern has a supremely dominant offense that scores more than half a goal per game more than all others, fired by the first line of Adam Gaudette, Dylan Sikura, and Nolan Stevens, who rank first, second, and third in Hockey East scoring.
But so much has been written about the trio, it's hard to say anything new. Just consider it a given that they'll be difference-makers this weekend.
What this column has noted before, but has often been overlooked, is that not only are the Huskies the top offensive team in Hockey East, and by a good margin, they are also the league's top defensive team (allowing only 2.08 goals per game).
"We put an emphasis this year at defending better in our own zone," Madigan says. "It's all five guys plus our goaltender in our own zone. Not that we didn't emphasize it in previous years, but we just knew we needed to get better.
"We thought we were going to have enough offense this year that would sustain us during the course of the year, [but] defense is what has allowed us to get to where we are right now. We have had tremendous goaltending, which helps in that regard. [Freshman] Cayden Primeau has just been tremendous and consistent from day one. Our defense corps has been really good and our forwards have made the sacrifice. We block a lot of shots. We make the sacrifice to get pucks out.
"Our whole mantra is the least time we are playing in our zone, the more offensive zone time for us. Our kids like playing offense, and we work a lot on our offense. Coach [Jason] Smith has them defending less, has them defending quickly in our own zone, to spend less time in our own zone, and Coach [Jerry] Keefe is working on them going on the offensive attack, playing in our offensive zone.
"So it's a good recipe for us and our kids realize the quicker we can defend and exit our own zone cleanly, we will have more time on the offense."
So if Northeastern is the team with an extra weapon and no weaknesses, how can Providence emerge with a win? The Friars did take three-of-four points from the Huskies in late January, with both games going into overtime, so they do have a recipe.
"You have to play a complete game against complete teams," PC coach Nate Leaman says. "We knew that when we played the series earlier in the year against them.
"They're a team that can get out front early and force teams to chase games a little bit. That helps their defense, so you have to play a complete game. That was the message sent to our team [Monday].
"There were a couple times in the series against Maine that we had letdowns. You can't have letdowns going forward, you have to play 60 minutes."
In last Friday's game, Providence's first of the postseason, the Black Bears jumped to a 2-0 lead and the Friars never led until Josh Wilkins' game-winner late in the third period.
In a sense, the struggles to get past Maine might prove to be blessings in disguise as they harden freshmen and sophomores who've never gotten to the Garden.
"I am actually really happy that our series with Maine was tight, because it was the first playoff game for a number of our guys," Leaman says. "Brian Pinho has done a tremendous job being the captain this year and leading our team. Brian and Rob Hennessey are the [only] two seniors that play for us all the time; besides that, it's a younger corps behind them.
"The team that won the national championship, [was when] Brian was a freshman. He could look up to Noel Accari and Ross Mauermann. There were so many guys he could look up to and [they'd] say, 'Alright, this is how we approach a game, this is how we play a game, this is how we stick through a game.'
"Brian has had to shoulder a lot of that this year. I actually think Brian's done one of the best jobs that I have ever had in a captain.
"It's all part of the mindset. I don't buy into [the idea] that you have to be old to win in college hockey. You definitely need some leadership and you definitely need some guys that can go out and make a play and settle you down at times. We have that with Brian, we have that with [Erik] Foley, we have that with Vinny [Desharnais], and we have that with [Jacob] Bryson.
"The youth brings an energy that they come to the rink each day and get better and when you do have a young team, the growth curve can keep getting better and better and improving. I have seen us get mentally tougher in the second half. I still know we have better hockey in us and I know we are just starting to hit on some of the levels we can get some of our players at.
"A lot of our sophomores are still just starting to scratch what they can become. With a young team you can keep improving and you know there is so much more improvement in your game. You know that as a coach, if you can get them to that level, they can really do special things."
Saying goodbye to two coaches
I've reached out privately to New Hampshire coach Dick Umile, who is retiring, and Merrimack coach Mark Dennehy, who will not be returning, but I also want to thank them publicly for their cooperation over the years. They were wonderful to work with, in good times and bad, and I appreciate that.
Umile fashioned UNH into a perennial power in Hockey East, where the Wildcats won seven regular season titles. They appeared in 18 NCAA tournaments, including 10 consecutive years from 2002 to 2011. They made it to the Frozen Four in four-of-six years (1998-2003) and two national championship games. In 1999, they came within the bounce of a puck of winning a national championship, falling in overtime to Maine.
Dennehy took over a team that had just gone 1-22-1 in Hockey East (back in 2005-2006) and elevated that program so it was often in the middle of the pack, despite the obvious recruiting disadvantages. The high water mark came in 2010-2011 when the Warriors went 25-10-4 and made the NCAA tournament.
Best of luck to both of them.
Travis Roy: Quadriplegia and a Life of Purpose
Let me remind you one last time about this compilation of pieces I've written about Travis Roy and quadriplegia. It includes new introductions to each piece, and most significantly, a foreword from Travis himself.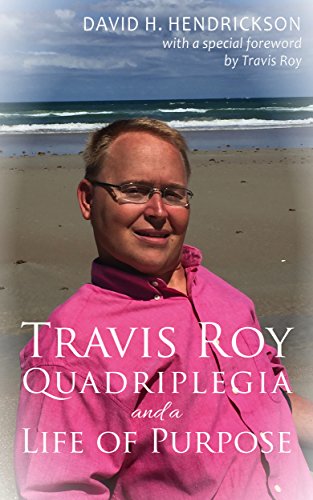 All proceeds go to the Travis Roy foundation, which funds research into a cure for spinal cord injuries and provides individual grants to survivors.
Travis Roy: Quadriplegia and a Life of Purpose is a tiny volume, but it's for a great cause and there's powerful stuff inside that has already touched many readers in significant ways. Here's one of the things Travis says in the foreword:
"I realize how fortunate I was to spend the first half of my life with a passion, thanks to my hockey career. It took me a while to realize it, but now I feel fortunate to have lived the second half of my life with a purpose."
I hope you'll buy a copy either for its content or as a contribution to a great cause. It's available in all major ebook formats for $2.99. Here's a universal link that handles them all.
It's also available in paper from Amazon for $9.99.
You can also email me at [email protected] and I'll send you a copy myself.
Thank you for your support of this important cause.
Thanks to all
A huge thank you to UMass Lowell media relations guru Pete Souris for heroically providing transcripts of this week's Hockey East teleconference. Pete, you are the best!
Thanks also to Jim Connelly for adapting so often to my difficult schedule.
And as always, thanks to my wife, Brenda, without whose support I wouldn't be able to do half of what I do, and without whom my journey would miss so much of its joy.