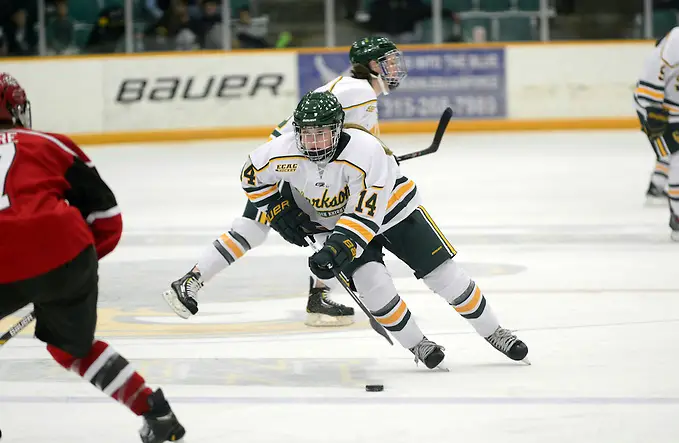 With last year's two championship game participants and two teams that had never made the NCAA tournament before, this year's Frozen Four has the opportunity to have some wildly different storylines. We could see a rematch of last year's title game. Or we could continue to rewrite the history books.
We featured Colgate last week, so no offense to the Raiders, but we'll focus on the other three teams this week.
Clarkson
Clarkson comes in as the no. 1 seed and reigning national champion. They are the team that seemed most likely to be here when we started the season. They returned a strong roster and were anchored by goalie Shea Tiley, defenseman Savannah Harmon, and forward Loren Gabel.
They earned their third-straight trip to the Frozen Four with an overtime win over Mercyhurst, but it was a nail-biter. Coach Matt Desrosiers said the Lakers threw them off their game and did nothing but disrupt their flow.
The Golden Knights had only gone into the third period trailing two other times this season, but the message in the locker room and on the bench was to keep it simple. Despite the adversity that was fairly unknown to the Golden Knights players, Desrosiers said it was the team's seniors that were keeping the team focused on the bench.
"Hats off to our players, I thought they did a fantastic job keeping it positive on our bench," he said. "Our leaders — our upperclassmen — did a good job just keeping an even keel and allowing us to keep calm. Everyone knew that probably wasn't our best game, but we talked about how good teams are able to dig in and are able to win those games. We didn't have our best stuff. For us, it was just continue to keep pushing forward, (to) not get frustrated."
For a program that had not made the Frozen Four before 2014, three straight trips and four in five years is quite the accomplishment, but with two national titles under their belts, there is no consolation in making the tournament.
"We have to go in there and enjoy that opportunity, but we also have to go in there for one reason, and that's to win a championship," said Desrosiers.
There's confidence that comes from knowing you have the wherewithal to come up with the win when a gut-check comes up, but there's also a bit of nerves. The Golden Knights know they eked out the quarterfinal win, and they won't likely be that lucky in the Frozen Four. Now it's about learning from Saturday's game and then putting it behind them as they focus on what got them this far this season.
Ohio State
Clarkson's opponents, the Ohio State Buckeyes, finished last season 14-18-5 and won just seven conference matchups. This year, they're in their first-ever Frozen Four.
They announced themselves as contenders in impressive fashion early on this season, going undefeated over their first eight games, including a win and a tie against Minnesota, their first win over the Gophers in a decade, but the rest of the season was a roller coaster of ups and downs. They swept Wisconsin at home, but followed that with a loss to Minnesota State.
That up and down performance led many to be unsure what to expect from them, but OSU handled Boston College with no problem in the NCAA quarterfinal. Now the Buckeyes need to bring that confidence and consistency to Minneapolis.
The Buckeyes have been energized this season. It's their second season with Nadine Muzerall as head coach. Last season, she came on after the school year started and had VISA issues to iron out (she's Canadian), so the team was starting fresh with her as the season began. This season, she and the team are much more comfortable together. Last year, Muzerall said another coach characterized the Buckeyes as a "sleeping giant." It was an apt description, and now the giant is awake.
It's been a long and bumpy road for some of the older players on this roster, but all that turmoil has left them prepared to face most anything. They've not been able to rely on anyone but themselves, so being in a position where they can trust their coaching staff and feel like the University is behind them is refreshing.
Ohio State has nothing but confidence and absolutely nothing to lose. Their program has seen a remarkable turnaround, and they've done nothing but set new precedents. Being able to play without the encumbrance of outside expectations can be really freeing. No matter what happens for the Buckeyes this weekend, it certainly feels more like a beginning than an end.
Wisconsin
Though Wisconsin is making its fifth-straight Frozen Four appearance, it does come as a bit of a surprise. The Badgers entered without their top four scorers from last season, and the big question was how they'd replace Patty Kazmaier-winner Ann-Renée Desbiens in net. The preseason WCHA coaches poll picked them to finish second behind Minnesota.
They responded by winning 16 straight to open the season. They are 31-4-2. North Dakota transfer Kristen Campbell is the top goaltender in the country.
Campbell has been a revelation for the Badgers. The sophomore saw limited playing time with the Fighting Hawks and was, to some extent, an unknown quantity. She has flourished in Madison, to the frustration of the Badgers' opponents. Another WCHA coach joked that no matter the circumstances, somehow, Wisconsin coach Mark Johnson seems to be able to conjure elite goaltenders out of thin air. He was joking, but also airing some frustration. On paper, it looked like other teams might be able to gain some ground on Wisconsin this year. Campbell is a big reason that's not been the case.
"Last week, once or twice I had to kick her off the ice," said Johnson. "She has great habits and is very organized. She has a lot of goals in the back of her mind on what she wants to do."
The Badgers have basically been scoring by committee this season. Abby Roque leads the team with 40 points. No one else on the squad has more than 28 points. You would have to go back to the 2009-10 squad to find a Badgers team with such low scoring.
However, the group mentality is working. After Saturday's quarterfinal game where Roque scored twice, a reporter pointed out it had been nine games since she scored a goal, but she was totally unperturbed. Linemate Baylee Wellhausen had a hat trick in the WCHA tournament a week ago, and Roque said it was just her time to score. As the Badgers struggled to score in last year's postseason, that laissez-faire approach could be really good for them.
"I think we've put a lot of pressure on ourselves the last three (Frozen Fours) for sure, especially being that No. 1 seed going in," Wellhausen told UWBadgers.com. "There was a lot of hype, and it was difficult for us to calm ourselves down and find the comfort factor."