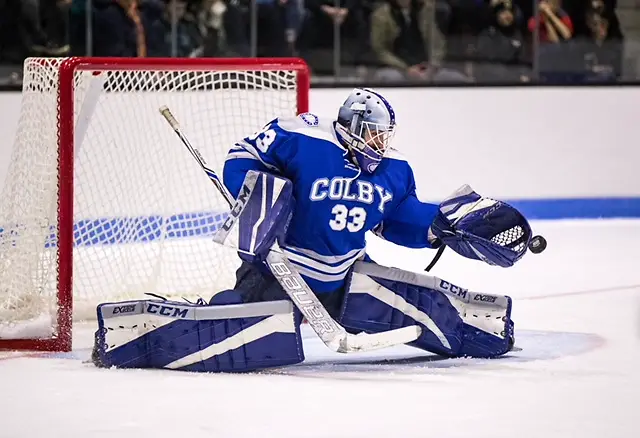 As mascots go, Colby has one usually associated with stubbornness, but upon entering the month of February with a less-than-stellar 10-10-0 record, things were primed for change. The result was their current 6-0-2 run that has seen them win their first NESCAC title and advance past the first round in the NCAA tournament.
"I think the key moment was a team meeting we had about six weeks ago," said Colby senior goaltender Sean Lawrence. "As a team, we really sat down and did a dissection of everything going on in our game. Everyone was involved, and it helped us change some important defensive system stuff, including a lot of little things like blocking shots. The coaches put great stuff together for us, but we had to buy-in and execute on the plan and commit to doing all the little things like blocking shots. Against UNE last week, we had 24 blocks. As a goalie, you see your teammates make that commitment to play in the defensive end and it just makes you want to stop everything they don't."
The run Colby is on is fueled by a lot of factors, including great goaltending from Lawrence, great team defense, and four lines that have been opportunistic in scoring at critical times and in all situations in these "win-or-go-home" games.
"We really started putting things together after that meeting," noted Lawrence. "Everybody has been buying in, having fun, and playing within the great game plans we have been given from the coaches. It really has been fun, and every step of the way we have been supported and encouraged on campus and by an amazing group of hockey alumni who have reached out after every game to keep us going. Guys from one year out to decades out are all engaged in our success, and it just helps keep the motivations high."
Lawrence, a transfer from Quinnipiac last season, has had a terrific season and an even better playoff run. During the NESCAC tournament, he stopped 108 of 111 (.972 SP) shots in wins over Amherst, Wesleyan, and Trinity on the way to the school's first conference championship. He continued his hot streak last weekend in their first-round win over UNE, stopping 33 of 35 shots to help Colby advance to a quarterfinal date on the road with Geneseo.
"Back in January I had a couple of bad games," said Lawrence. "I sat down with coach [Chris] Hall and kind of hit the reset button and really just focused on having fun playing this game. I came to Colby for the opportunity to play more than I felt I should have at Quinnipiac and for the great academics, but forgot about enjoying the time on the ice and playing with my teammates. It has made a difference, and we all want to continue this ride as long as we can."
The challenge this week is a formidable one, but the logistics to get to upstate New York may be more daunting than the game.
"Yeah, we have spent a lot of time on buses recently," joked Lawrence. "I don't think anyone was looking forward to a nine-hour bus ride, especially with the storms we have had in the Northeast over the past few weeks. On Thursday, we are driving down to Boston and staying overnight before flying to Rochester on Friday where we will skate at RIT in preparation for the game. We know the stakes are high with a trip to the Frozen Four on the line, but we are feeling good about our game and I have great confidence in whatever line or defensive pairing we put out on the ice. We have some very talented guys up front, but all four lines are playing great and that has been a big element in our success in March."
Geneseo brings a lot of similarities to their first-round opponent, and Lawrence feels that may help the Mules prepare for the hostile home crowd at Geneseo.
"We know they are going to have a loud 1,700 or more people cheering them on," noted Lawrence. "They are very similar to UNE in that they have a lot of offensive weapons and are really dangerous with the puck in transition. We are doing a lot of video work to prepare, and coach [Blaise] MacDonald will have us ready to play with a big opportunity to reach the Frozen Four on the line."
The Mules face Geneseo on Saturday night at 7 p.m. having not faced them this season in any nonconference action.
"We didn't play them this season, but guys remember them from last season which was before I got here," stated Lawrence. "That game went to overtime, and I know a lot of guys remember that game and are looking to put a loss on them on their home ice. It is going to be fun, and I am looking forward to a great game on Saturday night."
One game for a chance to be in the Frozen Four -– that is something for which the Mules will be stubborn about yielding anything on the ice come Saturday night.