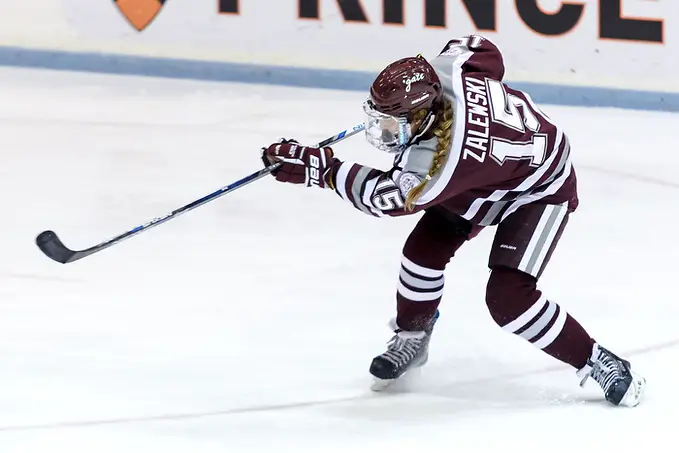 It's been a season of firsts for the Colgate Raiders. They started the season unranked, and as they climbed in the national polls, they continued to set new program records. Twice this season they were the no. 2 team in the country, something no other Colgate team can claim.
They won their first regular season championship, tying with Clarkson to share the title, and then played in their first ECAC Championship game. Though they lost to Clarkson in that game, the Raiders earned their first-ever bid into the NCAA tournament, and they're doing it as the no. 3 seed. They'll host Northeastern in an NCAA quarterfinal this weekend.
That championship game loss to Clarkson was the first time in more than a year that the Raiders were held scoreless. The last time they were shut out was Feb. 25, 2017, against Cornell.
The firsts extend beyond the team. Much of the Raiders' success can be attributed to the play of the team's leading scorer, junior Jessie Eldridge, who was just named the Hockey Commissioners Association National Player of the Month for February. She is the first player in program history to earn that distinction. She earned the honor because she led the nation in February in points (16), points per game (2.00), goals (9), hat tricks (1), and plus-minus (13). In addition, Colgate did not allow a goal with her on the ice.
Eldridge is currently sixth in program history in career points, and she just broke the program record for points in a season — she currently has 42. It's been an incredible performance to lead Colgate in the pursuit of many of those firsts.
Certainly the firsts are special for the team and for the program, but they're more things that are happening along the way as opposed to the goal.
"For us, the focus throughout the year has been to just get better every day. We just have fun every day and enjoy every day," senior captain Annika Zalewski said. "Our message and our process won't change."
The turnaround in the Colgate Raiders is somewhat remarkable. They're only three seasons removed from a 7-25-2 record. There was marked improvement as they won 22 games each of the next two seasons — at the time, program records.
After the first winning season in some time, Fargo talked about raising the level of expectation at Colgate. The team had gone from seven wins to 22 wins in the course of a single season, and it felt like an instantaneous change, to everyone but Colgate, anyway.
"People will look at it as being a quick turnaround, but the turnaround for our program started to happen four years ago," said Fargo last year. "It was bringing in players that can have an impact on the ice, and it was slowly changing that culture. To us, it certainly hasn't happened overnight."
Colgate has just two losses since December 1 — both at the hands of their biggest rival and the no. 1 team in the country, Clarkson. They are 18-2-1 over the course of the final three months. All season long, the players talked about just wanting to get better. Not lost on this team amid the celebrations of their NCAA bid is that there were parts of Saturday's ECAC Championship Game that they can look back on and grow from.
"Being in this kind of environment was great," said Fargo. "Just building off yesterday, there was a lot of emotion in the game. That's playoff hockey. For us, we just have to learn and continue to get better. We can dictate play whenever we want to, and we have to continue to do that from this point on. We can't let our foot off the gas. We've got to keep going, keep pushing."
Winning 22 games each of the last two seasons was a big accomplishment for the Raiders, but it wasn't enough. The players entered the off season feeling like they had more to accomplish and that they wanted more. They knew they could score. They knew they could defend. They even knew they could win. They'd accomplished some big milestones, and now it was time to focus on the small stuff and put it all together in a complete package.
At 32-5-1 and awaiting a date with Northeastern in the NCAA quarterfinals, it's fair to say Colgate has done just that. Sure, they turned a program around, but now they've also set a new standard as to what it means to be a Colgate Raiders women's hockey team. The seniors on this team were freshmen when the program managed just five wins. They've been there for some of the lowest lows, and now they've been the engineers of the highest highs. They've helped establish Colgate as a program of renown on the national scene, and they're changing the conversation in terms of recruiting.
So while the firsts this team has ticked off this season are what looks great on paper right now, it's really the lasting impact of what this team has accomplished that they can be most proud of.
"It means a lot to me, to the people in the locker room, our alums, and the people around campus," Fargo said. "I'm just really just proud of this group for getting us here."