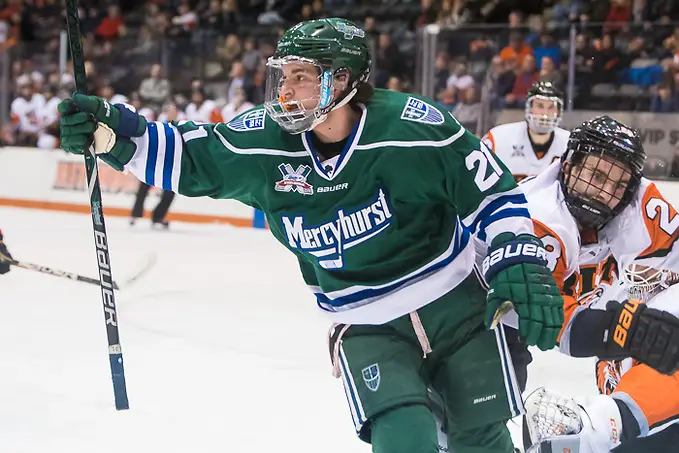 It's quarterfinals time in Atlantic Hockey and you can throw out the records at this point of the season — it's all about who's playing the best hockey when it matters most.
Since the championships moved to Rochester, N.Y., in 2007, only three regular-season champs have gone on to win the tournament title: Air Force in 2009 and 2012, and Rochester Institute of Technology in 2010.
Will this be the first time in six years that the No. 1 seed wins at all?
Mercyhurst certainly has a strong chance.
Not only are the Lakers the top seed, but they're also by far the hottest team in the league, with just one loss in their past 14 games (11-1-2).
"All the credit goes to the players," said Mercyhurst coach Rick Gotkin after his team sewed up the top seed. "I'm happy for the guys to be able to hang a banner for a regular-season championship. The goal now is to get to Rochester and see what happens. I like our chances."
Mercyhurst overtook second-seeded Canisius late in the season. The Golden Griffins earned the No. 2 seed on the basis of a 7-1 stretch in November and December. Streaks like that were hard to come by in a league where first and last place were separated by only 10 points.
"It's a great feeling (to get a bye into the quarterfinals of the Atlantic Hockey Tournament)," said Canisius coach Trevor Large after the Griffs swept Niagara to close out the regular season. "One of the goals we set at the beginning of the year was to finish in the top five, hopefully the top four of the regular season standings to get a bye and a home weekend in the playoffs, so our guys are excited about the playoffs will be for us."
Here's how the rest of the field has done lately:
– Air Force is flying high, going 4-1-1 in its last six games.
– Army West Point is also on a roll, 4-1 in its last five contests.
– American International entered the postseason winners of two of its final three regular-season games. A first-round sweep of Niagara now has the Yellow Jackets rolling at a 4-1 pace.
– Sacred Heart entered the regular season with one win in its last four games, but took two of three from RIT last weekend.
– Holy Cross has just one win in its last five games.
– Robert Morris was on an 0-5-1 slide before taking two of three against Bentley to advance last weekend.
"Congratulations to Mercyhurst," said Large. "They went on an incredible run. The best team won the regular season. Now we get a chance to see who will be the best team in the playoffs."
Playing quarters
The season ended for three Atlantic Hockey teams last weekend, and four more will join them when the dust settles on Saturday or Sunday.
The survivors advance to Rochester's Blue Cross Arena, where one team will emerge with the Riley Cup, and move on to the NCAA tournament.
Atlantic Hockey quarterfinal series (best of three)
No. 11 Sacred Heart (13-20-4) at No. 1 Mercyhurst (19-11-4)
The Lakers and Pioneers split their only meetings of the season back in early December. Despite having the lowest-ranked defense in the league, Sacred Heart was able to limit RIT's chances last weekend and will need more of the same against Mercyhurst's top-ranked offense and power play.
Mercyhurst won its second regular season Atlantic Hockey title, and is looking for its second playoff championship as well.
Sacred Heart hopes to get to Rochester for the first time since 2010.
No. 8 American International (14-18-4) at No. 2 Canisius (17-15-2)
This has been a postseason of firsts for AIC: first home playoff series and first playoff series win. Canisius is looking to return to Rochester for the fifth time in six seasons.
The teams split their regular-season series with the Yellow Jackets posting a 3-0 win on Jan. 12 and the Golden Griffins coming back for a 6-1 victory the following day. This series features the second-ranked offense in the conference (Canisius' 3.09 goals per game) against the lowest (AIC's averaging just 2.36 goals per game). But AIC's defense, ranked fourth (2.89 goals allowed) is a bit better than Canisius' (3.00 goals allowed, tied for sixth in the conference).
No. 7 Robert Morris (15-19-3) at No. 3 Holy Cross (13-14-7)
This is a rematch of last year's quarterfinals, which resulted in a Robert Morris sweep on home ice. This time Holy Cross will have the home-ice advantage.
The Crusaders haven't advanced to Rochester since 2011, while the Colonials are looking for their fifth consecutive trip to the semifinals.
The teams met twice this season, with Robert Morris taking three points at home in early November.
No. 5 Air Force (18-13-5) at No. 4 Army West Point (14-13-6)
One of the best rivalries in college hockey should make for a great series. The teams have met in the postseason before: the 2007 championship game (won by Air Force), the 2010 quarterfinals (won by Air Force), and the 2017 semifinals (won by Air Force).
Army West Point looks to reverse that trend with something the Black Knights haven't had in previous postseason meetings: home ice.
Army West Point swept Air Force in Colorado Springs back in early November.
Hey now
Dan Rubin will have his picks for all-league in next week's column, but since this is my last of the season, I'll share mine:
First Team:
F Erik Brown JR RIT
F Brady Ferguson SR Robert Morris
F Dylan McLaughlin JR Canisius
D Noah Delmas SO Niagara
D Joe Duszak SO Mercyhurst
G Paul Berrafato SR Holy Cross
Second Team:
F Derek Barach JR Mercyhurst
F Derian Plouffe SR Niagara
F Scott Pooley SR Holy Cross
D Phil Boje SR Air Force
D Les Lancaster JR Mercyhurst
G Stefano Durante FR American International
Third Team:
F Jack Riley SR Mercyhurst
F Alex Tonge SR Robert Morris
F Michael Wilson SO Army West Point
D Adam Brubacher SO RIT
D Tanner Jago JR Bentley
G Billy Christopoulos JR Air Force
Rookies:
F Marc Johnstone Sacred Heart
F Luke Santerno Bentley
F Matt Tugnutt Sacred Heart
D Brennan Kapcheck American International
D Dan Willett RIT
G Stafano Durante American International
Most Valuable Player–Erik Brown, RIT
Best Defensive Forward–Brady Tomlak, Air Force
Rookie of the Year–Stefano Durante, AIC
Coach of the Year–Rick Gotkin, Mercyhurst
And finally
This is my final column of the 2017-18 season, my 20th writing for USCHO.com and my 12th covering Atlantic Hockey.
This season will be tough to top in terms of unpredictability, and that has made for a fun ride so far.
I'll be covering the AHC championships in Rochester in two weeks, and then it's on to the Frozen Four in St. Paul. I'm looking forward to working with the best team in in the business once again.
Thanks to my fellow AHC columnist Dan Rubin, whose passion for the game is infectious, even for a old, jaded, ink-stained (pixel-stained?) wretch like me.
I'm always grateful for the coaches and players who take the time to answer my questions and share their observations, as well as the sports information directors who make my job a lot easier.
How my family has put up with over 20 years of deadlines and travel, I'll never know, but I am eternally grateful to Kathleen, my bride of 27 years, and my three boys.
And finally, thanks to you, dear reader. Keep those emails and tweets coming, and enjoy the hockey yet to come.