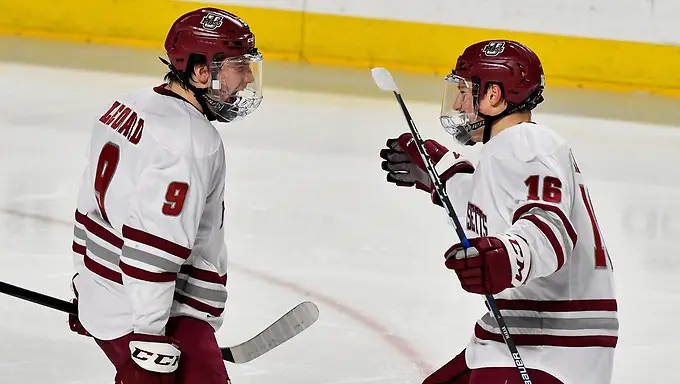 As freshman John Leonard skated down the Mullins Center ice on Sunday afternoon, leaving in his path defender after defender with toe drag after toe drag, eventually burying the fifth and final goal for Massachusetts as the Minutemen closed out Vermont in their best-of-three first-round series, he couldn't have known what type of history he was making.
Okay, maybe "history" is a strong word.
But it's been a very long time since the fans in Amherst have had much to cheer about when it comes to their hockey team.
For the last 10 years, UMass has been pretty absent from the landscape of the Hockey East postseason. A 2-15 record for the Minutemen, each and every one of those games played on the road, left UMass without a single series win since 2007, when Don "Toot" Cahoon's team swept Maine at home in the Hockey East quarterfinals before falling to New Hampshire in double overtime at the TD Garden.
So last weekend, hosting a series, this time a first-round set with Vermont, was a big step forward for UMass. Escaping that series with a two-games-to-one victory to advance to play Northeastern this weekend in the Hockey East quarterfinals is a very big deal.
Most importantly, it was a moment that will be remembered by Minutemen fans.
"When I took the job at UMass, I talked to a lot of people and they told me the potential was there [to generate fan excitement]," said coach Greg Carvel, now in his second season behind the bench for UMass. "We had a little run at the end of the year that made students believe that this is a quality team worth coming out and supporting.
"We had 6,000 fans on Friday night. And the quality of hockey was great. Sunday's Game 3, we put everything together and our team was outstanding."
The series against Vermont had plenty of peaks and valleys. In Games 1 and 2, UMass had to overcome two-goal deficits in each, forcing overtime both nights. After winning Thursday in the final seconds of the 20-minute extra period, the outcome on Friday was devastating – a quick UVM strike that sent the series to a deciding third game.
If it were a typical series played on consecutive nights, the outcome might not have been as favorable for the Minutemen, as Vermont entered the deciding game with all of the momentum.
But having Saturday off before Sunday's matinee game three was a difference maker for the hosts.
"[The day off] worked in our favor," said Carvel. "It worked in our favor to get that extra day of rest. We looked very energized. We've got a lot of young kids who have never played in that atmosphere, so it did them a lot of good to get that day off."
Speaking of youth, it was the younger players that led the way not just in the playoff series but on the season in general. The top five scorers for UMass are freshman and eight of the top 10 scorers on the team are underclassmen.
But it was that same level on inexperience that has been the biggest challenge for Carvel. On any given night, he has his coaching staff are inserting 10 freshmen into the lineup, and with that came significant growing pains.
"The biggest challenge is that these [freshman] had never been to other Hockey East rinks," said Carvel. "I think at the beginning of the year, we had a nice win over Providence on a Friday night and we went into their building and they rolled over us.
"We found that like drinking water from a fire hose with this big group of freshmen. You need to play a Providence to know how difficult it is to play at Providence. You have to play at Lowell to know how difficult it is to play at Lowell. Merrimack's the same. There's very distinct ways of playing."
That challenge – to get his players to understand to various adjustments that a team needs to make on the road – was evident in the standings. UMass is 11-8-0 in the friendly confines of the Mullins Center. But a 6-10-2 mark on the road has been the struggle.
With that in mind, the Minutemen will need to figure out how to win in a road building – Northeastern's Matthews Arena where UMass fell, 5-0, earlier this season – to keep their Hockey East playoff run alive.
In truth, the building alone will be one of the many challenges UMass faces this weekend. Northeastern's vaunted offense and power play has recently been supplemented by a rock-solid defense that allowed just 13 goals in its last nine games.
"You have to play very well without the puck to stay out of the penalty box," said Carvel. "You have to understand how good [Northeastern] is on the power play and trying to neutralize that.
"Beyond that, we find if our guys can commit to playing a certain way, we've had a lot of success this year. Our unit plays well and they know what their standard is. I think if we play to that standard, we've got a good chance."
Running some championship numbers…
Last weekend, only one road team (Merrimack) won in the Hockey East tournament.
So it got me thinking about how long the chances are for underdogs and just how much favorites are favorites in the Hockey East tournament.
Thus, I decided to look at some numbers:
• Merrimack would have to make history to advance to the semifinals. No seed lower than No. 8 has advanced past the quarterfinals. That said, this is only the sixth time in playoff history that teams finishing lower than 8th place have been given a chance to participate in the playoffs.
• Should any of the bottom four teams advance this weekend, their chance of winning the title isn't very strong either. Only once has a team seeded below No. 4 won the title, that being Northeastern in 2016. The Huskies and UMass Lowell became the two lowest seeds to reach the title game (No. 6 NU and No. 4 UML), with Northeastern prevailing.
• The seed to reach the semifinals most often is the No. 2 seed, which has advanced 31 times. Interestingly, the No. 1 seed has advanced only 28 times. The No. 3 and No. 4 seeds have advanced 23 times each.
• In terms of historical records for each of this weekend's matchups: Boston College is 10-1-0 all time vs. Merrimack; Northeastern is 2-1-0 vs. UMass; Providence is 7-5-0 all-time vs. Maine; and Boston University and Connecticut are meeting for the first time ever in the postseason.
My thanks to the readers…
Dave will be writing the final column of the season, so I want to take this opportunity to thank all of our loyal readers.
This has been a great season for me, personally, as I've had the opportunity to see more games across more rinks throughout the league.
Additionally, to the coaches, sports information directors and the league office, your assistance throughout the season makes my job so much easier.
Championship weekend is always one of the best few days of my year and I look forward to not just great hockey but the wonderful camaraderie. For now, let's drop the puck!