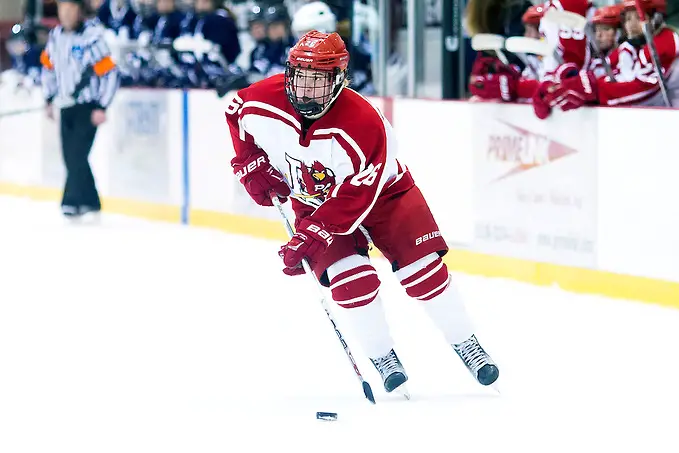 Plattsburgh senior forward Melissa Sheeran is the recipient of the 2018 Laura Hurd Award.
The award, voted on by the nation's Division III head coaches, is presented to the best player at the women's Division III level.
Sheeran is wrapping up a remarkable career at this weekend's NCAA Division III championship. Having compiled 18 goals and 29 assists for 47 points in 28 games this year, Sheeran has career marks of 96 goals and 88 assists for 184 points in 110 games. She is a three-time First Team CCM/AHCA All- American.
"Melissa has become a complete player in her time as a Cardinal, going from a one-dimensional goal scorer to a selfless team player who competes in all three zones," said Plattsburgh coach Kevin Houle in a statement. "Our team captain and a strong role model for her teammates, she is one of the hardest working players on the team. Melissa is always encouraging and positive. She is not only our best player but is a humble team leader.
"Melissa is highly respected and admired on campus and within the department. Not only because of her accomplishments, but more so because of how she treats people and her humble outlook."
Sheeran is a Fitness and Wellness major who will graduate this May. During her time at Plattsburgh, Sheeran has been involved in the local learn-to-skate program in Plattsburgh. She also has worked and volunteered in the athletic training department and is a three-year member of SAAC.
Sheeran is the fourth player from Plattsburgh to win the Hurd Award, following Danielle Blanchard in 2008, Teal Gove in 2013, and Sydney Aveson in 2014.
The runner-up for this year's Hurd Award is Carly Moran, a senior forward at Wisconsin-River Falls.
The award is named in honor of former Elmira star Laura Hurd, who died in a car accident shortly after graduation. Hurd was a four-time All-American who led Elmira to victory in the first NCAA Division III women's championship.