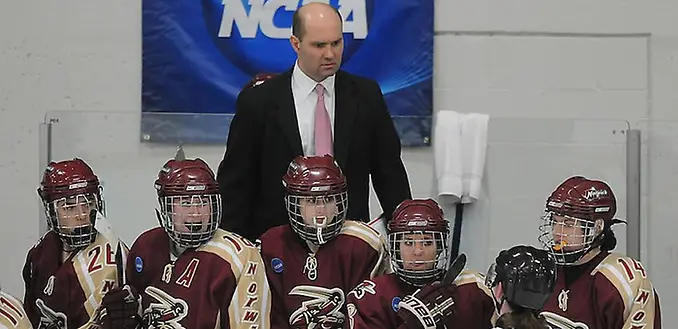 For leading his team into the NCAA women's Division III semifinals with a 25-1-3 record, Norwich's Mark Bolding has been chosen by his peers as the 2018 CCM/AHCA Women's Division III Coach of the Year.
It marks the fourth time that Bolding has been so honored, having won this award in three consecutive seasons in 2010, 2011 and 2012.
Bolding and Norwich will host this weekend's event fresh off an 8-2 win over Morrisville to advance to the semifinals. That followed a three-game sweep in the NEHC tournament in which Norwich outscored its opponents 21-1.
Bolding has guided the Cadets to a 243-62-20 record in 11 seasons and has made the Norwich team one of the premier programs in the country. He has led Norwich to nine NCAA tournament appearances, eight NEHC tournament titles and seven NEHC regular-season championships. His 2011 squad won the national championship in just its fourth season of competition.
Mollie Fitzpatrick, Jon Guiffre and Maggie DiMasi served as Norwich's assistant coaches this season.
The runner-up for this year's award was Natalie Darwitz of Hamline, Norwich's opponent in Friday's NCAA semifinal.