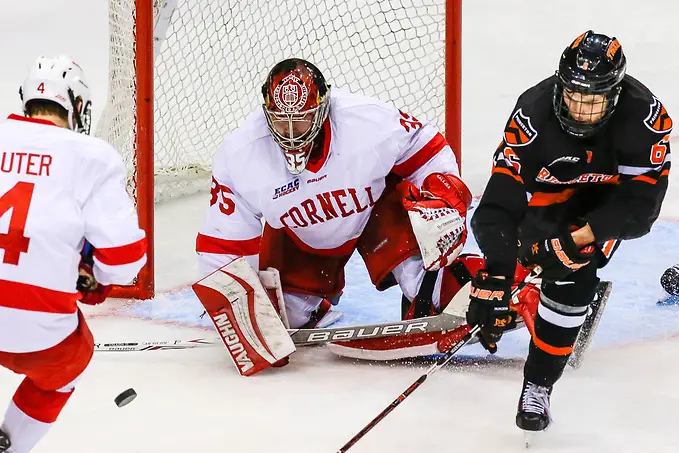 Seeding the 2018 NCAA men's tournament field ended up being pretty straightforward, according to Minnesota senior associate athletic director and chair of the NCAA Men's Ice Hockey Committee Tom McGinnis.
What hardly was easy for McGinnis was watching his Golden Gophers team's NCAA hopes slip away on Saturday.
Minnesota, which fell in the Big Ten opening round two weekends ago, needed a perfect storm of upsets to occur as the six conferences crowned their champions to keep it out of the tournament. And when the dust settled, Minnesota's Ratings Percentage Index score, the key deciding factor in selecting at-large teams for the field, was one-ten-thousands of a percentage point too low.
The Gophers are hardly the only perennial power to miss the tournament. With four teams — Boston University, Michigan Tech, Air Force and Princeton — getting into the tournament only because of automatic qualifiers, bubble teams like North Dakota and Boston College were left out.
This marks the first tournament since 1977, when only five teams qualified, that Minnesota, North Dakota and Boston College all failed to make the field.
"It builds to the strength of college hockey," said McGinnis. "Anybody can win this tournament. Four seeds have been beating one seeds. We've had two No. 15 seeds (Yale in 2013 and Providence in 2015) win national championships.
"There are no powerhouses in college hockey. There's lot of parity so it will be interesting to see how this year's tournament plays out."
As much as possible, the committee did its best to maintain the integrity of the brackets. The top two seeds — St. Cloud State and Notre Dame — will each play the lowest two seeds. St. Cloud drew Air Force in the West Regional in Sioux Falls, S.D., while Notre Dame will play Michigan Tech in the East Regional in Bridgeport, Conn.
The straight alignment of the seeds placed Cornell, the third overall seed, against Princeton, something that had to be switched to avoid two ECAC Hockey teams playing in the opening round. Thus Cornell will instead play a longtime rival in Boston University while Ohio State will face off against Princeton.
The only significant switch made to assist with attendance was shifting the opening-round game between Michigan and Northeastern from the West Regional in Sioux Falls to the Northeast Regional in Worcester, Mass. That allowed two Minnesota teams — Minnesota State and Minnesota Duluth — to play in Sioux Falls, placing all three Minnesota-based teams in the same region.
"As always, we try to create championship-like situations for the student-athletes and give teams and their home fans the opportunity to travel to a site," said McGinnis. "We had two Minnesota teams matched up, so just to make that switch with Michigan-Northeastern, that enabled us to keep a lot of teams that hopefully fans will be able to go out and support their teams."
The one region where attendance might be an issue is Bridgeport, where Notre Dame and Michigan Tech will be joined by Providence and Clarkson. McGinnis said he hopes that the two quasi-local teams in Providence and Clarkson can carry that region's attendance.
"We tried to get at least two local teams [in Bridgeport]," McGinnis said. "We got three eastern teams in Worcester. Hopefully, that will create that environment that we're looking for."
McGinnis, who is in his fourth season as the chair of the men's hockey committee, will have the privilege of playing the role of host for the Frozen Four, the third time in 16 years the University of Minnesota and the Xcel Energy Center have hosted college hockey's ultimate event.
"To be able to bring back the most premier college hockey event to the State of Hockey is really exciting for us," said McGinnis, whose university also hosted the Women's Frozen Four this weekend. "College hockey is alive and well in Minnesota."