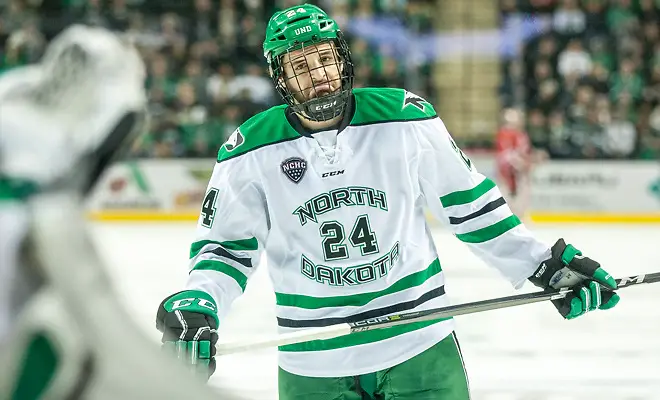 North Dakota defenseman Christian Wolanin has signed a two-year, entry-level contract with the Ottawa Senators and will forgo his senior season of eligibility.
Wolanin, a fourth-round pick (107th overall) of Ottawa in the 2015 NHL Draft, is expected to join the Senators this week.
"Christian is talented player that has displayed high-end offensive skill from the blue line during his career at the University of North Dakota," said Senators general manager Pierre Dorion in a statement. "He made the decision to turn professional and we are happy to have him under contract. Christian will join our team in Ottawa for the remainder of the season, which will present a tremendous opportunity for him to learn and develop."
A Detroit native, Wolanin became the first defenseman since James Patrick in 1982-83 to lead UND in scoring after racking up a career-high 12 goals and a team-leading 35 points. His 12 goals rank second among NCAA defensemen and were one shy of the UND single-season record for defensemen. His eight power-play goals were also one shy of the school record for defensemen.
Earlier this month, Wolanin was named to the All-NCHC Second Team and was a finalist for the NCHC Offensive Defenseman of the Year award.
Wolanin finishes his collegiate career with 22 goals and 72 points in 109 career games.