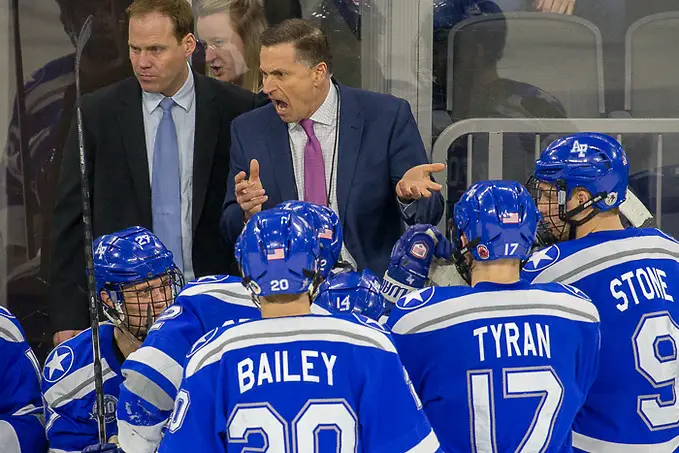 The first day of the 2018 NCAA Division I men's hockey tournament brought two overtime games, one shutout and only the second time that the No. 1 overall seed has lost in the first round since the 16-team bracket began in 2003.
Buckle up for Saturday, then.
After Notre Dame and Providence won in the East Regional and Air Force and Minnesota Duluth advanced in the West, the first two Frozen Four spots will be decided Saturday.
And in the Northeast and Midwest regionals, the field will be cut in half.
Here's Saturday's schedule and a look back at Friday's games.
SCOREBOARD: Saturday's schedule
Saturday
Northeast Regional, Worcester, Mass.
Cornell vs. Boston University, 1 p.m. Eastern, ESPNews
Michigan vs. Northeastern, 4:30 p.m. Eastern, ESPNews
Midwest Regional, Allentown, Pa.
Ohio State vs. Princeton, 3:30 p.m. Eastern, ESPNU
Denver vs. Penn State, 7 p.m. Eastern, ESPN3
East Regional, Bridgeport, Conn.
Notre Dame vs. Providence, 6 p.m. Eastern, ESPNU
West Regional, Sioux Falls, S.D.
Minnesota Duluth vs. Air Force, 9 p.m. Eastern, ESPN2
Friday's recaps
Notre Dame 4, Michigan Tech 3, OT: Jordan Gross' second goal of the game lifted the Fighting Irish.
Air Force 4, St. Cloud State 1: The Falcons joined RIT (over Minnesota State in 2015) as the only teams to beat the No. 1 overall seed in the first round in the 16-team tournament era.
Providence 1, Clarkson 0: Hayden Hawkey earned the Friars' third NCAA tournament shutout.
Minnesota Duluth 3, Minnesota State 2, OT: Parker Mackay's goal ended a few moments of madness in overtime and dropped the Mavericks to 0-5 in Division I NCAA tournament play.