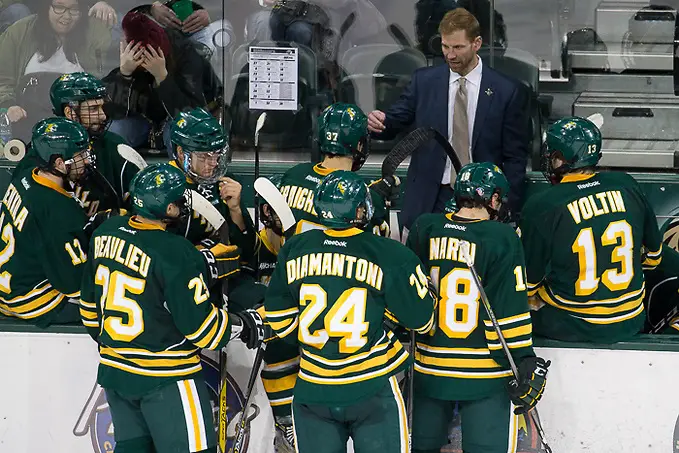 Northern Michigan and head coach Grant Potulny have entered into an eight-year employment agreement, effective immediately and extending through June 30, 2026.
According to an NMU press release, Potulny's base salary will be adjusted to $285,000 per year plus a car stipend, personal expense allowance and the potential for performance bonuses.
Potulny, who just completed his first season at Northern, is a 2018 Spencer Penrose candidate, which is awarded to the NCAA Division I men's hockey coach of the year. He was selected the 2018 WCHA Coach of the Year after guiding NMU to a top 20 national ranking, second place in the WCHA regular season and home ice for the entire playoffs, including the WCHA championship game.
The Wildcats had a league record of 19-7-2 and were 25-15-3 overall, falling one game short of advancing to the NCAA tournament.
"We are constantly striving to be among the nation's elite programs," said NMU director of athletics Forrest Karr in a statement. "I believe in our coaching staff and this agreement is another reflection of Northern's commitment to continued success."
Potulny came to NMU after serving as an assistant coach at Minnesota from 2009 to 2017.
"I would like to thank President Erickson, Athletic Director Karr and the NMU Board of Trustees for their continued support of our hockey program," Potulny said. "From Day 1, the university's commitment to excellence has allowed our program to function at a high level. With this renewed support, our program is in a great position to compete at the highest level for years to come.
"I could not be more excited for the future of Wildcat hockey."