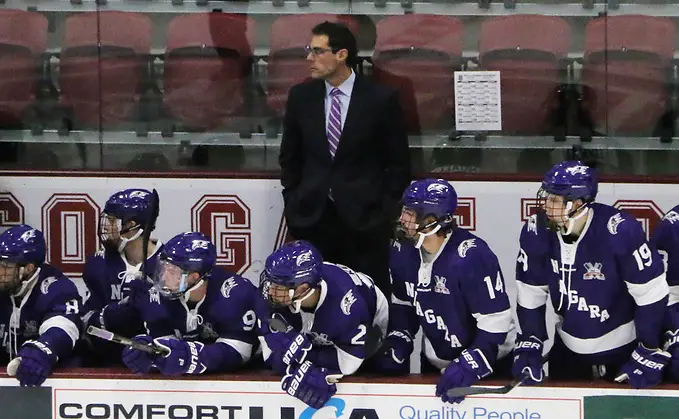 According to the Niagara Gazette, Niagara coach Jason Lammers has dismissed eight players from the 2017-18 team.
"Really hard decisions, but decisions that we felt that we needed to make," Lammers said in the report. "Our job is to move the program forward and we believe that we've chosen the guys that can help us do that to the best of our ability."
Players that are no longer with the Purple Eagles include junior goaltender Guillaume Therien, sophomore forward Derek Brown, junior forward Ryan Kuhn, sophomore forward Christian Cakebread, junior forward Sam Rennaker and junior goaltender David Krejcik.
Also cut, according to the Gazette, were Sam Fuss and Andrew Pizzo, two players not listed on the final 2017-18 Niagara roster. Fuss returned to junior hockey and Pizzo transferred to Plattsburgh during the regular season.
All players, with the exception of Krejcik, were on scholarship and if they choose to stay at the school, the university will honor those scholarships.
"We were working really hard to make our organization better," Lammers added. "The financial piece does not play a piece to that.
"Again, playing at Niagara University is hard and we expect a lot. We expect to see growth, and we're certainly not perfect, but we expect to see growth. I like all those guys. We wanted to give them an opportunity to find a new home if they chose that."