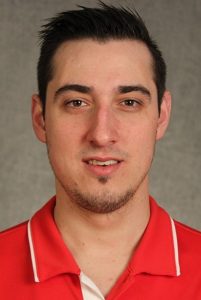 Rensselaer has added volunteer assistant coach Michael Lysyj to its staff for the 2018-19 season.
"We are excited to have a guy like Mike join our staff after being a full-time coach with Fredonia," said RPI coach Dave Smith in a statement. "Mike recognizes the opportunities that being at RPI provides and will use his strengths to help make our program the best it can be. He brings passion and skill development to our staff and we are excited to have him."
Lysyj comes to the Rensselaer after spending the last four years as an assistant coach at Fredonia, where he was in charge of recruiting and scouting United States and Canadian junior hockey teams. He was also involved with the team's film breakdown and on-ice skills work.
After graduating from Cortland in 2013, he played professionally during the 2013-14 season for the ECHL's Orlando Solar Bears and SPHL's Peoria Rivermen and Mississippi Surge, collecting two goals and four assists in 36 games.
At Cortland, Lysyj played in 96 career games for the Red Dragons, scoring 39 goals and assisting on 38 more for 77 points. He led the team in scoring during his senior season, posting 18 goals and 15 assists for 33 points in 25 contests.