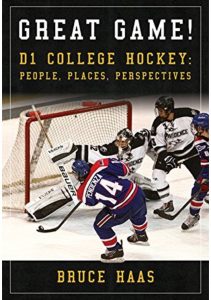 It's clear that Bruce Haas is a big college hockey fan.
His new book, Great Game! D1 College Hockey: People, Places, Perspectives (Beaver's Pond Press), is a love letter to the game, a book by a fan, for fans.
Haas takes us behind the scenes, into coach's offices (and coach's heads) and locker rooms, but also provides a view from the stands.
Great Game! consists of short vignettes, often only 100-200 words in length, organized around themes: fans, coaches, players, officials, and areas. Even pep bands get their own chapter. Haas is able to capture the uniqueness of the sport, and its special place in the hearts of the people that play it, coach it, and watch it.
Some of the recollections get repetitive (for example, several fans share very similar stories about falling in love with the game), and I wish some of the accounts were a bit longer. But they kept me turning the pages.
Many tug at your heartstrings, like the recollection of a longtime Northeastern fan who was moved to tears when the Huskies won the Hockey East title in 2016.
There's also a moving account from Army West Point coach Brian Riley, recalling an email he received from Derek Hines, a former player, who thanked Riley for the lessons on leadership he learned in his four years as a Black Knight. It was the last time Riley heard from Hines, who gave his life for his country in Afghanistan shortly after.
The most fascinating sections of the book were devoted to the coaches, including the reasons why they became bench bosses. Every path was unique, from former players who wanted to stay in the game to guys who took what they thought would be a temporary low-level position while they figured out what to do with their lives.
Because Haas talked to experienced coaches as well as relatively new ones, the reader can trace the changes in how coaches approach the game and players, moving from Xs and Os and "do it because I said so" to a more cooperative, collaborative approach.
The importance of having a mentor is a theme throughout. Many coaches talk about the people that influenced them throughout their careers. Former players recalled how upperclassmen provided leadership, and how it can come from players without a letter on their jerseys.
Also compelling are the recollections of winning (and losing) NCAA championships. I found the losing recollections especially absorbing. Strong emotions are still there for many players and coaches many years later.
Haas has also paid visits to many college hockey rinks, including classics like Maine's Alfond, Vermont's Gutterson, and Cornell's Lynah, as well as newer facilities like Notre Dame's Compton Family Ice Arena. He accurately captures the atmosphere that makes these and many other buildings special.
Great Game! D1 College Hockey: People, Places, Perspectives is a quick and enjoyable read, and I recommend it to anyone with a passion for college hockey.