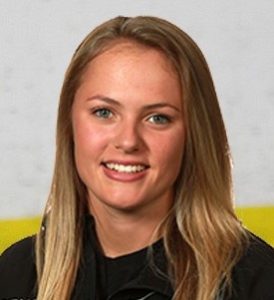 Aurora announced Tuesday that Brianna Kelly will join the women's program as a graduate assistant.
Kelly comes to AU after a four-year playing career at St. Norbert. In her four years between the pipes as a goaltender, Kelly played in 40 games, going 15-20-3 with six shutouts and a .901 save percentage.
"I am extremely excited to have Brianna join us this coming season as our graduate assistant coach," said Aurora coach Grant Kimball in a statement. "Her experience as a NCAA Division III student-athlete and goaltender at St. Norbert College will serve our players well both on and off the ice as we continue to climb the NCHA ladder. Brianna is an effective communicator, has a passion for the sport, and a strong work-ethic."
Additionally, Kelly has experience with the United States women's hockey program. She has been a Central District camp coach and counselor for USA hockey the last three years. She has worked for several other hockey camps and organizations throughout the Midwest over the last three years. During her youth career, Kelly was part of four Illinois state championships, including three with the Chicago Mission. Her teams also made three national championship appearances, finishing second once and third twice.
"I couldn't be more honored and excited to be taking my hockey career into coaching at Aurora University," added Kelly. "Being able to relay my knowledge and experiences, while continuing to learn more every day, is what it's all about."