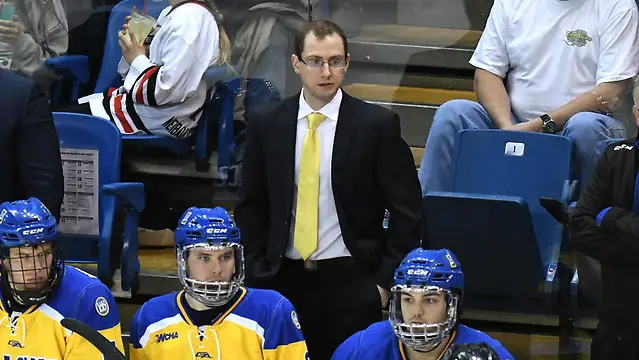 To find its new head coach, Alaska looked inward to one of its own.
Fairbanks native Erik Largen was named the ninth head coach in Nanook hockey's Division I modern history in late April, following a somewhat circuitous selection procedure.
"I was little bit surprised with how the process was a little bit drawn out," said Largen from his office on the UAF campus in early summer.
The position had to be re-opened after longtime Alaska assistant coach Lance West had served the 2017-18 campaign as head coach on an interim basis, following the July 2017 departure of Dallas Ferguson to the Western Hockey League. Brent Brekke, former associate coach at Miami, was offered the Alaska job but subsequently turned it down, while West, the other finalist, ostensibly withdrew from consideration.
The position was ultimately offered to Largen, who was raised on going to UAF hockey games as a boy in the Golden Heart City before he later suited up as a Nanook goaltender.
"After the initial shock, I was excited and happy," recalled Largen of his new position. "I'm fortunate to be at the helm of a program that I watched growing up and played for."
Largen played high school hockey at Fairbanks' West Valley High School for four seasons, establishing several school goaltending records, and then played one year of junior hockey in the North American Hockey League that was split between North Iowa and Southern Minnesota. He then returned home to finish his playing career as a backup netminder at his hometown university for two seasons.
"Coach Erik Largen is the future of intercollegiate hockey at UAF," said vice chancellor for student affairs Keith Champagne to uaf.edu upon Largen's hiring. "He can bring the UAF and Fairbanks communities together, be honest about the challenges we face, and move our program forward in a positive and successful manner. Erik is a coach we can all believe in—he is a winner."
Following his playing days, Largen segued into coaching by first guiding the goaltenders for the NAHL's Fairbanks Ice Dogs. He later spent two years as a head coach in Tier III Junior A with the Twin Cities Northern Lights, followed by two more years as an assistant with Tri-City (USHL) and Janesville (NAHL).
He then registered one winter as the head coach of NCAA Division III Marian in Fond du Lac, Wis. He posted an 18-7-3 overall record in his lone season with the Sabres, before returning to Fairbanks as a Nanook assistant in 2016.
"I think it helps," said Largen of his prior head coaching experience. "It wasn't Division I, but I took (away) a lot of lessons. You install your philosophy and vision for the program, and get your players and staff to buy into it.
"It was a great learning experience for me," he added. "It was a different challenge, and it's important to have that experience."
Now the program Largen watched while growing up in Fairbanks, the flagship sport of his alma mater, has become his charge, both in the town and on the ice.
"I understand how important it is to the community, and how impactful our student-athletes are in the community, on our town and our kids," said Largen, who also wants his players to excel in the classroom. "There's a responsibility we have, to be leaders in the community."
Largen, who said he received a "whirlwind" of congratulatory calls and messages when he was announced as the new head coach, added that he could rely on knowledge imparted from past Nanook coaches and players who helped establish a strong foundation for the program.
"I'll add my own things, and hopefully build upon it," he said. "I'm happy with the way things have been run, with Lance, Dallas, Tavis (MacMillan), Guy (Gadowsky), and I believe we're in a really good place."
"Largen is a great choice," added longtime Nanook hockey radio voice Bruce Cech. "He served as an assistant under both Dallas and Lance, and as a product of the program and a local, Erik knows the challenges and the rewards of playing in Fairbanks."
"Erik is a very talented coach that understands the game and how to teach the game to make his players better," said Ferguson, now an assistant at Denver. "He understands the university, hockey program, and the community because he has lived in all of them. I have always appreciated Erik's journey as a coach. He has been very committed to his craft and developing as a coach."
If there are any changes Largen wants to initiate, it would be in the realms of skating and tempo, to take advantage of UAF's larger home ice surface at Fairbanks' Carlson Center.
"I'd like to play quicker and faster, on offense and defense, on the Olympic sheet," said Largen. "You've got to be competitive and work together, but it can get overcomplicated. It's a pretty simple game, and you need the right people doing the right things and pulling together."
Largen, 32, was briefly the youngest head coach in NCAA Division I men's hockey upon his promotion at UAF, until he was surpassed in June by 28-year-old Anchorage native David Carle, now the head coach at Denver.
Speaking of Anchorage, Largen knows that he will at least be partly judged on how well he fares against perpetual rival Alaska Anchorage, both in Western Collegiate Hockey Association play and especially in the annual six-game Governor's Cup series contested between the Nanooks and the Seawolves—and he's absolutely looking forward to it.
"For the fans, at the end of the year, it's 'how did you do against Anchorage' and 'did you win the Governor's Cup'," said Largen. "It's a great experience, and one of the goals for myself and the team every year is to win the Cup. It's important for the community and the university, and we want to put our best foot forward in that series."
That also includes competing for playoff home ice, and more, in the WCHA.
"It's so competitive, every weekend," admitted Largen. "There are so many one-goal games, and it's so hard to sweep (an opponent). There are great buildings on the road, and some tough places to play.
"The league as a whole is very good, top to bottom," he continued. "We have to be competitive and opportunistic to get points, and I look forward to league play and getting into it."
Following Alaska's annual Blue & Gold intrasquad game and then a home exhibition contest against Simon Fraser in September, the new season will face off for real for Largen and the Nanooks at Arizona State on Oct. 6-7.
"It's an honor, and it's exciting," said Largen of his new assignment. "The biggest thing is it's a big responsibility. The biggest thing I feel is a responsibility to the people who gave me this opportunity, and the people I represent. It's important to do a nice job for them."