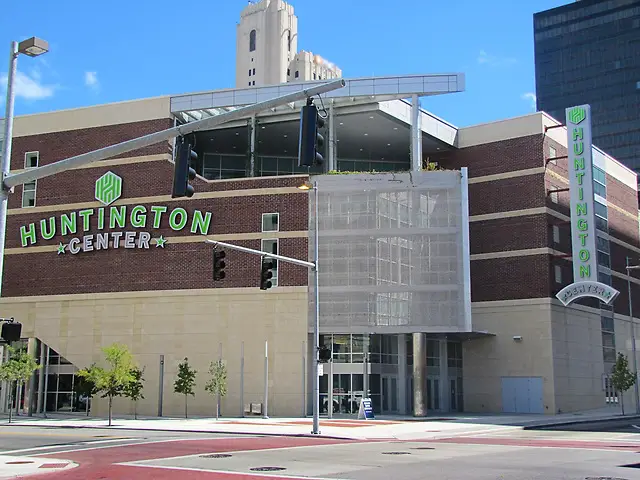 The Huntington Center and Bowling Green have been chosen to host the 2019 Ice Breaker Tournament.
One of the premier NCAA Division I hockey tournaments in the nation, the event will be hosted Oct. 11-12 and Bowling Green, Ohio State, RIT and Western Michigan will take part in the four-team tournament.
The Huntington Center is located in downtown Toledo.
"As host of the 2019 Ice Breaker Tournament, next year's men's NCAA hockey season will in essence begin in Toledo," said College Hockey Inc. executive director Mike Snee in a statement. "Bowling Green is one of college hockey's most tradition-rich programs and this will be a fitting way for the school to begin its 50th season of men's ice hockey."
The Ice Breaker Tournament is sponsored by the Hockey Commissioners Association, managed by College Hockey Inc. and began in 1997.
"There is no better way to open a college hockey season than the Ice Breaker Tournament, which has a rich history of bringing together incredible competition and terrific fans," WCHA president and commissioner Bill Robertson added. "We are thrilled to have Bowling Green State University and the WCHA host the 2019 edition, which we know will add another storied chapter to the Ice Breaker legacy. As we have seen many times at the 'Madhouse on Mercer,' this region has a passionate fan base like no other. Our sincere thanks to the staff at Bowling Green, the Huntington Center, College Hockey Inc. and Ohio State, RIT and Western Michigan for making this happen."
Western Michigan will face Ohio State on Friday, Oct. 11 at 5 p.m. EDT, followed by Bowling Green vs. RIT at 8 p.m. Winners will be paired up for the second day of competition, as will the losing teams. The first game of Saturday play will begin at 5 p.m., with Bowling Green playing its opponent at 8 p.m.
"We are excited to take part in the Ice Breaker Tournament and to face two quality opponents," BGSU coach Chris Bergeron said. "Winning the GLI championship last year was a highlight of our season. For us, participating in events like the Ice Breaker are important for the continued development of our program."
Each of the last three NCAA champions opened their seasons in the Ice Breaker Tournament and the last two hosted: Minnesota Duluth in 2017, Denver in 2016 and North Dakota in 2015.
Bowling Green played in the Ice Breaker in 2001, while Ohio State has played in the tournament three times, most recently in 2016. It will mark both RIT's and Western Michigan's first appearance.