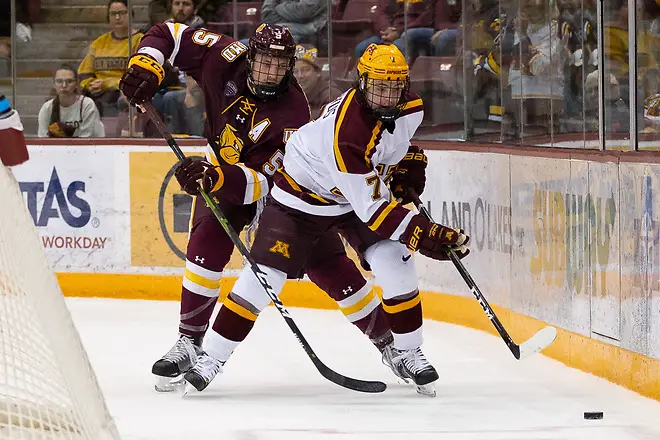 Each week during the season, we look at the big events and big games around Division I men's college hockey in Tuesday Morning Quarterback.
Paula: Well, Jimmy, the second full week of the season seems to have been dominated by upsets, sweeps, and shutouts. I'll start with the upsets.
The first upset that comes to mind is Wisconsin's sweep of Boston College. The Badgers were picked to finish sixth in the Big Ten while the Eagles were the preseason favorite in Hockey East. Wisconsin scored 10 goals in the series, three in the first-night shutout and seven in that wild second game. I hardly know what to think of this.
The second upset that comes to mind isn't quite as much of an upset, but Minnesota State's sweep of Boston University is surprising. It was a series that I would have expected the Terriers to at least split, even on the road. In both of those close games, the Mavericks scored third-period goals to secure the win. In the second game, the Terriers scored to tie the game but the Mavericks answered less than a minute later.
I know it's way too early in the season to extrapolate too much from these games, but in both series, I'm reminded of teams that can win find ways to win.
Jim: I think both of these series were interesting, particularly the second nights where the eventual winning teams had to withstand wild rallies. I think for Wisconsin and Minnesota State, those were gut check moments, early-season tests that each team passed.
I always look at the first couple of weekends as a time where upsets are most likely to occur. Maybe the favorites haven't helped as a team. Maybe there can be a sense of over-confidence. Maybe the underdogs were just more excited and better prepared.
Oftentimes, a single game upset is easier to explain than when an underdog sweeps. Although, in the case of a team like Wisconsin, maybe this is a team that was simply underestimated.
Speaking of upsets, I though that Bemidji State's win and tie against North Dakota was eye-opening. Certainly it is a good sign for the Beavers, but also shows this Fighting Hawks offense isn't ready for prime time having scored just two goals on the weekend. I know Wisconsin's sweep opened eyes, but might this have been the most impressive results from the weekend?
Paula: I think the results of the home-and-home series between the Beavers and the Fighting Hawks may be the most telling series of the weekend.
In both games, Bemidji State scored the last goal to either tie or win the game. As you said, North Dakota managed two goals on the weekend, and the Fighting Hawks are returning after a season during which they were tied for 25th nationally in scoring offense, averaging just under three goals per game last year. Bemidji's defense was 14th nationally last season, but we always take into account the relative strength of conferences, and without discrediting the WCHA, the NCHC has been a more competitive conference from top to bottom since its inception.
Particularly impressive is the way in which the Bemidji coaching staff was comfortable playing two different, inexperienced goaltenders against a ranked team. Sophomore Henry Johnson, who recorded 20 minutes of playing time last season, made 28 saves in the Friday win, while newcomer Zach Driscoll had 26 saves in the tie, stopping six in the overtime while the Beavers put three shots on the North Dakota net. After the departure of Michael Bitzer – who was just a workhorse for Bemidji State in his four years there – the performance of Johnson and Driscoll must give the Beavers some confidence at the start of the season.
Speaking of goaltending, what do you make of the number of shutouts we saw this past weekend? There were 11 games in which one side was blanked, with 11 different goalies in net.
Jim: That's a good question. At first blush, obviously there are some talented goaltenders out there to help post those shutouts.
But I also look at the time of the year. I think 11 shutouts in a weekend any time of year is high. But you have to take into account that most teams were playing their first games of the season and things like power play units aren't always comfortable together at this time of year.
I know, having talked to a few coaches on Monday morning, that at times their offenses seemed to lack any chemistry, which I think speaks volumes for just how little coaching has been involved with teams at this point. I know that the NCAA rules changed this year to allow more preseason time on ice with players, but the reality is that teams didn't get into their full practice regiments until Saturday, October 6, which also happens to be when some teams played their first games.
I am old enough to remember the days when midnight on October 1 was the start of the season (and many teams practiced at 12:01 a.m.). After that, you had two weeks of "training camp," then an exhibition game and then somewhere around October 21 or so, you played a single non-league game or two that counted.
Those days are long gone. Now teams practice together throughout the summer without coaches, get limited hours in September with coaches and many then play their first game on the first day possible.
Personally, I like the old system. I feel like teams were more prepared to play. Sure, there was still some ugly hockey, but in today's game, with a few exceptions, October hockey isn't very exciting.
Paula: Excellent points about the changes in the practices. I'm still getting used to hearing about all the things that teams do together throughout the summer and about the limited time they get with coaches in September. That hard start date of October 1 seemed to synthesize some things. Maybe we're just being nostalgic.
You're right about October hockey, for sure. Given the time that teams get to spend together and the limited, prescribed contact with coaches in September, what we're seeing seems to be as good an argument for the value of the whole team practicing as a unit with the whole coaching staff.
And, as you said, the October 6 start is so late that we're seeing hockey that has too little time to gel – and yet that may have significant consequences later in the season. Maybe North Dakota's season won't turn on this weekend against Bemidji State. Notre Dame's tie with Mercyhurst in the Ice Breaker may not be a deal-breaker this season. Maybe BC and BU will overcome these initial sweeps. But maybe this less-than-thrilling October hockey will have consequences in March.
Jim: And that therein lies the rub.
We tell people not to pay attention to the PairWise right now. In fact, the ranking is completely useless right now as, a) there haven't been enough games played, and b) many schools, especially the Ivies, haven't played a single game as of yet.
But losses at this point in the season count the same as losses in January, February and March. For example, while we all remember Minnesota Duluth qualifying for last year's championship by .0001 percentage points in the RPI come season's end, many may not remember that a 0-0 tie against Bemidji State on Oct, 14, 2017, was enough to keep that RPI high enough to qualify. Allow a single goal in that game and lose 1-0, we have a different national champion.