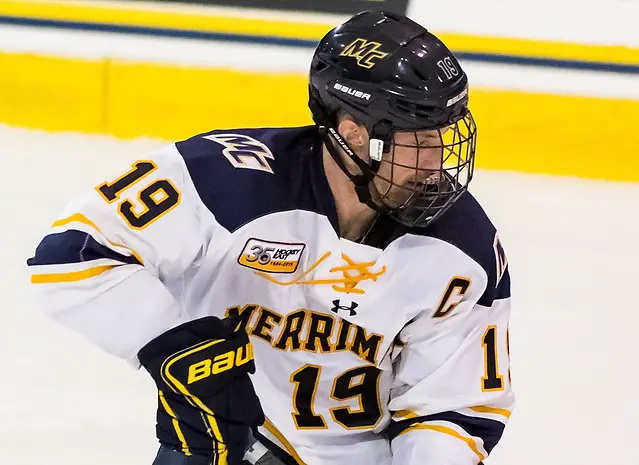 Matt McArdle and Michael Babcock quickly became close friends during their season together on the USHL's Fargo Force in 2014-15.
They sat together on bus trips, spent time together away from the ice and grew close to each other's family.
For one year, they were inseparable.
That friendship paid dividends over the summer. McArdle graduated from Lake Superior State and searched for a new hockey team he could play for with his final year of college eligibility. So he called Babcock, his longtime buddy, who was gearing up for his senior season at Merrimack.
"I've always spoken so highly of playing here," said Babcock, the son of Toronto Maple Leafs coach Mike Babcock. "Once he let everyone else know he was transferring, he reached out to see if he would like it here.
"He had questions like, 'What would be expected of me? Could I help the team right away? What are the guys on the team like?' We have a good culture and a good group of guys, so I thought he'd be a good part of the team."
After speaking with Merrimack's coaching staff, McArdle reflected on those long bus rides in the USHL, sitting next to Babcock. He knew transferring would be a good fit for him and it would reunite the defenseman with his good friend. McArdle pulled the trigger and signed with Merrimack during the off-season.
"I had a bunch of credits and was in a position to transfer," McArdle said. "I had some injury problems at Lake State, and I wanted to be part of a different culture, one head coach Scott Borek and coach Curtis Carr are developing here. I wanted to be part of it, so that's what got me here, too.
"I had no ties to Merrimack, but (Babcock) spoke so highly of them, so it's something I was interested in. The whole process is crazy once you grad transfer. You never know what's going to happen."
Coincidently, Merrimack opened the season with LSSU. The Lakers won both games, 5-4 and 1-0, but McArdle was on the Warriors' top defensive pairing alongside Dominic Dockery in the Oct. 6 opener. He finished with just one shot on goal.
"It's a small world," McArdle said. "I found out (Merrimack was hosting LSSU in the opener) one week after I committed."
McArdle, who was born in Annapolis, Md., and spent time with the Force, Sioux City Musketeers and Muskegon Lumberjacks in the USHL and Rio Grande Valley Killer Bees in the NAHL before debuting at LSSU, understands he's walking into a challenging situation.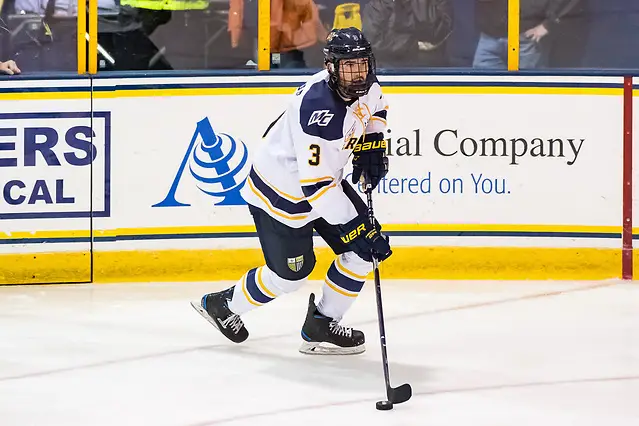 While his buddy, Babcock, the team's captain, is part of the foundation of the team, the Warriors are undergoing a complete rebuild. A year ago, they were 12-21-4 overall and finished ahead of only 11th-place New Hampshire in the final Hockey East standings. They welcomed Borek as its new coach over the summer. A lot is going to be asked of McArdle, who played in just 17 games and had only two points for the Lakers as a junior.
"Matt's going to be a guy who we'll rely heavily on for minutes," Babcock said. "He'll be a steady guy, good on the penalty kill and be very responsible. He's always been that way since I started playing with him. And with him being a grad student transfer and a four-year guy, guys are already looking at him for his leadership and as a role model."
Being part of a rebuild is something McArdle is taking seriously. But he feels comfortable being in this position.
"You want to have the best year, yet I think it's more important to build the culture of the team and what they're putting in place," he said. "I want to come back in two or three years down the road and look at what we built and be proud of that. I think that's really important.
"Being in Hockey East is also a huge honor. The schooling and everything here (is fantastic). I wanted to go somewhere where I could feel comfortable. I talked to the coaches, and they were all very welcoming. All around, the situation is something I felt comfortable in. I didn't want to go to a situation where I didn't feel comfortable."
McArdle hopes to sign a professional contract after the season.
As far as McArdle and Babcock, nothing has changed about their friendship. They're both still close, and they actually live together in the same apartment. In their off time, McArdle likes to cook for them and the duo often spends time in the living room watching Netflix. Right now they're binge-watching the series, "Ozark."
"We're very similar people," Babcock said. "We've connected on certain things, and we both agree on how certain things should be handled."
The Warriors hope the two can connect on the ice as well and reinvigorate the program this winter.