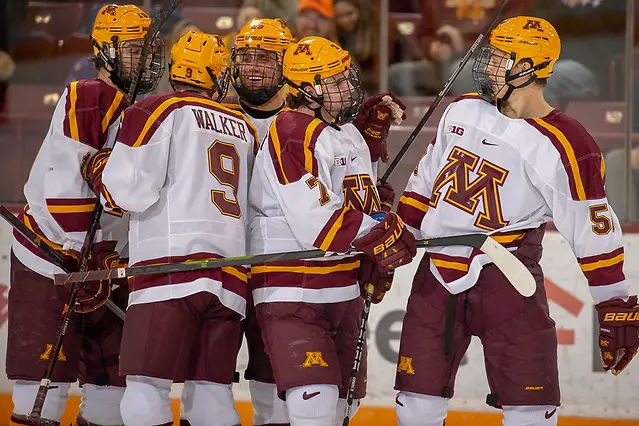 Each week during the season, we look at the big events and big games around Division I men's college hockey in Tuesday Morning Quarterback.
Jim: We probably should be starting this week talking about the upset victory for Massachusetts on Friday over No. 1 Ohio State.
It's certainly noteworthy, but it was also one of the few highlights on the weekend for Hockey East.
When I spoke to Hockey East commissioner Joe Bertagna before the season, he called last season's out-of-conference winning percentage of .514 an aberration, noting that typically it sits significantly higher, minimally over .600.
Well, don't look now, but Hockey East's current nonconference winning percentage has fallen to .421 after the league was a collect six games below .500 this past weekend.
We talked about this a bit last week that out-of-conference performances in October usually impacts how many teams your conference gets and what sort of seeds those teams have in the NCAA tournament.
And while I understand that we've played just three weeks of this season, I think it's already time for Hockey East fans to be nervous as right now, your teams aren't stacking up well against the rest of the country.
Paula: Yes, we should begin with that very telling game and its context.
The tale the box tells is fascinating. The Minutemen led 3-0 by the 6:19 mark in the second period with two of those three goals involving special teams, a five-on-four power-play goal and a four-on-four marker. The Buckeyes made it 3-1 at 12:53 in the second on Carson Meyer's penalty shot.
All told, three of Massachusetts's six goals involved special teams and the sixth goal was an empty netter at 16:56 in the third. Senior Brett Boeing had the first goal for the Minutemen, his first of the season; he scored three in 31 games last season and took until his 12th game to do it. Sophomore Philip Lagunov had three goals in 37 games last year and had the puck that held up to be the game-winning goal on the power play at 8:00 in the third. Lagunov didn't score his first collegiate goal until the 17th game of last season. Sophomore defenseman Cale Makar, who had the empty-net goal, had five goals in 34 games last year and now has three in four games this season.
On the Buckeye side of things, senior goaltender Sean Romeo had a 2.06 GAA last season and played two games in which he surrendered five goals. Ohio State went with Tommy Nappier in net, and after the Minutemen again scored the game-opening goal at 6:00 in the first, the Buckeyes answered 13 seconds later and held on for a 3-1 win, with the teams combining for 75 shots in Saturday's game.
Now both Massachusetts and Ohio State are 3-1-0, the Buckeyes have slipped from first to fourth in the poll, and Massachusetts debuts at No. 16. While it's early, it's still fascinating.
To your point about nonconference play, HEA had a .573 win percentage in inter-conference play in 2016-17 and .554 the year before that. These are not numbers that support Bertagna's "aberration" theory. It's got to be troubling to Hockey East fans but in the end, as someone who covers a league with a great nonconference record last season send three teams to the Frozen Four and come away empty, my faith in nonleague win percentage is a bit shaken.
Jim: Here's where we will disagree.
While I understand your perspective of the Big Ten having a solid non-league win percentage last season yet not producing the national champion, I will tell you that most any commissioner in college hockey should be happy to have three teams in the Frozen Four. Sure, it can be a bit jarring to not produce the national champion when you have 75 percent odds entering the ultimate weekend of college hockey, but if you can dominate all but one game of a 15-game tournament the way the Big Ten did a year ago, you have to be pleased.
Right now, we can almost see a dividing line between the NCHC and Big Ten and the rest of college hockey. Both are well above the .600 mark, with the Big Ten holding a lopsided .739 win percentage. And after a pretty solid weekend, the ECAC has climbed itself back into a solid spot with a 12-9-1 record (.568). Of course, six of its members are missing from the calculations as the Ivies haven't yet played. But when the rest of the conference is carrying some water early, that helps.
As we talk about the Big Ten's early dominance, we should now bring up the fact that another Big Ten team has assumed the top spot in the USCHO.com poll, Notre Dame. You are more in tune with the Big Ten. Last weekend looked impressive from afar.
Do you agree?
Paula: Absolutely, I agree.
The Big Ten is, in fact, 16-5-2 in nonconference play to start the year, an impressive beginning that many voters are noticing. Six of the Big Ten's seven teams are in the poll and four of them were voted into the top 10. The NCHC has been dominant since its inception, and if last year wasn't a fluke for B1G hockey, you certainly are correct that we may be seeing the Big Ten and NCHC separating themselves from the other leagues.
And we don't disagree as much as you may think.
I know that every commissioner would love to have that 75 percent chance at a national championship. Last season was an indication of how deep the Big Ten was, just as we've seen from the NCHC since the start of that league. Any conference that has that kind of depth can improve its recruiting, justify spending on resources and provide a chance for the conference to capture a national championship, just as the NCHC has done for the last three years running.
Jim: Moving past the nonconference dominance, or lack thereof, last week had a couple of moments that stand out.
RIT once again packed the house for homecoming with a 10,000-plus crowd watching a 6-1 win over Colgate. Union earned their poll credibility by sweeping Northeastern. And one of the moments that stood out to me was Denver's ability to survive Saturday against Alaska.
We know the Nanooks struggled from the gate being shut out twice in the opening weekend by Arizona State. But they held a 2-1 lead with less than two minutes left at nationally-ranked Denver on Saturday.
Cue the comeback.
Goals by Cole Guttman with 1:52 left and then a seeing-eye one timer by Lester Lancaster with 35 seconds left helped Denver find a tie of what could've been a lost evening. Those are the moments that we love to see this time of year.
Paula: I do as well.
RIT began last season with a tie and a couple of losses, so in addition to that lopsided win in front of a packed house, the Tigers have the road split the week before when they let UMass Lowell tie it in the third before getting the game winner 46 seconds into overtime.
Denver's finish in that game against Alaska is another example of what good teams do when they know they can, and that is something that Pioneers fans should take to heart this early in the season.
I can't get past the goal differentials that Notre Dame (21-9), Penn State (21-7) and Bowling Green (22-7) have racked up. We know from history that this may not last, but it is fun to see at the start of the season. Weirdly, both the Fighting Irish and the Nittany Lions had 8-2 and 4-1 games against opponents last weekend. It's exciting to see teams and players start hot. In two games, for example, Penn State goaltender Peyton Jones has a .973 save percentage and 1.00 GAA – statistically insignificant, but still exciting.
With two more games to his credit, Bowling Green's Ryan Bednard's numbers (1.34 GAA, .944 SV%) are too good to ignore.
And Bowling Green, Notre Dame and Penn State are each averaging more than five goals per game through the first two weeks of play. Three players – Denver's Liam Finley, Notre Dame's Cal Burke and Wisconsin's Sean Dhooghe – have five goals total in their first four games.
All of this is great at the start of the season, when everything is still so full of potential.