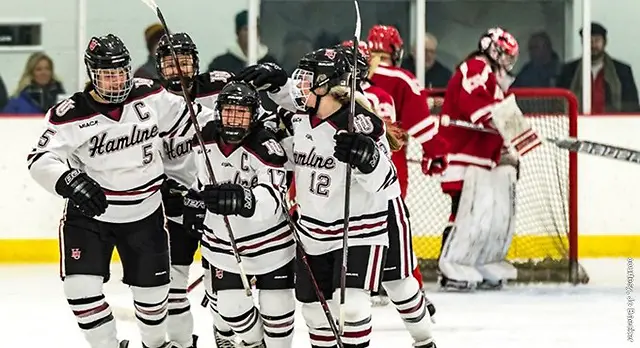 Hamline made it to the Frozen Four, and Gustavus Adolphus made the NCAA tournament last year. This has been a very competitive conference, yet the conference leaders are sporadic. This year, Hamline will be on everyone's radar to beat; however, don't forget about St. Thomas and Gustavus.
The Favorites
The expected favorite is Hamline, which returns this year with Bre Simon, who finished second in the league last year in points with 31 goals and 25 assists. Hamline also has Natalie Darwitz, the USCHO D-III women's coach of the year. The duo of Simon and Darwitz will be a huge factor to the Pipers' success this season.
Hamline has added eight freshmen to their squad this year, all of whom are from Minnesota. The Pipers are fairly young, but with key leadership at the helm they are poised to claim a top two spot in the conference.
Gustavus lost two important scorers, Kaitlyn Klein and Erica Power. This opens up a spot for a new team leader in points. The Gusties, just like Hamline, will also roster a young team.
The Dark Horse
The MIAC has changed their leader board each year, proving that there is not any program that has dominated this conference. The program to watch this year is Augsburg College. They return with seven seniors and nine juniors to provide the experience and depth to possibly lead the conference. Don't be surprised if this team upsets the previous NCAA participants and takes the bid to the tournament.
USCHO Predicted Order to Finish
1) Hamline
2) Gustavus Adolphus
3) Augsburg
4) St. Thomas
5) Concordia (Minn.)
6) Bethel
7) St. Catherine
8) Saint Mary's
9) St. Olaf
10) Saint Benedict
Players To Watch
Hamline: Bre Simon –– forward; Jordan Hansen –- forward
Augsburg: Bridget Wagner –- forward; Nikki Nightengale — defense
St. Thomas: Rachel Werdin –- forward; Kenzie Torpy –- goalie
Gustavus: Kristen Cash –- defense; Amanda DiNella — goalie