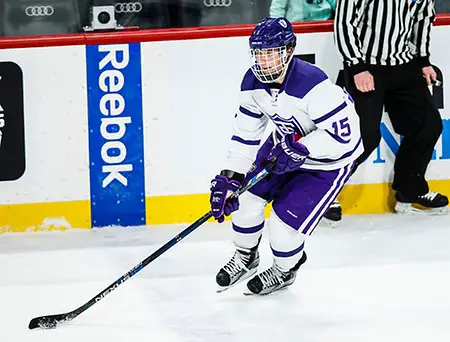 It's a new year, but a familiar team is at the top when it comes to preseason predictions.
St. Thomas won the regular-season championship a year ago and returns most of the players from a team that won its sixth title in seven years.
The top four teams were separated by just seven points in a league where parity is the norm, not the exception. Augsburg is proof of that. The Auggies finished third in the standings, but won the conference tourney title and went on to play in the NCAA tournament.
Another entertaining year of hockey should be in store in the MIAC. The season kicks off with the showcase this weekend.
The Favorites
St. Thomas has to be the favorite based off the amount of experience it has coming back. The Tommies lost only two seniors to graduation and welcome back All-MIAC picks Brett Gravelle and Johnny Panvica. The two have combined for 47 goals in their careers. Cullen Wilcox also returns. He has 24 goals and 21 assists in his career.
The Tommies hope to get off to a much quicker start than they did a year ago when they started just 2-3-1. They finished with nine wins in their last 11 regular-season games.
Augsburg has established itself as one of the better teams in the conference, and that probably won't change with Luke Dietsch and Nick Schmit back in the fold. Dietsch scored 12 goals and dished out 16 assists, while Schmit went 18-9 and had a 2.23 goals-against average.
Saint John's was the runner-up in the league standings and has a lot of experience back. Brady Heppner returns after tallying 13 goals and 11 assists. He was a first-team all-league pick. Robb Stautz is also back after earning honorable mention honors last season. He finished with eight goals and 14 assists.
The Dark Horses
No one should look past Gustavus Adolphus as a potential contender.The Gusties played in the conference title game last year and have one of the best netminders in the game in Chris Amsden, who went 9-8-1 overall and fashioned a 2.21 GAA. Evan Erickson and Colton Schmidt were two of the Gusties' top scoring threats, tallying eight goals apiece. Both are back for a Gustavus team that finished fourth in the league last year.
Saint Mary's and Hamline have a shot as well.
The Cardinals have first-team all-league pick Kyle Meeh back. He had a career high in goals (8) and points (16). The Pipers welcome back Mitch Hall, an All-American defenseman who missed most of last year because of a torn ACL. They also add goalie Sam Nelson, who transferred from Concordia.
USCHO Predicted Order of Finish
1) St. Thomas
2) Augsburg
3) Saint John's
4) Gustavus
5) Saint Mary's
6) Hamline
7) Concordia (Minn.)
8) Saint Olaf
9) Bethel
Players to Watch
Augsburg: Luke Dietsch — forward; Nick Schmit — goalie
Bethel: Dallas Marvin — forward; Michael Piehler — forward
Concordia: Mario Bianchi — forward; Tanner Okeson — defenseman
Gustavus: Evan Erickson — forward; Chris Amsden — goalie
Hamline: Mitch McPherson — forward; Mitch Hall — defenseman
Saint John's: Brady Heppner — forward; Robb Stautz — forward
Saint Mary's: Jack Stang — forward; Kyle Meeh — defenseman;
St. Olaf: Chris Koziel — forward; Erick Hancock — goalie
St. Thomas: Brett Gravelle — forward; Johnny Panvica — forward
Expect another year where anything is possible. St. Thomas might be the favorite, but that guarantees little. Every weekend matters in a conference where there is little room for error. Gustavus proved just how competitive the conference is last season when it finished below .500 and still made the conference final. There are four to five teams that could realistically be the conference champ when it's all said and done.