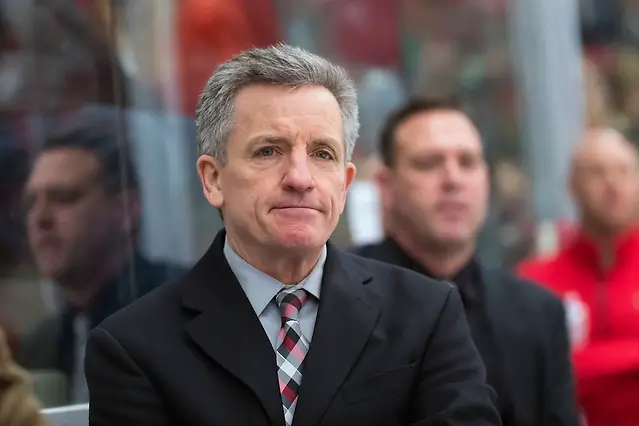 The greatest goal scorer in Wisconsin hockey history and a national hero from his contributions to the 1980 Miracle on Ice team, Mark Johnson will have his jersey retired into the Kohl Center rafters on Feb. 9, 2019.
The No. 10 will remain in circulation at Wisconsin, but Johnson's name and number will be forever celebrated.
Johnson, who recently became the all-time winningest coach in NCAA Division I women's hockey, will become the first hockey player to have his jersey retired at Wisconsin when the Badgers play host to Ohio State.
Beginning Feb. 9, Johnson's jersey will forever hang above the rink that bears the name of his father, Bob Johnson.
"When I heard the news, I was very excited and certainly humbled by being recognized this way," Johnson said in a statement. "It is certainly a big, big honor.
"I feel very fortunate that I had an opportunity to fulfill a childhood dream. I remember being a stick boy when I was eight or nine and watching Badger hockey for a lot of years on the bench hoping one day I would get to wear the jersey and play for the University of Wisconsin. I got the opportunity to do that and have great memories. This is going to be a great memory that I am extremely proud of and certainly my family is very proud of. It is going to be a very special night and I am looking forward to it. I can't be more appreciative."
"Mark is so deserving. When you think of his contributions and our program, nobody even comes close," UW men's coach Tony Granato added. "Mark came straight from Madison Memorial High School and dominated college hockey. He accomplished more in three years than anyone else has done here in our history. He might be the greatest college hockey player of all time.
"His love of Wisconsin brought him back after his professional playing career and his impact on our school now is as big as it has ever been."
An NCAA champion his freshman season in 1977 as the WCHA Freshman of the Year, the Madison-grown Johnson was a two-time, first-team All-American and the 1979 WCHA Most Valuable Player.
Wisconsin's all-time leading goal scorer with 125 goals in just three seasons and 125 games played, he also holds school single-season marks with 48 goals and 90 points, while sharing the school mark with 17 power-play goals in a season (he shares the record with his brother Peter). UW's top all-time freshman, sophomore and junior goal scorer, Johnson also owns a share of the school mark with five goals in a single game. His 256 career points are second in school history, though he is the only skater to average better than two points per game.
In addition to the 1977 NCAA title, Johnson's teams captured the 1977 MacNaughton Cup as WCHA regular-season champs, the 1977 WCHA playoff championship and the 1978 WCHA regional championship. He played in two Frozen Fours.
After his junior season, Johnson joined the 1980 U.S. National Team, eventually making the Olympic team and leading the upstart Americans to a gold medal as the squad's leading scorer, including scoring two goals in the semifinal game against the Soviet Union and two more against Finland in the title-clinching contest.
Johnson went on to an 11-year NHL career with the Pittsburgh Penguins, Minnesota North Stars, Hartford Whalers, St. Louis Blues and New Jersey Devils.
In addition to his Olympic gold medal, Johnson represented Team USA at 13 international competitions, including his last at the age of 41 in 1998. He went on to coach at the international level, including leading the United States women to the silver medal at the 2010 Olympic Winter Games in Vancouver.
After his playing days, the U.S. Hockey Hall of Famer returned to Madison, spending a season as head coach of Verona High School, a year as assistant coach at Madison Memorial High School and another campaign as coach of the CHL's Madison Monsters. He returned to the Wisconsin men's program in 1996 as an assistant coach for six years before taking over a UW women's program in its infant stage as head coach.
Under Johnson, the women's program has become a national power, with him leading the team to four NCAA titles. He also owns four national coach of the year honors and seven WCHA Coach of the Year honors. His teams have captured seven WCHA regular-season and tournament titles, while five of his players have won the Patty Kazmaier Award as national player of the year.
In 1997, Johnson was selected to the American Hockey Coaches' Association All-Time West Team as one of the top 52 players in college hockey, then was named one of the WCHA's "Top 50 Players in 50 Years" in 2002.
A charter member of the UW Athletics Hall of Fame, he is a two-time inductee into the U.S. Hockey Hall of Fame as both a member of the 1980 U.S. Olympic Team and as an individual. He is also a 1999 inductee into the IIHF Hall of Fame.
Johnson won the 2005 NCAA Silver Anniversary Award, one of the most prestigious awards handed out by the organization, and the 2011 Lester Patrick Award for his outstanding contributions to hockey in the United States.
Johnson's son, Patrick, skated for the Badgers' men's team and his daughter, Mikayla, played for the women's team.