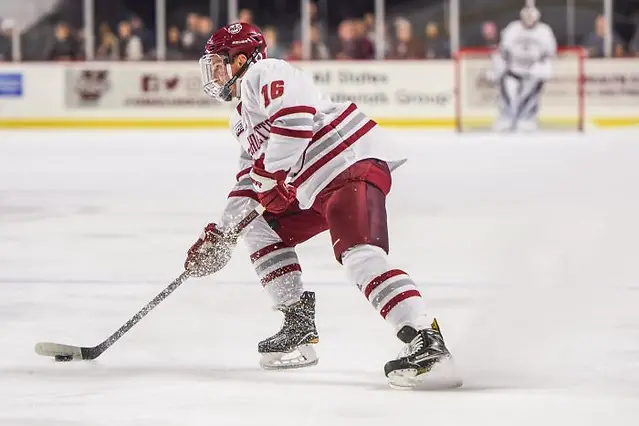 When Greg Carvel arrived on campus at Massachusetts three years ago, his first action of business as directed by athletic director Ryan Bamford was pretty important.
"I accepted the job and the first thing out of my AD's mouth was, 'You've got to call Cale Makar,'" said Carvel. "The previous staff found Cale very early. He was committed at a very young age before he kind of blew up."
At that point, Makar still wouldn't matriculate for more than a year, but Bamford, and in turn Carvel, understood at an early stage that they had a very special player on their hands.
To that point, though, Makar had slipped past a lot of radar screens. It was a pipeline that had developed between the Brooks Bandits in the Alberta Junior Hockey League and UMass that brought Makar (as well as classmate Oliver Chau) to the Amherst, Mass., campus. But even entering his final season of junior hockey, Makar wasn't listed on the initial NHL Central Scouting watch list.
Of course, things changed that final year with Brooks. NHL brass began to take notice, Makar moved up the NHL's rankings and ended up being drafted fourth overall by Colorado in 2017.
When he began play with the Minutemen a season ago, it was immediately apparent that Makar's talent from the blueline was special. His skating stride looks effortless and he moves up the ice with pace and skill, making him an ideal three-zone player.
That was something Hockey East fans learned last year, but something that Carvel understood the first time he saw Makar play.
"My first year [at UMass], myself and both of my assistants, Ben Barr and Jared DeMichael, we made multiple trips out to Calgary and Brooks and built a good relationship with Cale and his family," said Carvel. "[Makar] came out for warmups, the first time I saw him, and this was before he kind of blew up his draft year, in the middle of warmups I called my assistants and said, 'We have Erik Karlsson coming to our program.'
"You could see the way he skated and handled the puck and shot the puck. And then the game starts and he's skating the puck the length of the ice, doing whatever he wanted to do."
By June, when Makar was drafted, Carvel's challenge changed. Having such a high draft pick doesn't just create an NHL flight risk, but it often can create a situation where an 18-year-old might forego college altogether.
Though concerning, Carvel sat down with Makar and talked about a game plan.
"I knew from building a relationship with the family, they did a wonderful job with Cale. He's in no rush to get anywhere. They understand the process and how important it is to be completely ready when you make that step [to professional hockey]," said Carvel. "Before his freshman year, we sat down and I said, 'I think it's important that you and I look at this as a two-year journey, similar to what [Charlie McAvoy] did at BU.'
"After his second year, he was completely ready, he stepped right in and instantly was a good player for the [Boston] Bruins.
"I said, 'I think we need to have that mindset. If after one year you've proven you're just too good for this league, you move on.' But I thought we needed to have a two-year mindset."
Buying in on Makar's part has paid dividends already for UMass.
After a five-goal rookie season, Makar has four goals and 13 points in just seven games and is one of Hockey East's most electric players.
In Makar's words, he was okay with returning to Amherst for a second season. He still wanted to work on certain aspects of his game and, most importantly, wanted to use the schedule associated with the college game to spend more time in the weight room to add muscle to his 5-foot-11 frame.
"I've always had I the back of my mind to come [to UMass] and develop for two years and there were a few things I needed to finish up in my college career and work on those aspects," said Makar. "Being in the NCAA allows you more time to work out off the ice and to gain strength in your body.
"In terms of on-ice, I think I needed to work on some of my [defensive] zone play. I want to become a player who is reliable in both zones at any point in the game. I'm getting there, [but] I'm not quite there yet."
Makar is part of a sophomore class that has electrified not just this team but the campus in Amherst. His coach has successfully built a social media campaign that uses the hashtag #NewMass, and as last season progressed and this season began, the buzz around the program has returned close to the level the team had when it put forth its best season in 2006-07, a season that culminated in an NCAA regional final appearance.
"I can definitely feel an excitement level [on campus]," said Makar, whose No. 9 Minutemen head into this weekend's Thursday-Saturday series with No. 4 Providence with a 6-1-0 record. "Whenever you start to win, everyone starts to realize what kind of team you are. That's when the fans start to come."
Carvel hopes this series is the moment that really pushes fan engagement.
"At the end of last year, when we hosted Vermont in the playoffs, it was great," said Carvel. "We had 4,000 or 5,000 students in the building. It was close to capacity.
"We hoped to see that carry over right away this year, but it's football season and we haven't played big-name teams to this point.
"Now we have Providence, which in No. 4 in the country. We're fighting for first place in the league and our team is nationally-ranked.
"The state of Massachusetts is a hockey state. The vast majority of the kids here are from Massachusetts and they know the sport. It's one of those things, 'Is it cool to go to a hockey game?' For a number of years, it wasn't cool.
"Everybody likes a winner. I understand that people are trying to see that it's for real. The real test is to come out and watch the game."