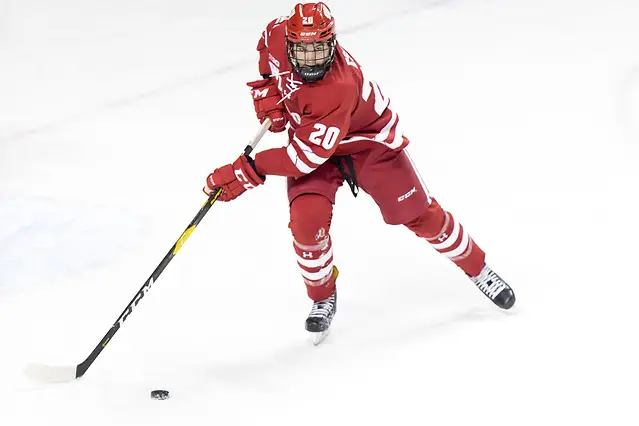 Each week, USCHO.com columnists will pick the winners of the upcoming games in their respective conferences.
Atlantic Hockey
Friday-Saturday
Robert Morris vs. Penn State
It didn't take long for the rivalry between the two schools to develop and immediately become intense, with the teams dead-even with a 4-4 record against one another. That means anything is possible, even if one of the teams is ranked No. 6 in the nation. Unfortunately for RMU, though, Penn State received an wake-up call with an overtime loss to Arizona State last week. Give me the Nittany Lions in a sweep.
Sacred Heart vs. Army West Point
They key to this series is whoever handles an incredibly quick turnaround from Friday into Saturday. After playing at West Point on Friday, the teams will play in Bridgeport at 2 p.m. on Saturday, owing to a home game for Sacred Heart's AHGL co-tenants at Webster Bank Arena. In what's normally a tough, physical series, expect a lot of ice baths after that game. I'm calling this a split and will go so far as to call the home team for each game.
Holy Cross at Niagara
Niagara opened the season with a split against a very-good AIC team and plucked wins from both Air Force and Robert Morris on the road. That's a great sign for momentum as they finally return home after a six-game trip away from Dwyer Arena. Holy Cross, meanwhile, really needs points after losing the last five games following an injury to goaltender Tommy Nixon. Niagara sweeps.
AIC at RIT
AIC hasn't been swept at RIT since it lost back-to-back games in December, 2013. In fact, the Yellow Jackets have only been swept once since, and it came during a four-game season series in 2015-2016. RIT won twice in Springfield that year by a combined 10-4 score. So I have a hard time thinking the Yellow Jackets, who I think are going to be a coast-to-coast nuisance in Atlantic Hockey, get swept here. Call it another split.
Bentley at Air Force
Bentley is 4-3-3 at Air Force since the 2009-2010 and has had multiple trips west where it avoided a loss. The key to these games will be if the Falcons can control the second period (see what I did there?); Bentley is -26 in shot attempts in the middle frame compared to -8 and +5 in the first and third. Air Force, meanwhile, is +16 in shot attempts while -2 and an even zero in the first and third. I think Bentley comes away with points, so I'm calling another split.
Saturday
Mercyhurst at St. Lawrence
The Saints already lost once this year to an Atlantic Hockey team when Holy Cross beat them, 4-3. I think Mercyhurst makes it two with a win on the road.
Clarkson at Canisius
Unfortunately Atlantic Hockey, I don't think the Great Lakes come away with a full sweep in the North Country. Clarkson wins here.
Tuesday, Nov. 13
Canisius at RIT
A midweek conference game? Give it all to me. This is probably going to be game of the week. RIT wins in a squeaker.
— Dan Rubin
Big Ten
Friday-Saturday
Minnesota at Wisconsin
Each of these teams is looking to break a small losing streak. The Golden Gophers have lost three in a row to ranked teams, most recently a home-and-home series against Minnesota State. On the road last weekend, the Badgers were shut out 5-0 by North Dakota before losing in overtime to the Fighting Hawks. I wouldn't be surprised to see either team sweep, but given the way the Big Ten is splitting things lately, I say Minnesota wins Friday, Wisconsin wins Saturday.
Notre Dame at Michigan
This is another series that may test the prevailing theory that the Big Ten is chocked full of parity from top to bottom. Last weekend, the Fighting Irish split a pair of home games with Ohio State, each game low scoring and each decided by a goal. The Wolverines traveled to the Upper Peninsula and split a pair with former CCHA rival Lake Superior State. This season, Michigan fans are dismayed to find that goaltending woes have returned, and that may be a factor. Again, I'll pick a split: Notre Dame wins Friday, Michigan wins Saturday.
Michigan State at Arizona State
This series is an excellent test for each team. Again, each team split a series last weekend, with the Spartans beating Ferris State at home before losing to the Bulldogs on the road, and the Sun Devils scoring nine goals in two impressive road games against Penn State, winning in overtime Saturday. Will the Sun Devils' offense overwhelm the Spartans' defense? Don't be surprised if Arizona State sweeps, but – again – I'm calling a split. Arizona State wins Friday, Michigan State wins Saturday.
Ohio State at Colgate
The Buckeyes are 1-2-1 in their last four and seem to have settled down defensively. Colgate is winless in its last five (0-4-1) and the Raiders have yet to score more than two goals in seven D-I games. Ohio State sweeps.
Robert Morris vs./at Penn State
In this home-and-home series, Penn State hosts Friday and travels Saturday. Both teams split at home last weekend. I'm betting on the Nittany Lions' powerful offense for a Penn State sweep.
— Paula C. Weston
ECAC Hockey
Friday-Saturday
Ohio State at Colgate
The Raiders welcome the No. 7 team in the country to Hamilton, N.Y., and it will be a tough test for Colgate with a young team. The Buckeyes have been upset already this year, but I don't think it will happen again. Ohio State sweeps.
Cornell at Northern Michigan
The Big Red head to Marquette to take on the Wildcats for what looks to be an intriguing series. The Wildcats are coming off a split with nationally-ranked Bowling Green and have spilt a series against Michigan State earlier this year, the same Spartans team that swept Cornell two weeks ago. I say the Big Red opens the series with a win Friday and Northern Michigan earns the split on Saturday.
Friday
Dartmouth at Brown
Dartmouth hits the road for the first time this year to take on a young Brown team. Dartmouth is starting to get some scoring beyond the "Timber Line." I think Brown plays tough at home, but Dartmouth grinds one out for a solid road win.
Harvard at Yale
A rivalry game that might have a lot of offense in this one. Both teams have gotten to a decent start putting the puck into the net, stopping it may be a different story. I think Harvard best defense is their offense and win in a 6-5, 5-4 type of game.
Union at Princeton
The game of the night in the ECAC as both teams are nationally ranked. Union has multiple lines that can score, Princeton has that ONE big line that's headlined by Max Veronneau and Ryan Kuffner. I think Union might be deeper right now since the Tigers have only played three games. Union wins.
Rensselaer at Quinnipiac
Linden Marshall will have to be on the top of his game if the Engineers want to pull off the upset. Quinnipiac is playing some solid hockey that's been powered by a solid defensive core. The Bobcats win.
Saturday
Dartmouth at Yale
This is a sneaky good game between two evenly matched teams. I think both teams' top lines will cancel each other out and it might be one of those games where the hero is an unsung player. Yale wins in a close one.
Harvard at Brown
This game could settle the Crimson after their auspicious start. It's a game on paper they should win, but Brown's freshmen class has made the adjustment to college hockey well so far. I think this one will be close early but Harvard pulls away late.
Union at Quinnipiac
Which goaltender will make a stop? Whoever does will lead their team to a win as both offenses have been potent so far. Keith Petruzzelli has taken the reigns as the Bobcats No. 1 goalie while Jake Kupsky is Union's No. 1 backstopper. Bobcats defend home ice for the win.
Rensselaer at Princeton
If RPI wants to pick up a win this weekend, Jacob Hayhurst will have to have a big game as the junior center as a goal and 10 assists in seven games. The problem with that he's only player with three or more points. Expect the Tigers to shut him down. Princeton wins.
Mercyhurst at St. Lawrence
This is a winnable game for the Saints something they haven't had much on their schedule so far this season. They haven't scored much, but they have had 14 of their 22 skaters on the score sheet. It's a type of game where someone could step up and show they can be a threat. St. Lawrence wins.
Clarkson at Cansius
The two teams have met already with Clarkson winning 4-1 on October 27. This time the Golden Knights go to Buffalo to take on the Golden Griffins. Being away from Cheel Arena has been unkind to Clarkson this year as they are 1-3. I believe that changes Saturday as the Golden Knights win.
Tuesday, Nov. 13
Brown at UConn
The Bears roster has the potential to win a game like this, but they haven't gotten there just yet. The Huskies have a deeper lineup led by Jáchym Kondelík and Alexander Payusov and the edge in goal. UConn wins.
— Nathan Fournier
Hockey East
Thursday-Friday
Vermont at Boston College
Yes, Vermont is 3-3 while BC just got its first win on Saturday. Yes, BC has struggled to score while Vermont's defense and goaltending has excelled. Don't confuse me with the facts. My mind is made up. The Real BC shows up. BC sweeps.
Thursday-Saturday
Providence vs. Massachusetts
This is a Statement Series for the two teams still undefeated in Hockey East play. UMass is for real, but Providence is tough. Both teams hold serve at home. PC and UMass split.
Friday
UConn at Northeastern
In the closely matched Battle of the Huskies, home ice prevails. Northeastern wins.
New Hampshire at UMass Lowell
UNH has improved, but not enough to beat the River Hawks, especially in their barn. Lowell wins.
Friday-Saturday
Merrimack at Bemidji State
Merrimack has beaten both BC and BU at home, but the Sanford Center ain't the Lawler Arena. And Bemidji is playing well. Bemidji sweeps.
Saturday
UMass Lowell at Northeastern
The Huskies complete their bounce-back weekend with the second of two important home league wins. Northeastern wins.
Boston University at New Hampshire
The Terriers keep the momentum going from their three-point weekend with Northeastern. BU wins.
Tuesday, Nov. 13
Brown at UConn
The 0-3-1 Bears are no match for emerging UConn. UConn wins.
— David H. Hendrickson
NCHC
Friday-Saturday
North Dakota at Miami
UND is on a big upswing these days, and Miami has been a pleasant surprise so far this season. I don't think we'll get a sweep either way here, but it'd be huge for either team if they did. North Dakota 4-2, Miami 4-2
Denver at St. Cloud State
This is the series of the weekend, and rankings aside, SCSU as the Huskies will be excited to play at home in a big series after spending the last two weekends on the road. Northeastern and Colorado College gave SCSU tough tests, and Denver will be another step up in competition. I'll take the safe option and go with a split. St. Cloud State 3-2, Denver 3-2
Colorado College at Minnesota Duluth
UMD is the best team in the country right now and is rested after getting last weekend off, but Colorado College played St. Cloud tight last weekend and will keep aiming for an upset or two in Duluth. I doubt that it'll happen, but CC will be dangerous and the Tigers will be better for these tough couple of weeks. Minnesota Duluth 5-3, 4-2
Omaha at Western Michigan
I'm not sure how to take Omaha's split last weekend against Miami. The RedHawks are better than many people predicted, and UNO beat them once but that victory ended an 0-6-1 start that was the worst in program history. The Mavericks do have some momentum now, but they're traveling to face a WMU team that hasn't had a ton of trouble scoring at home. Western will want to win its third and fourth consecutive home games, but Omaha would take another split. Omaha 4-3, Western Michigan 5-3
— Matthew Semisch
WCHA
Friday-Saturday
Michigan Tech at Ferris State
Of the three conference series this weekend, this one looks to be the most competitive and the biggest toss-up. The Huskies are coming off a sweep against Alabama Huntsville while the Bulldogs had a home-and-home split with Michigan State. It feels to me like a split is likely here today. Tech wins Friday and Ferris turns it around Saturday.
Alaska at Lake Superior State
Two programs headed in opposite directions this season. The Nanooks have yet to win a game while the Lakers are fresh of a split with Michigan. LSSU is one of the best stories of the year so fat. I think they're going to keep it going here and get a sweep.
Bowling Green at Alaska Anchorage
Alaska Anchorage is finishing off a two-game homestand against a surging BGSU team. Can the Seawolves get their first conference win this weekend? The way the Falcons are playing now, it doesn't look likely but weird things can happen in Alaska. Still, I think it's a sweep for BGSU, but a narrow one.
Cornell at Northern Michigan
Interesting nonconference series here, featuring a pair of teams that with high expectations who have seen some struggles in the early season. Weirdly, too, for teams from different regions, the Wildcats and Big Red have a common opponent already. NMU split with Michigan State in the first week of the season while Cornell was upset by the Spartans in a shocking split in Ithaca, N.Y., a few weeks ago. Since it's still early in the year, I'll use that as my guide and say the Wildcats get a split at home in Marquette. Big Red win Friday before the Wlcats use their big ice advantage Saturday to tire them out and split.
Merrimack at Bemidji State
Another intriguing nonconference matchup between a pair of programs that haven't met in 11 years. The Warriors have had some weird results so far — beating both Boston College and Boston University but losing to Army and getting swept by both Lake Superior State and UMass. The Beavers, meanwhile, have only played one home game — when they beat North Dakota at the start of October. They're back in Northern Minnesota and I think they've got enough momentum to get a sweep.
— Jack Hittinger