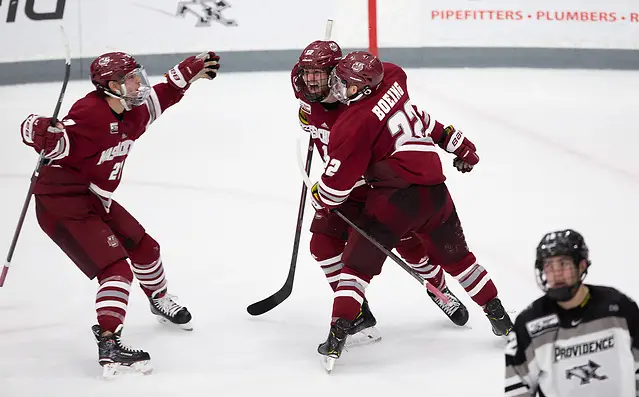 PROVIDENCE, R.I. – Massachusetts coach Greg Carvel remembers too well the number of times he's walked into post-game press conferences and told the media how proud he was of his team's efforts but, on that night, the result just wasn't what his club wanted.
This weekend, that changed.
Facing an early-season battle against what most believe will be a Hockey East power, Providence, the Minutemen twice survived onslaughts late in the game from its opposition only to find a way to score the game-winning goal late in regulation to earn identical 3-2 victories in the Thursday-Saturday series.
The two-game sweep of the No. 4 Friars pushed No. 9 UMass to an 8-1-0 mark on the young season.
"This year, time and again, we're finding ways to win games we didn't deserve to," said Carvel. "It was a bit of an ugly game [on Saturday] and it was going to come down to which team could grind that extra puck into the net."
On Saturday, that grinder goal came from highly-touted rookie Anthony Del Gaizo. Nothing pretty about it, for certain. This was a goal where Del Gaizo drove the net trying to take the eyes away from Friars goalie Hayden Hakwey. Colin Felix's shot from the point simply hit Del Gaizo in front.
"Did they give him the goal?" asked Carvel when told Del Gaizo was credited with the game-winner. "It's good for him. He needs that. It's not easy when you're a high-profile kid coming in, when you're the MVP of the USHL and you're playing on the fourth line. That's quite a transition.
"He played well tonight. I bumped him up quite a few times and had him out there late in the game on a different line. I looked like a smart coach there for a second."
To get to a point that Del Gaizo could even be there hero took momentus work on the defensive end, particularly from UMass goaltender Matt Murray. After the Minutemen scored twice in the first period on a Philip Lagunov power play goal and a Brett Boeing shorthanded tally, the Friars rallied in the middle frame.
Jack Dugan scored on a wrister off a faceoff while 4-on-4 before Greg Printz got a step on the UMass defense and fired a shot high over Murray.
An identical script to Thursday, Providence again seemed poised to find that magical game-winner. Two power plays in the third gave the Friars opportunities galore, most notably a Spenser Young bid with 3:55 remaining. But that's when Murray was at his best.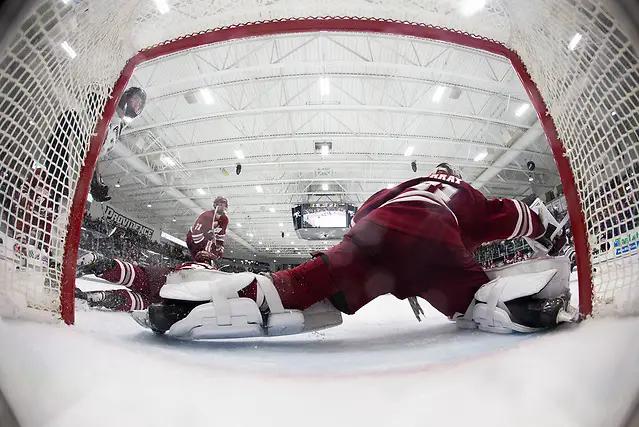 "Providence throws a lot of pucks at the net; they do a really good job of it," said Carvel. "[Murray] made a lot of big saves, especially down the stretch.
"We've gone back and forth with the two goalies all year and figured we would for a while because [Filip] Lindberg's played fine too. But what we've seen from Murray here, it was a no brainer to go back to him."
While UMass is jubilant after the two wins, Providence walks away from the two-game series frustrated, knowing both efforts were solid and enough to win yet the weekend feels lost.
The common thread is what frustrates Friars coach Nate Leaman.
"This is a repeat of the game Thursday night; we spotted them two goals," said Leaman. "We fought back and I was proud of the way we fought back.
"At the end of the day it comes down to one shot. We only gave up two [shots] in the third, but one of them went in."
UMass' 8-1-0 start is the best since the program became a full-fledged Division I hockey program in 1994, surpassing a mark of 7-2-0 in 2009-10. As the team consistently ascends the national rankings, one might think this team, with a top three winning percentage, could expect to garner votes for number one in the next USCHO.com poll.
Carvel is certainly bullish on this team, but stopped way short of calling this the nation's best club.
"It's absolutely [a statement weekend]," said Carvel. "That's what everybody said after we beat [No. 1] Ohio State. That's what everyone said when we beat New Hampshire for the first time in 12 years.
"We've made a couple of statements, but it's now in the rearview mirror.
"But no [we're not a number one team]. Not the way we played. We don't deserve that. We're a good team. We're a top 10 team, maybe better. But we snuck by with these two wins."
No. 2 St. Cloud State 4, No. 5 Denver 3
For the second consecutive night, St. Cloud State rallied from an early deficit, this time a 2-0 hole, to skate past Denver, 4-3.
Three straight goals from Nick Perbix, Blake Lizotte and Easton Brodzinski erased the two-goal deficit late in the second.
After Denver tied it on a Cole Guttman goal, Kevin Fitzgerald potted the game-winner with 10:53 left.
St. Cloud State sweeps the two-game series with the Pioneers and improves to 9-1-0 on the season, the best mark of any team in the nation.
SCSU vs. DU – Nov. 10 highlights:https://t.co/B8GcxHH47B#unleashSCSU #StCloudState#NCHCHockey #NCAAHockey

— SCSU Men's Hockey (@SCSUHUSKIES_MH) November 11, 2018

No. 15 Northeastern 5, UMass Lowell 4 (OT)
A night after rallying from a one-goal deficit in the third period to defeat Connecticut, No. 15 Northeastern did one better coming from two goals behind before Patrick Schule netted the game-winning goal at 2:14 of overtime.
In a game Northeastern never led, Lowell held leads of 1-0, 3-1 and 4-2. But Grant Josefek's second goal of the game at 3:57 of the third brought the Huskies within one and Tyler Madden knotted the game with 4:28 left.
It is the third time in Northeastern's last four home games they have rallied from third-period deficits to win.
Two straight come-from-behind wins, two Hockey East victories this weekend, and now a two-step!#HowlinHuskies pic.twitter.com/wmEUJTdoeC

— Northeastern MHKY (@GoNUmhockey) November 11, 2018