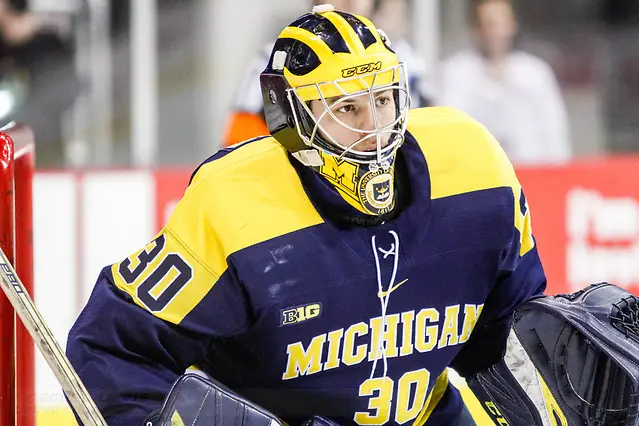 A 5-4-0 start to the season with splits in three of the four weekend series that it has played has left Michigan in search of one thing.
Consistency.
Finding some soon would be beneficial for their conference-title winning ambitions.
The Wolverines play at Penn State this weekend and have series against Wisconsin, Michigan State and Minnesota before the holiday break.
"We've been pretty good some nights and we've been off some nights," Michigan coach Mel Pearson said. "Really inconsistent at this point and obviously, that's one of our concerns."
So far this season, Michigan has split series against Western Michigan, Lake Superior State and most recently, Notre Dame. The Wolverines swept a home series against St. Lawrence and dropped a single home game to Vermont to start the season.
The series against the Irish was a snapshot of the season to date. Michigan answered Notre Dame's early second-period goal in Friday's game and scored the go-ahead goal before the midway point of the game. From there, the Wolverines shut the door by only allowing two shots on the goal in the third period and captured the victory. On Saturday, Michigan scored first and looked to take a two-goal lead before it was disallowed because of an offside call.
Notre Dame responded by scoring six goals in a row.
"We've got a young team — we're the fourth-youngest team in college hockey — and we understand we're going to have some of that," Pearson said. "Overall, I like the team. We have all the ingredients to have success, but we've been really inconsistent."
Pearson said it's important to stay even keeled when playing the same team twice in one weekend.
"When you watch the games, you're probably never as good as you thought you were when you won and you're never as bad as you thought when you lost," he said. "What happens is the team that loses, they're not happy. The coaches aren't happy and the players aren't happy. When you win, everyone's telling you how good you are."
The Wolverines were in a similar spot last season, when they went 7-7-2 in the first half. They went 11-6-1 in the second half and rode that momentum to the Frozen Four.
"Sooner or later, if you want to move up and you want to be one of the top teams, you have to be able to get some sweeps in there," Pearson said. "The whole first half last year, we were in the same boat. We were a team that split, but finally in the second half, we got some sweeps in there."
A big reason for last year's surge was the play of Hayden Lavigne in goal, but this season the Wolverines haven't had consistent play in net. Lavigne is 2-3-0 with a 3.87 GAA and a .839 save percentage. He's split time with freshman Strauss Mann, who has a 3-1-0 record with a 2.83 GAA and a .889 save percentage.
One bright spot for the Wolverines has been the start for sophomore forward Josh Norris. The 2017 first-round pick of San Jose (now Ottawa property after the Erik Karlsson trade) has six goals and seven assists in nine games this season. As a freshman, he had eight goals and 15 assists in 37 games.
"He's so much stronger this year," Pearson said. "He's leaner, stronger, he's improved his quickness and explosiveness and just his confidence level, just from Day 1 you could tell that he was more on a mission and more confident about it and when he got off to a good start that only helps your confidence grow. He's a totally different player offensively — he's been really good."
Michigan is far from the only Big Ten team that hasn't set the world on fire out of the gates this season. Aside from Penn State's 8-1-0 mark, every other team has a record closer to .500. That could mean another close title and playoff seed race in a conference that has had many since its inception.
"No doubt about it, I think it's going to stay [competitive]," Pearson said. "Michigan State has improved, Minnesota's pretty good, Wisconsin has improved over last year, Notre Dame's good, you just go down the list, Penn State, they have 52 goals in nine games, it's crazy. You keep looking for that team that's a guaranteed win, but there aren't any.
"If a team can string together a few sweeps, you're going to be OK, but otherwise you could sweep one weekend and be in first and get swept and be behind."
This weekend, Michigan travels to take on Penn State and its top-ranked offense that is averaging 5.78 goals per game.
What's the strategy for taking on a team that scored 18 goals last weekend?
"See if we can play both goalies at the same time in our net?" Pearson said with a laugh. "We need to be better defensively. Part of that is we like to be a puck possession team and, even [last] weekend, we put up some good shots and good opportunities against Notre Dame, who usually doesn't give you much, and that's how we have to do it to Penn State.
"Our guys are smart. They look at the scores and they see the 11 they put up the other night, so it's a challenge because we haven't been knocking it out of the park defensively. Going up against a team that's scored 60 goals, it keeps coaches up at night, but having said that, I think our guys enjoy being back in the Big Ten and we'll be ready to go in there and it'll be a good challenge for us."