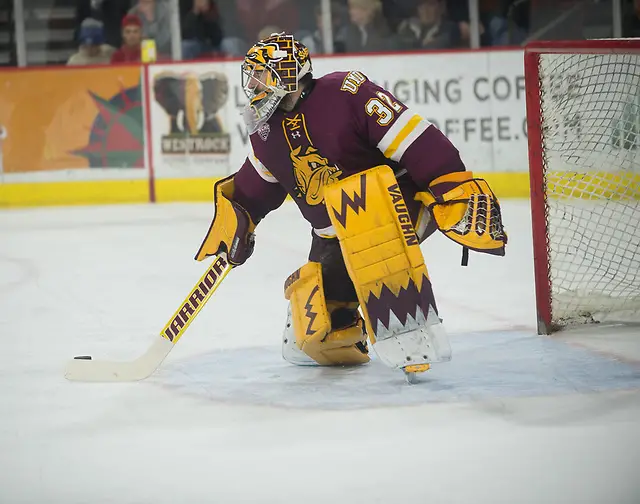 It took five periods for the No. 1 Minnesota Duluth Bulldogs to solve Denver goalie Devin Cooley, but when they did, the goals came in bunches. After the No. 7 Denver Pioneers built a 3-0 lead through two periods, UMD rallied, finally tying the game during a mad scramble in front of the Denver net with 1.8 seconds left in the game to send it to overtime, where Cole Koepke won it.
"Peter (Krieger) won a big faceoff there that at least gave us the opportunity to get the puck on the net; I know there was a scramble," said UMD coach Scott Sandelin. "A good third period by our team, and I guess that's why it's a three-period game, because our first period wasn't very good."
Cooley made the initial save, but UMD's sophomore sensation, Scott Perunovich shot the puck, somehow it went in.
"The puck went to (Nick) Swaney, and he might have had a fake or fanned on it; I don't know what happened there," said Perunovich. "The puck came back to me. I was calling for it, and he made a nice play. He didn't panic with the puck. Luckily it got through; we had some bodies at the net, and somehow it went in."
That set the stage for the game-winning goal by Koepke, who raced down the left side and beat Cooley top shelf near post at 52 seconds of the overtime, capping the dramatic rally. The win was the first for UMD against Denver since December 2016; the Bulldogs had lost six straight to the Pioneers since then.
"We knew that coming in, it was in the back of our heads," said Perunovich. "It's great to be able to come from behind and beat a good team."
The Pioneers came out with a lot of jump, coming in waves and quickly building up a nearly two-to-one shots on goal advantage. Denver got on the board first when freshman Cole Guttman picked up a rebound of Griffin Mendel's wraparound shot. Guttman got the puck on the left side of the slot and banked a wrist shot in off the right pad of Bulldogs goalie Hunter Shepard at 3:03.
Quickly seizing momentum, the Pioneers made it 2-0 when freshman Brett Stapley picked up a rebound of Tyler Ward's shot in a scrum at the crease and whacked at it, getting it up in the air and under Shepard's glove at 6:20.
"We played a great two periods," said Denver coach David Carle. "They're a good hockey team, and they're not going to go away. Unfortunately, we weren't able to execute, and they made some plays, and they made us pay."
In the second period, Duluth came out with much more jump, including getting a couple of good chances down low. Perhaps the best was when Koepke got the puck along the left boards and cut hard to the net, beating Ian Mitchell and cutting into the slot and getting a backhand off that forced Cooley to make a big save.
That play gave the Bulldogs life, and for the next few minutes, they kept Denver pinned in its own end for minutes on end and generated several strong shots on net. However, it was Denver that scored when Les Lancaster got the puck at the right point. Blocked by a Duluth player from taking a slap shot, Lancaster took one stride and wristed a shot that deflected off two separate players, ultimately hitting Bulldogs defenseman Nick Wolff in front and deflecting past Shepard at 7:20.
"Why can't those go in for us; we had some shots that were bouncing around too," said Sandelin of how it felt on the bench at that point. "It could have been real deflating for our team, but I thought we didn't fold, we didn't get too down."
Duluth regrouped and kept the pressure up, ultimately outshooting the Pioneers, 15-8, in the period, but were unable to get Cooley moving. Toward the end of the period, DU's Liam Finlay got called for hooking, allowing Duluth to start the third period with 1:43 of power play time, but they were unable to convert.
The Bulldogs finally got their first goal of the weekend at 6:36 of the third. Perunovich slid a pass across the ice toward Krieger, who dove and knocked the puck through the crease to Swaney, who batted it in.
"I got the puck and saw 'Kriegs' busting to the net," said Perunovich. "He does a great job finding space, and luckily I got it to him and he did the rest."
Billy Exell pulled UMD within one at 9:27 right off a draw to Cooley's right, picking up the loose puck in the faceoff circle and getting a snap shot that beat Cooley top corner.
"I think anytime you get shutout first night, and go through another couple periods, guys can get frustrated," said Sandelin. "We had the power play to start the third period, and it looked like our power play all weekend. It wasn't effective. We talked about getting that first one and going from there, and our guys did. It was a little bit later than I'd like, but it was early enough that we still had time to claw back in it."
No. 18 Arizona State 3, Harvard 2 (OT)
Johnny Walker's deflection of a shot from the right point at 2:45 of overtime lifted Arizona State, ranked nationally for the first week in program history, to a 3-2 victory over Harvard, earning the weekend split with the Crimson.
The Sun Devils trailed Harvard, 2-1, late into the third before Anthony Croston scored a shorthanded tally with 7:56 remaining to force overtime.
Winner, Winner, Chicken Dinner! pic.twitter.com/7e5fTGviDY

— Sun Devil Hockey (@SunDevilHockey) November 18, 2018
Goaltender Joey Daccord earned the victory, his tenth of the season, with 40 saves.
Western Michigan 6, No. 11 North Dakota 2
Colt Conrad registered five points (goal, four assists) as unranked Western Michigan completed a weekend road sweep of No. 11 North Dakota, 6-2, in NCHC action.
A three-goal second period broke open a 1-1 tie through 20 and started a five-goal run for the visiting Broncos.
Josh Passolt finished the game with two goals for Western Michigan, which earns its first sweep of North Dakota in Grand Forks in program history.
No. 5 Penn State 7, No. 16 Michigan 6 (OT)
Concluding a crazy track meet, Penn State's Sam Sternschein scored just six seconds into overtime to push the Nittany Lions past Michigan, 7-6, to earn the split of the weekend series.
The OT winner spoiled a four-goal third period comeback by the Wolverines, who trailed 4-2 through 40 minutes. After twice trading goals in the final frame, Michigan potted two goals in the final 3:27 to send the game to overtime.
WE. ARE. OUT. OF. BREATH

[FINAL] No. 5 Penn State 7, No. 16 Michigan 6#WeAre #HockeyValley pic.twitter.com/d2dqXIwETP

— Penn State Men's Hockey (@PennStateMHKY) November 18, 2018
Penn State's Evan Barrett paced the scoring for the Nittany Lions registering a hat trick in the game's first 35 minutes.