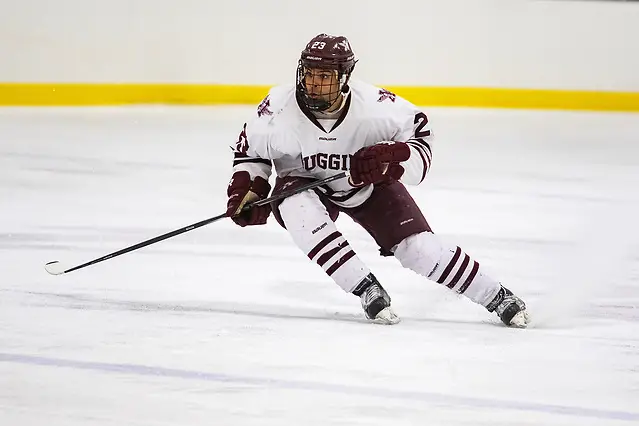 If you are looking for one of the best nonconference games of the year, St. Norbert's two-game series with Augsburg might just be it.
The reigning national champs take on one of the top title contenders in a rematch of last year's NCAA quarterfinal showdown the Green Knights won 5-2. St. Norbert also swept the season series a year ago.
The No. 9 Auggies are unbeaten in their last six games heading into this two-game series at home. They feature one of the best offenses in the country, tallying 35 goals, including 10 from Alex Rodriguez.
The defense has been solid and consistent as well, giving up just 18 goals thanks in large part to the play of Nick Schmit, who has won four games and owns a 1.14 goals-against average. Daniil Gerasimov has won four games as well and sports a 2.34 GAA.
The Green Knights are ranked fifth this week and are rolling along, having won their last four games. They have owned Augsburg as of late and want to keep that dominance intact. They have come through with 40 goals off 68 assists. Kurt Black is the leading goal scorer, punching in eight, and T.J. Black has given up just 12 goals and sports a 1.17 GAA. St. Norbert 2-1, Augsburg 3-2
Friday and Saturday Dec. 7-8
Hamline at Concordia
Hamline has scored just 18 goals as a team, with Mitch McPherson and Weiland Parrish scoring four apiece. Pipers goalie Sam Nelson used to play for Concordia, making for an interesting storyline this weekend. Nelson is 2-3 with a 4.05 GAA. The Cobbers have one of the best offenses in the league and feature the top three players in points in the MIAC. Tyler Bossert leads the conference in assists (15) and points (19), while Mario Bianchi has scored a league-leading 11 goals. He has 18 points in all. Aaron Herdt is third in goals (8) and points (15). Concordia 5-2, 4-2
Wisconsin-River Falls at Lawrence
The Falcons are seeking their first win since Nov. 16. They have punched in 28 goals in all this season, including 11 from Eddie Matsushima, and have leaned on Zach Quinn in goal. He has won four games and owns a 2.07 GAA. The Vikings have won their last two and hope to keep the momentum rolling. Getting the offense going will be key. They've scored just 16 goals, with Jake Drinkard coming through with four goals. Evan Cline has played most of the time in goal, starting seven games and winning twice. Look for this one to be close throughout the weekend. Wis.-River Falls 4-3, Lawrence 3-2
Friday, Dec. 7
St. Thomas at Wisconsin-Stout
St. Thomas goalie Cam Buggrabe is one of the top goalies in the MIAC. He has saved more than 92 percent of the shots he's faced and has won more than 83 percent of his games. The Tommies are looking for their first win since Nov. 24 and have been anchored offensively by Luke Radetic, who has tallied seven goals and three assists. The Blue Devils have lost only once in their last six games and face one of their biggest tests of the year. They do have a win over a nationally ranked Marian earlier this year, so confidence won't be an issue against the Tommies. Mathias Ahman leads the team with three goals and five assists. St. Thomas 3-1
Saturday, Dec. 8
Saint John's at St. Scholastica
The Johnnies hit the road for only the third time this season. They have one of the best playmakers in the MIAC in Kyle Wagner, who has dished out eight assists to go along with his three goals. Brady Heppner is having a big year offensively with seven goals and three assists. The Saints are as hot as can be right now, winning their last four, and they are unbeaten at home. Carson Rose has been solid, scoring six goals, and Nick Trenciansky has fashioned a 6-0-1 record in goal. He has come up with 212 saves. St. Scholastica 5-3
Marian at Wisconsin-Eau Claire
The Sabres are looking for a bounce-back win after getting shut out by St. Norbert last week. Nick Monfils leads the offense with five goals and four assists. Hunter Vorva owns a 1.87 GAA. Marian has been great on the road for the most part, fashioning a 4-1-1 record away from home. The Blugolds are unbeaten at home and have cranked out 42 goals while allowing just 17. Lucas Kohls has been lighting the scoreboard up, racking up six goals to go along with six assists. Jake Bresser and Steen Cooper have been phenomenal playmakers, combining for 19 assists. Zach Dyment has been phenomenal in goal, winning 10 games. Wis.-Eau Claire 4-1
Wisconsin-Stevens Point at Lake Forest
The top-ranked and unbeaten Pointers hit the road for a battle with the Forresters. With 47 goals scored and only 18 allowed, Wis.-Stevens Point boasts one of the best offenses and defenses in the nation. Luke McElhenie leads the way with five goals and seven assists, and Carter Roo has come through with six goals and four assists. Connor Ryckman owns a 1.45 GAA. If the Pointers are on top of their game, they will be tough for Lake Forest to slow down. The Foresters have won their last two, and Cody Guidorzi has stepped up big time, tallying five goals and four assists. Aaron O'Neill has five goals as well. The big question is can the Foresters quiet the Wis.-Stevens Point offense? Wis.-Stevens Point 6-3